Last Updated on September 3rd, 2022 at 10:07 pm
Have you accumulated a high level of paintball gaming experience? If you answered yes, you would need to learn some abilities to join a professional paintball squad. Is it difficult to become a professional paintball player?
No, your dedication and optimal paintball skills will make you a successful paintball pro player. A pro team is the pinnacle of speed paintball, and only a select few players are fortunate enough to reach this goal.
While being a professional paintball player does not necessitate a long-term commitment, it is far from easy.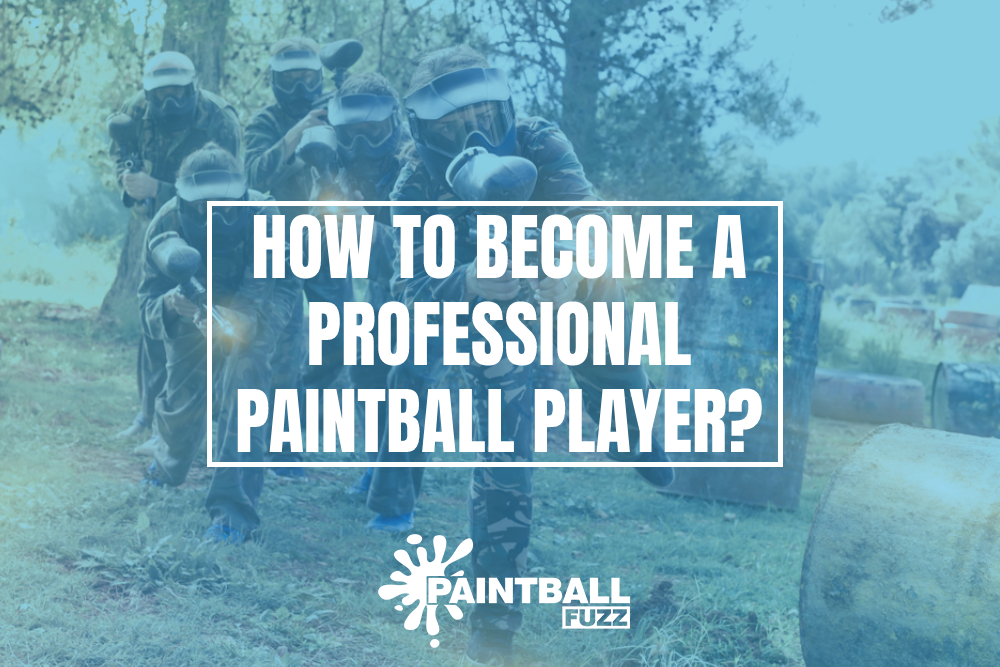 So, what do you have to do to become a pro Paintballers? Getting into the championship paintball scene is the easiest way to become a pro at paintball. Joining a competitive local team allows you to participate on global and international levels.
At such events, you're likely to be noticed and invited to a pro team tryout. If you're passionate about learning how to become a skilled paintball player, keep reading. Then follow the steps outlined below.
Some Important Points to Follow to Become a Paintball Professional Player
Suppose you're still undecided about what to master to attain your paintball objective; read on. So hang out with us. If you want to become a pro player, there are a few things about paintball games to bear in mind.
1. Make your own Team / Join League
Do you believe you've mastered all of the paintballing techniques? If this is the situation, it is time to join a paintball league. Your best choice is to join a local team that is seeking a new player.
If everything else fails, gather a few friends and establish a new paintball squad. Just make sure you hire people that are as motivated as you are. Make a name for yourself in the field by working hard.
2. Buy Professional Paintball Gears
The most important point to remember about paintball is that you'll need to purchase your paintball outfits to become a professional paintball player.
Such gear is not only long-lasting, but it also performs well, putting you on par with the team's other serious players. Purchase a paintball marker, safety gear, and high-quality paintballs.
3. Prepare Yourself
If you genuinely want to be a professional paintball player, you must first get in shape. Continue to put in the effort and learn new paintball skills. Paintball is a physically demanding activity that will test your endurance to the limit.
As a result, you'll need a workout plan to help you enhance your physical fitness and get in the most excellent shape of your life.
Run regularly to improve stamina
Use dumbbells to improve your hand dexterity
Do wall sits to strengthen your knees and increase leg muscle endurance
Include complex exercises in your workout to increase muscle strength and power
Increase your speed and agility by incorporating a stretching exercise
4. Paintball Marker Position
Roughly 10% of paintball players fail on the battlefield owing to incorrect paintball marker positioning. Always try to make an effort to improve your marker putting skills.
To pinpoint your target, if you shoot a paintball, tape a laser point to the barrel of your marker. Practicing with your paintball mask on is preferable because you'll never play a game without it.
Before swinging the feature fast into the firing position, practice setting the barrel down and estimating where the paintball will hit. To command, learn marker posture.
5. Rules of Judge Trajectory
This is the most important rule for a professional player to remember. To begin, you must first understand the paintball field's boundaries. Because the accuracy of paintball markers decreases at 300 feet (9 meters), beginners find it difficult to judge a paintball trajectory once it exceeds this range.
The shot loses precision after 300 feet (9 meters), and reaching the target becomes a matter of personal judgment. Every time you miss, adjusting your marker's lateral or horizontal plane and attempting again is an excellent approach to improve this talent. You will be able to shoot paintball more accurately if you have a good understanding of inclination.
6. Try shot Moving Targets
You are extraordinary if you can make a clear paintball shot while running or while the target is moving. Paintball is all about shooting a moving target, and hitting a fast-moving target necessitates excellent shooting abilities.
The best snipers don't just hope one of their shots connects. To keep your cannon fixed on an area in front of them, you must estimate the speed at which the target moves. Repeat the process until your shot is precise and accurate.
7. Bunkering
When and where will you hide? Bunkers use the battleground as a barrier for paintball participants to hide behind. Therefore try to figure out when and how to hide behind the bunker; you're playing speedball or woodball.
In paintball, a bunker is a shelter or a barrier that allows you to hide from your opponents. It could be a structure, an object, or an elevation. In a paintball battleground, try to learn how to hide.
8. Learn Snap Shooting
What is the definition of snap shooing? In paintball, snap shooting is a necessary and widely used ability. It boosts your ability to hit your opponents with quick and accurate shots from behind a bunker. If you want to be a professional paintball player, try learning snap shooting.
9. Use Efficient Hand for Shooting
To make your hand and mussel active, practice a lot. The more active your hand is, the better your performance will be. However, you'll find that using the same hand all the time isn't practical because it put you at a disadvantage in specific scenarios.
To level the playing field, improve your off-hand shooting talents to the same level as your preferred hand. You want to hone your ability to fire with both hands to the point where you can seamlessly transition between them.
10. Personal Brand
The next step is to develop the brand. This will assist you in making a name for yourself in the paintball arena. This will boost the demand for professional players.
Conclusion:
Are you serious about becoming a professional Paintballers? Then it would be best if you competed in competitions. Extra paintball skills are required. To increase your stamina, repeat the exercise.
To become a professional paintball player, you must first learn about the game's history and successful events. Like all professional paintball players, you should also follow all of the preceding advice.