Last Updated on September 3rd, 2022 at 08:33 pm
Paintball is a physically demanding sport. Which paintballing shoes do you like to wear? Sneakers or tennis shoes? These shoes are stylish and practical for everyday use.
Do these shoes offer adequate foot protection during paintballing? No, these shoes do not provide adequate protection.
So, what do you require in terms of foot protection? The best solution for this is to use high-quality paintball cleats. Paintballing is also best done with tactical shoes.
So in a paintball scenario where you require a high degree of protection, or in a woodsball scenario where you need a high amount of protection along with grip use tactical shoes. However, these tactical shoes are not ideal for speedball or other scenarios.
Because of the slick floor and numerous bunkers, lightweight and comfy shoes are recommended in speedball. So must prefer paintball cleats.
Our Top Picks
LOW BUDGET
HK ARMY SHREDDER 2.0
Ideal for Pro Players
Good Protection
Budget Friendly
Lightweight
OVERALL BEST
UNDER ARMOUR STELLAR
Military-Style Boots
Durable & Lighweight
Good Breathability
The Anti-Odor Feature
FOR SPEED
SALOMON SPEEDCROSS
Lightweight
Good Ventilation System
Grip is Pretty Impressive
Cost-Effective
Best Paintball Cleats

Why are these shoes referred to as cleats? Below the sole of the shoes are spine-like spikes for further traction that's why called cleats. These cleats are similar to soccer shoes in appearance.
However, they are of higher quality than football shoes. Cleats are composed of rubber or a solid substance that can endure the roughness of any floor.
The game might take place on a muddy field, a grassy area, or the ice bottom of an outdoor paintball field. In that situation, your footwear must prevent you from tripping, slipping, stumbling, or falling and twisting your ankle. You'll need more than just a pair of tennis shoes or some casual athletic footwear.
What are you going to do if you don't have boots? Paintball cleats are required. Paintball cleats provide added protection by making it easier for players to maneuver, crawl, and run. Instead of spikes, some cleats have rubber teeth.
The teeth, unlike the spikes, do not fall off the shoes. The rubber teeth, on the other hand, cannot be customized. Paintball games on turf and in the dirt are best played with these cleats.
Choose the spiky ones if the arena has grass and damp ground. If you're a beginner or a seasoned paintball player, the best paintball cleats for greater grip and support are excellent. Below are the top fiver paintball cleats.
List of 5 Best Paintball Cleats
1. M-TAC Tactical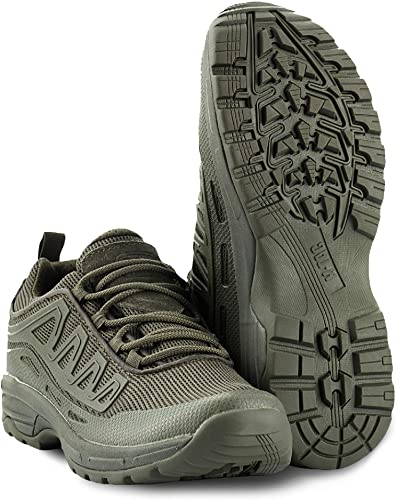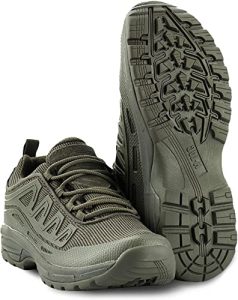 Paintball shoes have a significant impact on a player's performance on the battlefield. These M-TAC paintball cleats should be your first pick if you want high-quality, comfy, and budget-friendly cleats.
Tactical shoes are available in three different colors: black, olive, and coyote. As a result, players need to pick a hue that they enjoy.
Tactical shoes are extremely light and comfortable to wear. The polyester fabric was used to create this outfit. The synthetic sole offers the necessary comfort and flexibility on the field.
One of the things that attract players to these combat shoes is their ability to withstand wear and tear.
As if your shoes are constructed of flimsy materials that will not survive the rigors of combat. Combat shoes are ideal since they may be used in every weather and for a variety of outdoor activities.
These shoes are flexible and can withstand a lot of use. Because of the adrenaline pounding on the paintball field, your feet sweat a lot, yet the mesh surface allows your feet to breathe within the shoes.
While the shoes lack high-end features, they give decent traction on a variety of outdoor surfaces. M-Tac is a good option if you want something that is both cheap and durable enough to last on a paintball field.
The sneakers are available in sizes ranging from 8 to 12, as well as 10.5 and 11.5 for further convenience. Don't worry about the shoes' look because they're oil and gas resistant.
Tactical cleats are robust, and they will endure a long time. TAC shoes are undetectable on the field and can provide you an advantage. These shoes allow you to crouch, bend, crawl, sprint, and run. This fantastic device for foot support must be preferred.
Features:
Very lightweight
Give good grip, traction, and speed to players
Durable paintball cleats made up of polyester material
Used for other high-activity games so versatile in nature
Cleats are Suitable for all weather conditions
Pros
Versatile paintball cleats
Easy to use
Provides good breathability
Cost-effective
Cons
Come in only three single colors
2. HK Army Shredder 2.0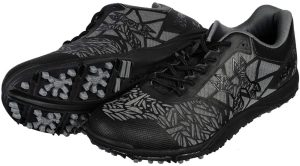 If you're new to the paintball field and want the most comfortable and lightest paintball cleat, HK army cleats are the way to go.
These sneakers perform admirably on all fronts and have been engineered to withstand the harsh conditions of paintball play.
The clever innovation that went into creating these cleats ensures that they are ideal for sprints and dashes.
Don't worry about slipping since they feature traction spikes built into the frame to keep your feet firmly planted on the ground.
These cleats are built to endure any physical challenge you can throw at them, making them ideal for your action-packed gaming sessions. When it comes to design and color, Shredder shoes are stylish and come in a variety of colors.
These cleats are designed to provide comfort to your feet in addition to great performance.
The HK Army Shredder 2.0 Paintball Cleats are ideal for paintball not just because of their many benefits, but also because they were created particularly for it. Players may be required to play paintball continuously at times. As a result, athletes find it difficult to wear cleats for extended periods.
But don't be concerned. The upper section of the HK shoes is made of breathable mesh, which keeps your feet wonderfully aerated throughout strenuous workouts.
This is significant for two reasons: first, it reduces perspiration accumulation, and second, it reduces the risk of athlete's foot. Overall, the shoes are as pleasant to wear as they are efficient on the court, making them an excellent choice for any player.
They are a premium for players due to their lightness. Hk sneakers don't make a lot of noise. As a result, both woodsball and speedball players enjoy the game by wearing it.
Features:
Available in a variety of appealing color schemes
Eight spikes are incorporated to increase traction and grip
The design is quite durable
A breathable mesh is used in the top portion for good ventilation
Provides extra grip to players on the battlefield
Pros
Ideal for pro players
Easy to wear
Good protection
Made up of lightweight material
Cons
Sometimes never fit exactly in feet so the sizing difficulty is faced by players
3. Under Armour Stellar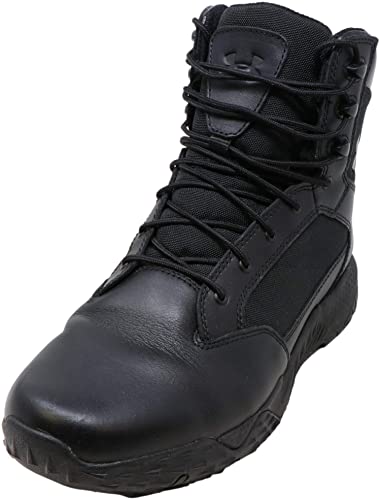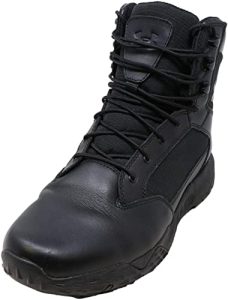 This perfect product should be your first choice if you're looking for animal-themed paintball boots. The design of the tactical boots is appealing and unique.
It is quite difficult for beginners in the paintball game to maintain their body equilibrium while wearing protective clothing and shoes. These tactical boots are the ideal option for such sportsmen.
Because they are so light and comfy. As a result, both veterans and novices are never uncomfortable. They are not only intimidating in appearance, but their robust and resilient construction will be more than adequate for whatever challenges they face on the field.
The shaft reaches to the ankle, which is more in line with what military troops wear on active duty. And when it comes to performance, these boots are unrivaled.
These shoes can take a beating, have a good grip, and propel you forward at a reasonable speed. The best aspect is that the anti-odor technology prevents your feet from smelling.
Due to the high heat of the paintball field, several paintball players find it difficult to wear paintball cleats in the summer. But don't be a wuss.
Under Armour, boots offer a unique system as well as excellent ventilation. Kids like it because of the military look. Who wants to pretend to be a soldier? MEN'S STELLAR boots must be considered. It features vibrant designs and colors.
If you truly want to enjoy your time on the battlefield to the fullest, you must choose these fantastic boots.
Features:
Wear and tear-resistant
Good breathability
Decent look
Made primarily from leather to give a high level of durability
Shoes are made up of Textile components and a rubber sole
The anti-odor feature
Sturdy and durable design
The shaft goes as high as the ankle so gives extra grip and protection to the foot
Pros
Military-style boots
Your feet won't stink up
The design is visually impressive
Durable
Lightweight
4. Salomon Speedcross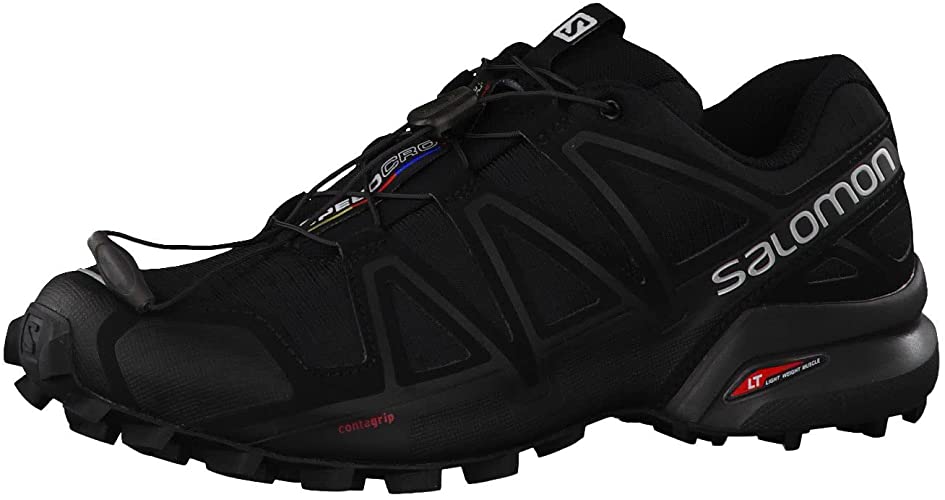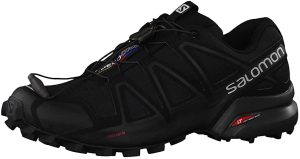 On a paintball field, players aim to move quickly. To shoot paintballs at their opponents. As a result, footwear plays an important role in climbing, jogging, and gliding.
If you're looking for the best paintball cleats that can improve your sprinting power on the battlefield while also providing a high degree of comfort for your feet, look no further.
As a result, Salmon men's shoes must be your pick. The ability to target the opponent requires a high level of stability on the battlefield. How can you play well on a paintball field if your shoes aren't sturdy because they don't suit your foot?
Always use lightweight and durable sneakers for this. The 4trail running shoes, which have a soft inside and an aggressive grip on the exterior to provide perfect traction, are designed to provide you with comfort, agility, and stability as you run.
What's even great is that they're available in a variety of colors. Paintball shoes should have a pleasing appearance on the outside. So these shoes are both attractive and functional.
When players are hit by a bunker, their shoes may shatter or develop a hole due to the rocky paintball field floor. But don't be concerned. 4 trail running shoes are made of an extremely robust material that will never break and will resist all types of hard play.
Salomon shoes are ideal for beginners. Because they are inexpensive. Both woodsball and speedball players like them because of their great features including lightweight, simple to wear, and available in a variety of colors.
Features:
Shoes are very lightweight
Equipped with the good ventilation system
Cleats are completely synthetic to give long-lasting durability
The sole is made up of rubber very soft and comfortable
The shoes have an aggressive grip design so also used by beginners
Shoes' EVA midsole ensures comfort in the design
Several color options are available
Pros
Lightweight feeling to them
Provide unparalleled speeds
The shoe grip is pretty impressive
Cost-effective
Cons
Material of shoes is little bit cheap
Little heavy
5. Columbia Redmond V2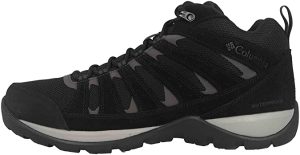 Paintball players over the age of 18 demand extra comfort and soft cleats. If you're an experienced paintball player looking for a pair of cleats that are both stylish and comfortable, Columbia shoes are the way to go.
These are versatile pairs of shoes. These shoes have a comfy midsole and a great cushioning system on the inside, and they're just as tough on the exterior.
The Columbia Men's Redmond V2 Shoes are the go-to pick when you need a sturdy product for all terrains and weather.
Paintball cleats come in a variety of materials. While some players prefer all-leather versions, others choose a mix of materials to ensure that the cleats are comfortable, breathable, and can be worn for long periods without becoming sweaty and hot.
Synthetic fabrics, particularly mesh linings on the interior, provide for better ventilation. As a result, these paintball sneakers are constructed from synthetic materials.
The top-of-the-line models are intended to provide the finest of everything. The more a shoe's hold on the ground is firm, the more stability it provides. As a result, the pace of your movement will improve.
This is all about traction. The cleats' spikes give the necessary traction, something your ordinary running or sporting shoes cannot supply. Paintball cleats of this type will be naturally flexible and allow for freedom of movement.
If you're buying a budget model, be sure the materials are flexible enough to enable your feet to breathe. As a result, they wick moisture away from your feet, keeping them cool and dry at all times. Furthermore, the soles of these paintball cleats are made of high-quality material.
You'll also discover spikes that are well-designed to grip the terrain and keep you on your feet. They come in several sizes, as well as half-sizes, which is quite convenient.
Finally, the uniform colors ensure that they may be used in a variety of paintball scenarios. Must prefer these amazing shoes for good running.
Features:
The shoes are made of strong and long-lasting material
Adaptable to any terrain
These shoes are weather-resistant, so they may be used in every season
They have excellent grip and speed
Available in a variety of colors and sizes, allowing gamers to customize their experience
Breathable mesh upper; high-quality outsole, midsole, and insole
Pros
Excellent color options
Shoes provide comfort and strong grip
They are durable and sturdy.
Very lightweight
Easy to wear
Cons
Not water-proof
Shoes are expensive
Conclusion
LOW BUDGET
HK ARMY SHREDDER 2.0
Ideal for Pro Players
Good Protection
Budget Friendly
Lightweight
OVERALL BEST
UNDER ARMOUR STELLAR
Military-Style Boots
Durable & Lighweight
Good Breathability
The Anti-Odor Feature
FOR SPEED
SALOMON SPEEDCROSS
Lightweight
Good Ventilation System
Grip is Pretty Impressive
Cost-Effective
LOW BUDGET: HK Army Shredder 2.0
Low-cost cleats are the ideal alternative for athletes on a tight budget who want high-quality features. The HK army cleats are a fantastic product with a lot of features. What are the advantages of shredder shoes? Because they provide excellent grip and comfort.
BEST FOR SPEED: Salomon Speedcross
Why are high-speed cleats necessary? To be successful on the battlefield, players must be able to sprint. 4 trail running shoes are recommended for this purpose. These paintball sneakers are extremely light and pleasant to wear.
You May Like:
Buyer's Guide for the Best Paintball Cleats
Before purchasing paintball cleats, much wise thinking is necessary. Several considerations must be made. You should build a list of the characteristics you want in cleats on the page.
Paintball competitions are held in various types of weather all around the world. So, do you need water- and shock-resistant cleats?
To help you clear your thoughts, we've put up a simple guide that will be quite useful. While order to avoid ankle twisting or severe joint twisting injuries, appropriate foot protection is essential in paintballing.
There are various paintball cleats on the market, some of which are outstanding and others which are average. So the player decides what he wants? So below important factors are given that you have to keep in mind.
THE MATERIALS USED: Paintball cleats are made of several materials. Cleats are constructed from a variety of fibers and materials. Synthetic materials are the most popular. Because it allows for a lot of airflows.
So you'll be comfy no matter what season you're wearing cleats in. Cleats can also be made out of leather. However, because leather shoes are less breathable and heavier, they are not the most popular option.
DESIGN AND STYLE OF THE CLEATS: The number of studs surrounding the optimum cleat is eight. The number of spikes and the shape of the cleats are quite important. Always look for cleats with a style that fits your footwell.
If you purchase paintball cleats that do not conform to your feet, you will be uncomfortable and unable to completely enjoy the game, as well as have your movement constrained. So consider your options carefully.
The number of studs/spikes on the cleat, on the other hand, provides grip and body balance. As a result, choose cleats that fit your preferences.
COMFORT AND BREATHABILITY: Players prefer cleats with a detachable sole incorporated into the design. The comfort of the players comes foremost. Pinching and blisters on the feet can occur if cleats do not fit properly in the foot.
Always be cautious while purchasing paintball cleats. On a paintball field, comfort is really important. If you are at ease, your mind will function quickly to make excellent judgments while facing opponents.
TRACTION: To enhance your speed and stability on the paintball field, you'll need a strong shoe grip. Fast traction allows for high speeds. Paintball players can sprint, climb, and glide easily thanks to the spikes on their cleats, which provide strong traction and support.
FLEXIBILITY: If you're new to the paintball field, make sure your paintball cleats are flexible and breathable. High-end cleats are designed to provide athletes with the most flexibility.
Even in difficult terrains, the cleats should have adequate grip and hardness to support your movement. As a result, you'll need to invest in some flexible paintball cleats for more grip and mobility.
DURABILITY AND RELIABILITY: If you're a serious paintball player, you'll want to invest in long-lasting cleats. Paintball is a fast-paced sport. Cleats have a shorter lifespan due to wear and tear on the battlefield. As a result, always go for long-lasting paintball cleats.
LACES OR BUCKLES: Laces are preferred by certain players, whereas buckles are preferred by others. Lace-up shoes are more secure due to the tightness and support they provide.
APPEARANCE: If you're wondering if the appearance of the paintball cleats matters, the answer is yes. Yes, of course. Players want cleats that are both appealing and stunning to look at. Bright color cleats are always preferred for a more attractive appearance.
FAQs
1. Can we use sneakers or tennis shoes for Paintballing?
No, since extra protection is necessary for paintballing to prevent your ankle from being twisted. Always choose cleats that provide more foot support and help you keep your body balanced.
2. Can Paintball Cleats also be used for playing baseball or football?
Paintball cleats do allow for complete ankle movement. When purchasing paintball cleats, keep in mind that they may also be used for baseball and football.