Last Updated on September 3rd, 2022 at 01:02 pm
Paintball is an excellent activity for both adults and children. This game was formerly simply played for fun, but it has now evolved into a career. Paintball professionals aim to make a name for themselves on the paintball field.
What makes you think this is possible? It is only possible if they can shoot paintballs precisely and accurately on the battlefield.
If you're a professional paintball player who wants to make precise shots and master reloading, you've come to the perfect spot. The velocity of the bullet must be known to make accurate and precise shots. Paintball chronograph is the only option for this.
Our Top Pick
OVERALL BEST
Best Paintball Chronograph
What is a paintball chronograph, and how does it work? It is a gadget that is used to reveal shot velocity and to allow players to assess their dependable reloading abilities.  Also important for the safety of paintball players.
What are the advantages of using a chronograph? Paintball players require pinpoint accuracy to effortlessly take out their opponents. Because the target in speedball isn't too far away, players can shoot accurately.
But the woodball targets are so far away, it's difficult for paintball players to accurately project paintballs onto the target. They utilize a chronograph for this. Chronographs assist gamers in determining the speed of a bullet or in aiming accurately for a long-range target.
On a chronograph, shot velocity is measured in feet per second or meters per second.
The chronograph keeps track of many shots and tells you if they were high velocity, low velocity, medium velocity, or standard deviation shots (How close values are related).
Some chronographs include a big LCD that displays data, while others are controlled by a remote. One of the best features of a chronograph is that it is portable and can correctly compute velocity. Are you undecided on which paintball chronograph to buy?
If this is the case, don't be concerned. We've listed the top 4 chronographs, along with their benefits, drawbacks, and features, to assist you in choosing the best decision.
List of Top 4 Best Paintball Chronograph
IMAGE
PRODUCT
SPECIFICATIONS
PRICE
CALDWELL G2

Brand: Caldwell
Weight: 7.4 lbs

CHECK PRICE
MAGNETO SPEED

Brand: MagnetoSpeed
Weight: 3.21 Ounce

CHECK PRICE

OVERALL BEST

CALDWELL BALLISTIC

Brand: Caldwell
Weight: 5 lbs

CHECK PRICE
LABRADAR BALLISTIC

Brand: LabRadar
Weight: 4.56 lbs

CHECK PRICE
1. Caldwell G2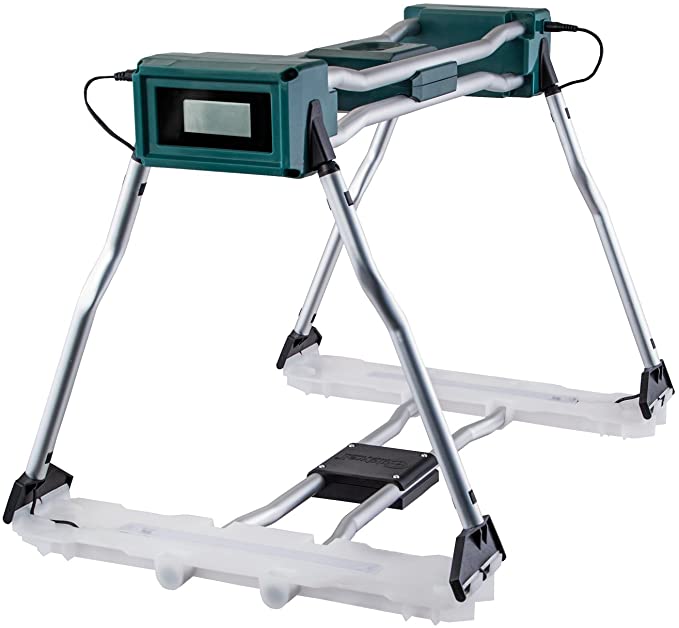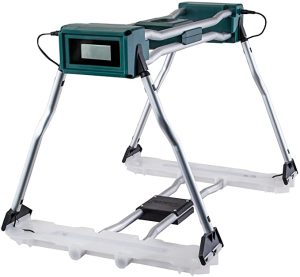 Paintball players require a highly efficient chronograph, and if you're one of them, the CALDWELL G2 BALLISTIC should be your first choice.
The G2 is more costly on the market, however, this is owing to the added features that paintball players want. The premium price of this chronograph reflects its outstanding performance on the range.
The precision of a chronograph is well-known. If the paintball chronograph's accuracy isn't very great, it will never be chosen.
Don't worry, the G2 ballistic paintball chronograph is accurate within a quarter of a second. The G2 chronograph has a fantastic exterior look.
Paintball players may use the precise chronograph on a tabletop or with a tripod because of its upside-down construction.
You can operate this excellent chronograph without problem whether you are standing or sitting on a paintball field. It may also be used with a broad range of weapons. Air guns, weapons, arrows, and paintball rifles are just a few examples.
The G2 is your best bet if you're searching for a flexible chronograph.
The G2 chronograph can also calculate a wider range of data types. The average velocity, extreme spread, minimum, maximum, and standard deviation are all included.
So by using you can easily determine the projectile velocity to make your shot exact and accurate. It can also measure speeds from 5 to 9,999 feet per second (FPS) with high accuracy.
Ballistic, G2 has Bluetooth and SMS (text) capabilities, which will astound you. You may transfer data without requiring a cable jack by utilizing Bluetooth.
So don't worry whether you're in the middle of a game or if you don't have any paintball attachments, such as a data cord. The Bluetooth feature allows you to effortlessly transmit your chronograph data to your preferred storage device.
You may also send your information through SMS (text) or email. Players may also see emailed data on a friend's laptop, PC, or tablet at any time. A travel case and a rechargeable Li-Ion battery are also included with the G2.
The paintball chronograph battery is too efficient to function for any number of hours. The G2's sole drawback is its requirement for mobile devices. To access your advanced data analysis, you'll need a phone, tablet, or laptop.
Its tripod design, like those of other tripods on the market, is ordinary. The G2 can be used for both inside and outdoor photography because of its folding function. This is a fantastic product that is also known as feature-rich.
Features:
To transfer data chronograph Has Bluetooth, SMS (text), and email features
The chronograph is highly accurate in calculating shot speed
High efficiency Can measure 5 to 9,999 FPS (frames per second)
Very lightweight and easy-to-carry
Used for indoor and outdoor shooting
Uses a rechargeable Li-Ion battery that lasts for a long time
Pros
Made up of durable material
Offer good accuracy
Easy to operate
Very versatile in function
Cons
The mobile device needed to view advanced statistical data
The chronograph is a little expensive
2. MagnetoSpeed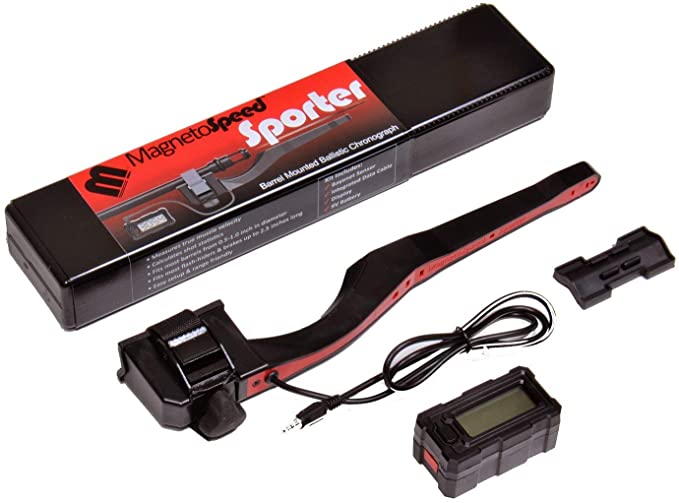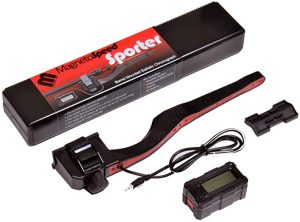 This Magnetospeed ballistic chronograph should be your first pick if you're looking for a very dependable and efficient paintball chronograph.
This is a very adaptable gadget. Although this shooting chronograph may be used with a variety of guns, its size and construction make it ideal for a paintball gun, paintball revolvers, and sporter barrels with long barrels.
This model has the advantage of being quite exact. After you've mounted and adjusted the chronograph on the market, you may anticipate it to be accurate to the tune of 99.5–99.9%.
This will allow you to precisely follow the data of your shots, allowing you to make any modifications necessary to improve them. The Sporter is powered by a 9-volt battery.
Thankfully, the battery compartment can be accessed without the need of a screwdriver or any other equipment, allowing you to change it on the battlefield between paintball games if necessary.
The chronograph is affordable and comes with useful features such as data tracking. If you wish to take quick photos, you may also set the device to rapid mode. I had a lot of fun shooting long range with it on my paintball pistol.
It also can provide the players comfort by providing highly accurate velocity data. There's also a kit with a bunch of extras.
It comes with a display unit, a Bayonet sensor, an alignment rod, and a user guide. There are also firmware upgrades and a troubleshooting guide available for download.
One of its drawbacks is how it affects a shooter's ability to fire. It has top speed and accuracy ratings because of its ability to gather data at 1,100 rounds per minute. This device fits muzzles and suppressors with diameters ranging from 12 to 2 inches. Electromagnetic sensors are used in the
Sporter chronograph to measure velocities in FPS. The gadget, like many chronographs, may be used on a variety of weapons, including paintball guns.
The device comes with a Bayonet that you may connect to your gun's muzzle to track load data. This is a simple quality since you can fire your rounds and it will provide the data you want.
A kit includes all accessories so you do not need to spend more money. You will have a lot of fun with this fantastic chronograph device on the paintball field.
Features:
Very lightweight easy to transport
Can record data up to 1,100 rounds per minute
Versatile chronograph
Downloadable firmware's so no need to be panic
Has its troubleshooting guide to help players of paintball
Great for pro shooters that offer high accuracy
Pros
Cost-effective product
Offers high accuracy
Comes along with an accessories kit
Cons
Bayonet's weight harms shooting
Not suitable for entry-level paintball players
3. Caldwell Ballistic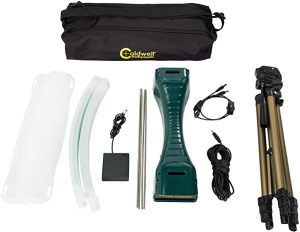 If you're on a tight budget and need a paintball chronograph, look for one that includes all of the necessary attachments so you don't have to spend extra money on them. You have arrived at the correct location. The best option for you is a premium kit with all accessories.
The Caldwell Precision Premium is a shooting chronograph that comes with a starter kit that allows you to start recording your rounds right away.
Paintballers favor lightweight chronographs because of their portability. Second, you can simply record chronograph data since the widescreen displays clear data.
This kit includes everything you need, including an adjustable tripod, a dovetail plate, a tote bag, and, of course, the camera.
So you can adjust this chronograph easily on the paintball marker. Not many adjustments are required easy to fit on the marker. The tripod's height can be adjusted from 15 to 42 inches. The Precision Premium can be used for any round you can think of.
Anything with a velocity of 5 to 9,999 feet per second will be tracked by the chronograph. It provides excellent precision and allows you to improve your reloading skills by utilizing a chronograph.
The chronograph has already been factory calibrated to a precision of up to 99.75 percent. If you shoot paintballs at a target from a long distance, you will gain the necessary accuracy to shoot accurately.
Using a data cable to transfer data from a chronograph to a laptop or a mobile phone is challenging for certain players. Don't be concerned about this.
This package also includes a 15′ cable for connecting the chronograph to your smartphone, which is a nice feature. You'll be able to keep track of the string's peak and lowest speeds, as well as the medium speed, standard deviation, and spread.
The paintball chronograph's durability is quite important. This chronograph is composed of solid material and is quite sturdy. This is a low-cost product.
Two sunshades, a 25′ audio jack cable, a carry case, a tripod, and a light kit are included with the chronograph. Overall, this is a good shooting chronograph that comes with a great kit and is reasonably priced.
This type is appropriate for all levels of shooters, from beginners to experts. So don't hesitate to have a look at this fantastic product and have a great time playing paintball.
Features:
The chronograph has a 48MHz processor
Two sunshades, a 25′ audio jack cable, a carry case, a tripod, and a light kit are included with the chronograph
The velocity of 5 to 9,999 feet per second will be tracked by the chronograph
factory calibrated to a precision of up to 99.75 percent
It offers high accuracy
Easy to transport to long distances
Pros
All accessories included in the kit
Cost-effective
Built with exceptional features
Used by both pro and entry-level players
Having a small size and lightweight
Cons
Tripod is not too good but perform its job
4. Labradar Ballistic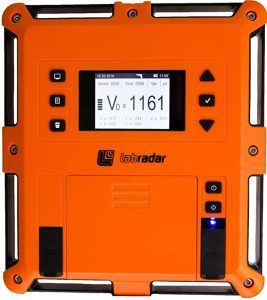 If you're looking for a high-end chronograph, Labradar is the way to go. This device can be powered by 6 AA batteries or an external USB power supply.
After 4 hours of use at the shooting range, batteries only waste 34% of their power.
It has a lot of features because it measures a bullet's flight with radar rather than sunscreens. A collection of accessories is included with the LabRadar.
A USB cord, warranty card, instruction manual, and carrying cases are included.
The LabRadar setup is really simple, and you may do it without any additional equipment. It took less than 5 minutes to get it ready, and another 2 minutes to switch between loads.
The LabRadar can also monitor and gain velocities at distances of up to 100 yards.
The maximum range of the projectile is 7.62mm per 100 yards! It also estimates the SD, ES, maximum, minimum, and average velocities of a bullet. It provides extremely accurate projectile velocity measurements for paintballs.
This is a pricey yet fantastic item. Another disadvantage is the radiation it emits. Every time it measures a fired projectile, it emits dangerous radiation.
As a result, the LabRadar is unsuitable for long field testing sessions. However, if you are only going to play paintball for a short time, this is the way to go.
Features:
Powers source is AA batteries or an external USB
A chronograph can track different types of statistical data
You can use it for both indoor and outdoor paintball play
Comes with a set of accessories which saves a lot of players money
Pros
Durable
Easy to fix
Provides accurate information
Cons
Expensive
Emit harmful radiation
Not use for a long period due to emission of radiations
Conclusion
OVERALL BEST: Caldwell Ballistic
Is accuracy important in a chronograph? Without a doubt. The accuracy of the chronograph is critical in providing users with accurate velocity data concerning paintball speed.
So Caldwell is a top-end product with outstanding accuracy. The chronograph's battery is extremely efficient and dependable. Overall, the most accurate product available.
Buying Guide for the Best Paintball Chronograph
Paintball players are increasingly more focused on achieving success on the paintball field. As a result, they are continuously on the lookout for the greatest device that can assist them in making accurate long-range shots.
The best paintball chronograph is their pick. A chronograph is a high-priced instrument. Before purchasing a chronograph, you must think carefully and consider the following elements.
ACCURACY: This is the most crucial point to remember. Some will be accurate 99.9% of the time, while others will be trustworthy 99.5 percent of the time.
Players can simply calculate the velocity and standard deviation of shorts with an accurate chronograph.
VELOCITY OF THE SHOT: The shot velocity is displayed on the chronograph. Some units are displayed in meters per second, while others are displayed in feet per second. The best chronograph is one that shows precise shot velocity.
DATA FROM A SHOT STRING: The majority of shooting chronographs can track several shots (sometimes known as a string of shots). They tell you if your shot has a high, medium, or low velocity. So you can get a good understanding of how paintballs hit long-range targets.
DESIGN: The design of the chronograph has an impact on the players' performance and experience. Some chronographs are heavier than others, making them harder to transport in a paintball field. Always choose a design that is appropriate for your playing style.
ACCESSIBILITY: Some players prefer a chronograph with an LCD screen, while others prefer a remote control. The best chronograph is one that is simple to use. As a result, LCD-based chronographs are always preferred.
PERFORMANCE: The chronograph's performance is quite important. Always look for a chronograph that performs well. Even BB pellets, paintballs, and arrows can be tracked with a good chronograph.
FAQs
1. What is the purpose of a Paintball Chronograph?
This equipment is used to determine the projectile velocity of paintballs before they are used in a paintball game. If paintballs are shooting out of the barrel at a high rate, you can adjust their velocity. Chronographs are also important in ensuring the safety of players.
2. Can Paintball Chronograph be used in many ways?
Yes, chronographs can be used to measure the velocity of BB shells, paintballs, and arrows. As a result, they have a wide range of applications.