Last Updated on September 1st, 2022 at 12:10 am
The protective gear and accessories you have in paintballing are crucial to your success. Paintball players found it more difficult to hold paintball gear in their hands while playing.
As a result of their discomfort and disdain, they are unable to shoot on target and hence lose the game. What is the best way to keep all of your accessories in one place?
So you'll need the best paintball harness to keep all of your equipment with you during the game, such as an air tank, ammo, and small screws. This is the most practical way to wear a harness and avoid trouble.
Our Top Picks
FOR BIG GUY
GZ XINXING
Lightweight
Portable
Nylon Fabric
12 Magazine Pouches
OVERALL BEST
DYE PRECISION
Memory Elastic
Rubber Traction
Adjustable Straps
Comfortable Fit
COST EFFECTIVE
MADDOG 4+1
Decent Style
Lightweight
Good Adjustments
Compact Durable Material
Best Paintball Harness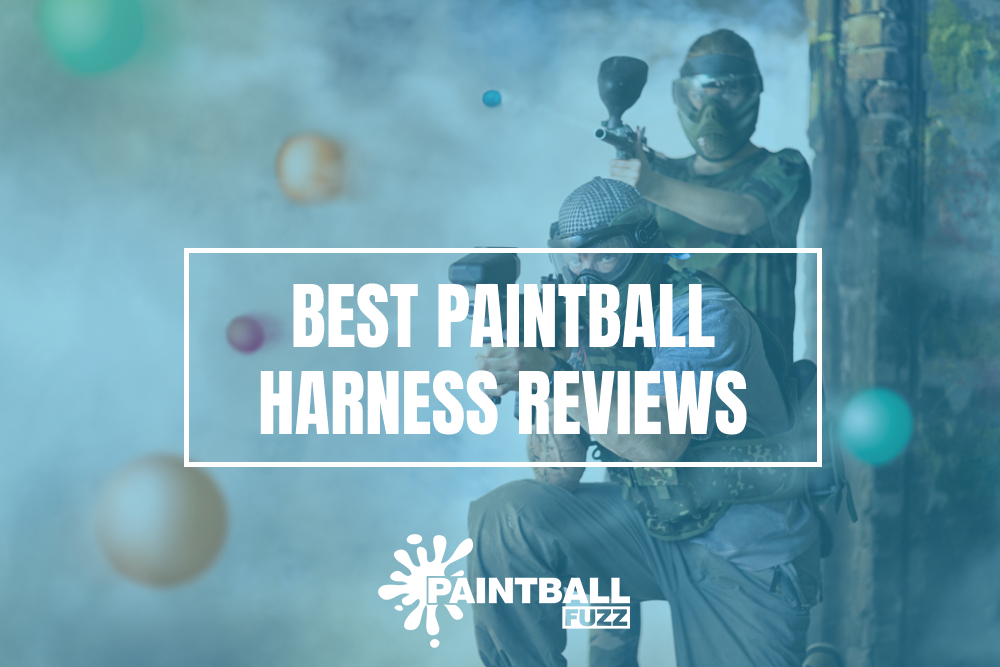 A paintball harness allows you to carry paintball pods and an air tank with you in the game. So, if your paintballs in the gun run out in the middle of a game, you may readily access the paintballs by wearing a paintball harness.
Harnesses are extremely soft and comfy to wear.
They're constructed of a long-lasting and robust material that gives layers a relaxing feeling. If you're a professional player who needs to compete in a tournament. Then you should think about these incredible harnesses to achieve your goals.
Harnesses of various sizes are available on the market. For paintballing, most players favor a simple harness. You can release your hands by putting pods and an air tank into the harness.
Players can use Velcro and straps to secure the harness around their waist. As a result, they are at ease shooting the opponent while running, jumping, and gliding.
Don't worry if you're still unsure about which paintball harness will best suit your needs. We've compiled a list of the top seven paintball harnesses to assist you in making an informed decision.
List of Top 7 Best Paintball Harness
1. Maddog Entry Level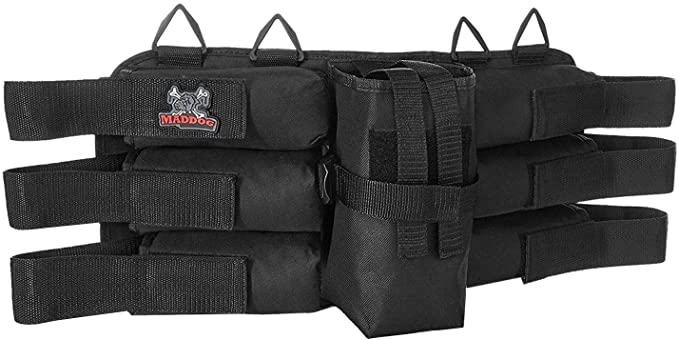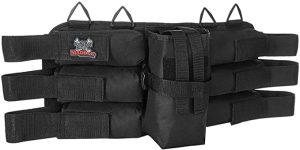 If you're a beginner paintball player looking for the best paintball harness, you've come to the correct place. The Maddog paintball harness is a low-cost option for newcomers to the sport.
This is a product with a lot of features at a low price. The paintball harness's storage capacity is extremely important.
Over 750 more rounds can be carried by an entry-level harness. In addition, a separate pouch for the air tank is included in the Maddog paintball harness, allowing you to carry all necessary gear without trouble.
Paintballers want a tough harness that can resist the wear and tear of the paintball field.
As a result, the Maddog harness is comprised of 900D nylon fabric. If you are extremely skinny or obese, or if you are unsure how this harness will fit on your body, so don't worry, there's a Velcro clasp to ensure a secure fit for players.
With a waist belt clip that adjusts from Youth to XL, it's also highly versatile. A remote line air system connects the ASA of your marker on one end to the tank on the other end of the paintball harness.
If you wanted to take the tank out of the harness, this would keep the harness in place. Very comfortable and simple to wear.
Features:
Very lightweight
The best option for entry-level players
Made from heavy-duty 900D nylon fabric so highly durable
The harness has reinforced stitches and Velcro closure
One size fits all
Remote liner air system
Pros
Cost-effective
Durable
Easy to wear
Ensure the comfort of players
2. Tippmann Sport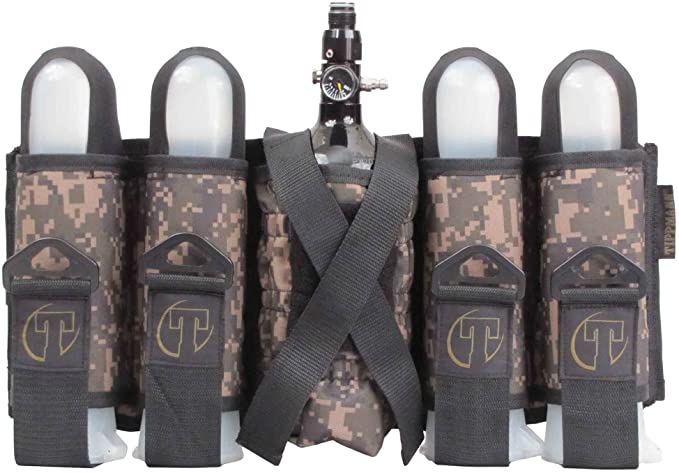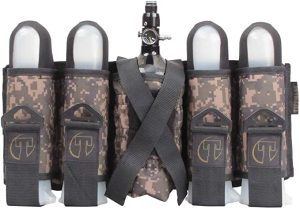 Carrying hefty paintball gear on battlefields is tough for paintball players. If you're looking for a high-quality lightweight paintball harness, this Tippmann Sport Series 4+1 Harness should be your first choice.
The 4+1 harness is extremely lightweight and easy to wear. Paintball is a physically demanding sport. Paintball players found it tough to sprint and jump while wearing a heavy harness.
This is composed of highly durable polyurethane, which is both elastic and long-lasting.
It has an adjustable body wrap belt that may accommodate a waist size of 22 to 24 inches. As a result, gamers find it simple to put on this fantastic product.
Tippmann harnesses can contain 140-round pods, allowing you to play for an extended amount of time. Tippmann harnesses also include huge pull tabs with a built-in pod ejection system, enabling speedier reloading if necessary.
So, if your paintball gun runs out of ammunition while you're playing, you can immediately refill it because you have easy access to ammunition. It also comes with a tank pouch that can be modified to fit up to a 68 cubic inch tank, making it quite useful.
This is the best product in general, having many admirable qualities.
Features:
Solid and lightweight design for comfortable portability
Made from heavy-duty nylon that makes it durable
Convenient and adjustable body wrap belt for a waist of 22-24 inches
Built-in pod ejection system
Adjustable tank pouch so you can use tank easily
Pros
Easy to carry
Small in size
God storing capacity
Good adjustability
Cons
Not ideal for longer games
Not able to carry heavy tanks
3. Bunkerkings V5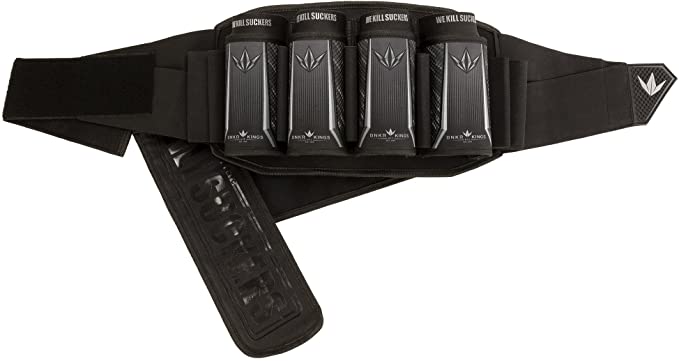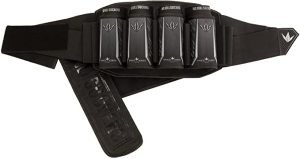 The Bunkerkings V5 Supreme Strapless Paintball Harness is a lightweight, extremely durable, and cost-effective paintball harness for both professional and beginner players.
This harness is ideal for informal paintball games where players are more concerned with mobility than with the maintenance of heavy paintball equipment.
Due to their comfortable size and body fitness, Bunkerkings are also employed by entry-level players in tournaments. It's an improvement on the original Bunkerkings designs, with improved comfort, pod retention, and a more secure fit.
This harness is designed to fit every body type, with additional back support provided by the belt and a sophisticated elastic attachment mechanism. This method uses cushioning material to produce friction and fits any body type.
When it comes to the design, it's decent and stylish. It has a highly appealing physical appearance and is utilized by both professional and beginner paintball players all over the world.
Paintball is an extremely frantic sport, but it rewards players with long-term comfort. It also has V5 elastic technology, which allows it to fit paintball pods of any size without requiring any adjustments.
Tippmann harnesses are compact. As a result, by fitting all essential accessories in the harness, you will have simple access to paintballing supplies. To be successful, you must choose this fantastic product.
Features:
Lightweight design
Ideal for casual games and used by pro players
Maximized comfort with a belt and back support
Advanced elastic attachment system and friction padding
Pros
Small in size
Provides back support by using a belt
No adjustment needed easy to fit
Cost-effective
Made from durable material
Cons
Not used for very intense paintball games
4. GZ XINXING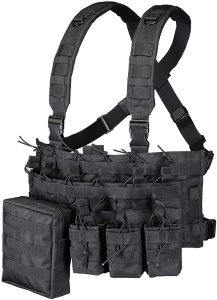 Some players like their vest and harness to be in the same area. Are you one of these types of players as well? If you answered yes, then your search for a product like this is finished.
Throughout the world, the GZ XINXING Chest Rig Tactical Vest and Harness is used as a vest and harness.
The paintball chest gig's great design and exceptional qualities made it the finest choice. Because it is built of high-density 900D material, it is extremely durable and can survive all of the hard circumstances found on the battlefield.
GZ XINXING is available in a variety of sizes, which will astound you.
Paintball players choose hats because they are easy to adjust on the body. In men's clothing, paintball harness sizes range from S to 4XL.
The key aspect of a paintball harness is its storage capacity. It has 12 normal magazine pouches as well as a separate medic pouch.
So, if you are hurt while playing, you may quickly apply ointment by storing it in your medic pouch. Why do paintball players prefer this fantastic item? Because of its inexpensive price and ease of adjustment, this device has been the first choice of layers all over the world.
If you have any worries, it also comes with a 30-day, risk-free, 100 percent refund guarantee, as well as great customer service to help you address any issues. Are you still perplexed? If you answered yes, then read the features to clear your thoughts.
Features:
Lightweight easy to portable
Made from soft fabric that provides good breathability
Made from high-density 900D nylon fabric
Sizing from an S to a 4XL in men's clothing
Harness carry 12 magazine pouches
Has an additional medic pouch
Pros
Comes in sizing
Most preferred harness
Work as harness and paintball vest Cost-effective
Made from long-lasting and resistant material
5. Dye Precision


The Dye Store Precision Attack Paintball Pro Harness is a great option for Paintballers looking for a high-quality paintball harness. Why is this paintball harness the best option?
Because it's made of a tough material that grips the body well. The good and small appearance of the Dye paintball harness makes it quite adaptable.
It has additional bags for storing paintball gear and pods that players require during paintballing. Don't worry if you were bothered by your prior harness since it didn't fit your body properly.
The Dye precision attack pro harness has memory elastic and rubber traction to keep it in place throughout even the most intensive games and movements through tough terrain.
As a result, players can freely run, glide, and jump on the paintball field. Another fantastic feature of a paintball harness is that you can adjust the size of the harness to fit your needs. It can contain up to 11 pods at a time, however, depending on your storage needs, you can limit it to 4,5,7,8 pods.
Velcro with a 55 MPH rating and Dye accuracy guarantees that the pods and harness stay in place comfortably. It includes four-way adjustable straps and is one-size-fits-all, allowing for a perfect and secure fit that is unique to you.
It also has ejector pod loops, which allow for quick and easy access to the pods, saving time. As a result of its numerous distinctive qualities, it is regarded as the ideal harness for paintball big tournaments.
Features:
55 MPH rated Velcro
Memory elastic and rubber traction for easy harness attachment to the body
Used by professional players in tournaments, this harness is suitable for intensive games and tough terrains.
Up to 11 pods can be stored in this collapsible web structure.
Made from lightweight and durable material
Pros
Four-way adjustable straps
secure and comfortable fit
Loops on the ejector pod enable quick and easy access
For over ten years, it has been proven in championships
6. Maddog 4+1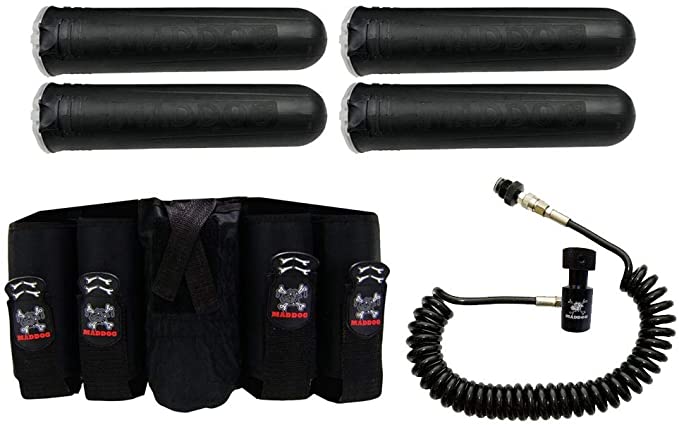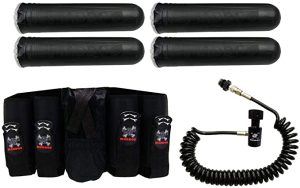 Occasionally, while playing paintballs in a gun finish. As a result, the players become agitated. If you want to avoid such a frightening situation, you should choose the Maddog 4+1 vertical paintball harness.
It has plenty of space for paintballs and an air tank, and it makes reloading your paintball pistol a breeze.
Many players choose the Maddog vertical harness because of its unique appearance and long-lasting construction.
This useful harness comes with an 88ci tank and storage bags for up to four regular paintball holders. Although a compressed air tank must be purchased separately, this harness comes with four pod holders that are properly sized for the harness.
With its vertical pod retrieval, this harness has a lot of appeal. The grippe rubber pull tabs make it even easier to access your pods. Thanks to the handy rip-tape tank straps, retrieving your tank for reloading your marker is also a breeze.
Almost any player should be able to wear this harness comfortably. If you want a bespoke fit, this harness is the way to go. It has inner and exterior elasticated belts. With this Maddog harness, you can also expect long-lasting performance.
It can also resist the tough circumstances of a paintball field thanks to its hard-wearing polypropylene construction, which will endure for many years if properly cared for.
The harness's design is appealing, and it has a lot of storage space. The ammo pods that come with the marker are likewise incredibly user-friendly, featuring spring-loaded flip lids that allow you to reload your marker quickly. It also has several pouches that can be used to store small screws. Players demand a lightweight harness.
So if you also demand a lightweight paintball harness so your wait is over. Maddog vertical harness is the best choice. Overall this is the best product.
Features:
The harness has a decent style
Highly reliable
Provides excellent storage for accessories and paintball pods
Provides comfortable paintballing and breathability
Pros
Very lightweight
Comes in black color
Have strips for good adjustments
Made from compact durable material
Cons
Pouches not able to open quickly
7. Virtue Breakout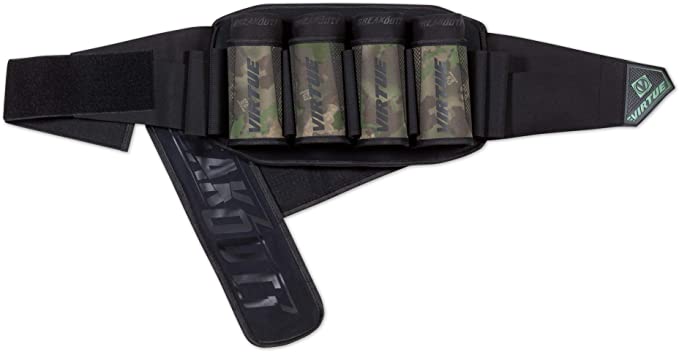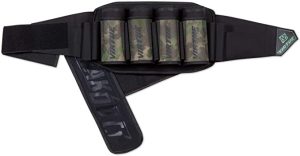 If you're looking for a very basic paintball harness, this great virtue strapless paintball harness should be your first choice.
Entry-level players' top priority is this paintball harness. Paintballers looking for a lesser load may like this pod pack harness.
This harness is designed to wrap snugly around the body, with a four-way locking belt system that keeps everything in place throughout the game.
This harness has been designed to have the least amount of impact on your game, with a bounce-reducing design to offer you an advantage on the field.
There's also enough room for up to four paintball pod holders, so you'll never be caught short on ammunition during a game. Unlike the other harnesses on our list, the Virtue Breakout model can comfortably handle a variety of paintball pods without requiring numerous adjustments.
This useful paintball harness is available in two eye-catching styles: a classic camouflage motif and a graphic black edition.
The strapless design eliminates restricting buckles and belt loops, making this harness considerably more convenient and preferred by players.
Because the vest is designed to carry a substantial quantity of marker accessories and other paintballing requirements, the lightweight design of this harness is critical.
An air tank can be mounted on your upper back to keep it out of the way until you need it. Heavier equipment can be attached to the waist, which is strengthened for improved load-bearing capacity.
So you should think about getting this awesome paintball harness to improve your paintball experience.
Features:
Lightweight and compact design
Versatile and convenient
Very easy to wear
Use by both pro and entry-level players
Good storage capacity for ammo.
Pros
Strapless harness
Provides good grip to the body
Made from long-lasting material
Comfortable to use
Cons
The fabric isn't very durable
Conclusion
FOR BIG GUY
GZ XINXING
Lightweight
Portable
Nylon Fabric
12 Magazine Pouches
OVERALL BEST
DYE PRECISION
Memory Elastic
Rubber Traction
Adjustable Straps
Comfortable Fit
COST EFFECTIVE
MADDOG 4+1
Decent Style
Lightweight
Good Adjustments
Compact Durable Material
BEST FOR BIG GUY: GZ XINXING
What is the finest paintball harness for a big guy? Paintball harnesses for big guys must have a strong grip and several straps that give appropriate body support. As a result, you must prefer the GZ rig tactical harness. This product has two functions: it may be used as a paintball vest as well as a harness. It has a reasonable price and is quite light. It's a feature-rich product with exceptional attributes.
COST-EFFECTIVE: Maddog 4+1
Do you have a limited budget? If this is the case, don't be concerned. We have a low-cost bumper product for you. Maddog is known for providing cost-effective products. Maddog harness has a lot of cool features for a modest price. It has a lot of accessory storage space. If you're a beginner, this fantastic product should be your first choice.
Ultimate Buying Guide for the Best Paintball Harness
Your paintball success is determined by the paintball accessories you use during the game. Let's say your paintballs go missing in the middle of a game, leaving you upset and helpless, unable to continue.
As a result, your opponent will easily knock you out. For this, you will need to purchase a suitable harness that will allow you to carry extra ammo and paintball gear with you during the game.
Are you unsure where to go for the best paintball harness? Don't worry, we've put up a simple guide on the finest paintball harness. There are a few key aspects to consider, such as which paintball harness is the best.
How to choose a comfortable and cost-effective harness, as well as a variety of other topics. Because there are so many design harnesses on the market, finding the right one might be tough. However, consider the following important criteria when making your decision.
COST: The price of the paintball harness is the most important consideration. If you're a beginner, always go for a lightweight, low-cost harness.
It is recommended that professional players choose an expensive harness because they demand more in paintballing. Expensive harnesses are tough and small, and they can resist the rigors of battle.
FIT AND ADJUSTABILITY: Always choose a paintball harness with straps and a belt that can be readily adjusted to fit your body. When playing on a battlefield, be wary of buying a harness that makes you feel uncomfortable and slips.
DESIGN AND STYLE: Harnesses can be small, light, and simple. Because there are various varieties of paintball harnesses on the market. What kind of paintball harness do you want?
It is entirely up to the paintball player's preference. It is recommended that you choose a paintball harness that is both comfortable and has numerous pouches for storing paintball pods. Also, choose a harness that allows the paintball player to move freely.
SPACE AND ACCESSORIES: What are the benefits of using a paintball harness? Of course, we need somewhere to keep our accessories and pods. As a result, double-check whether the harness size is suitable with the paintball pods you're using.
Also, paintball harnesses with extra pouches for storing more paintballs are always preferred.
FAQs
1. Where do Paintball Pods come in?
Paintball pods, also known as tubes or guppy pods, are a type of paintball carrier that allows players to take paintballs with them while playing. They're composed of long-lasting plastic and come with a lid to make closing and opening pods a breeze.
2. Can a Paintball Harness help players improve their field performance?
Yes, because the number of paintballs you have affects the game. You can hold more paintballs and stay on the battlefield for longer if you use a harness.