Last Updated on August 30th, 2022 at 09:34 am
As safety for the head and eyes is essential in the paintball game. How can these vital body parts be safeguarded? Paintball masks with lenses must be worn for head protection.
In some situations, such as on the battleground, the fog begins to accumulate on the lens due to the frantic activity and rapid berating, resulting in a fuzzy effect. So, how do you fix a paintball mask? Proper mask care and cleaning is the most typical way to fix a paintball mask.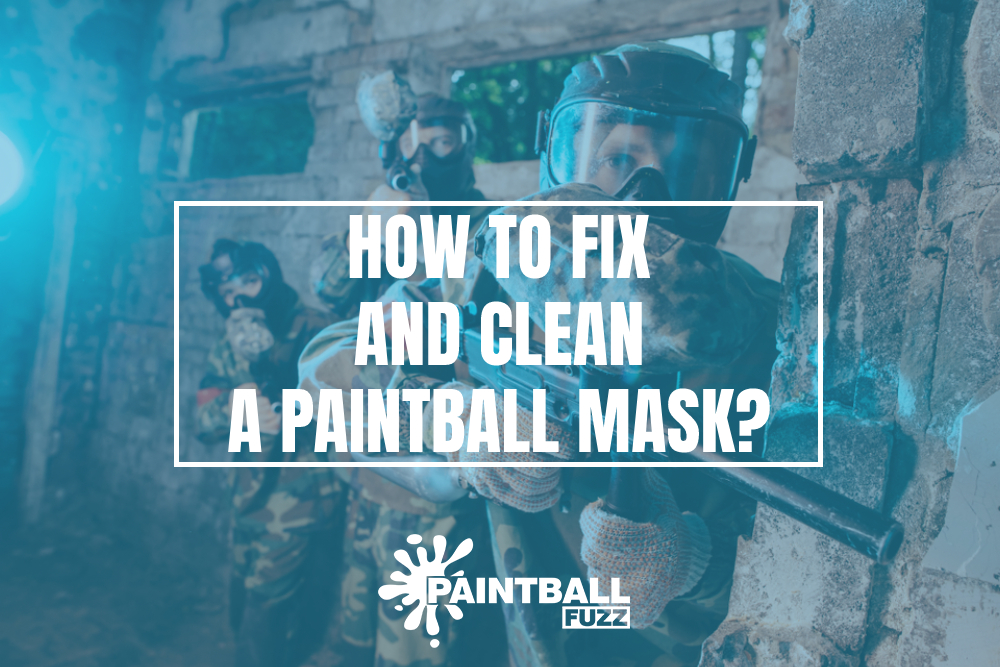 The lens receives minor scratches as paintball players sprint, glide, and climb on the combat field. Players won't be able to deliver their best on the battlefield if their mask isn't fixed. Paintball players must understand how to improve their paintball masks to participate in this game.
Only a high-grade paintball mask can provide a clear-cut view as well as head protection. We have compiled a list of some critical actions to fix the mask for your convenience.
What is the Importance of Cleaning Paintball Lens?
Which of the following injuries is the most deadly on the battlefield? The damage to the head and eyes produced by fast-impacting paintballs are severe. Paintball masks are therefore used for protection. They shield you not just from incoming paintballs but also from other types of attacks.
After all, your eyes are among the most delicate parts of your face and must be well safeguarded. The lifespan of a paintball mask is determined by several factors, including how frequently you use it, the damage it sustains from fast-approaching paintballs, and how often you clean it.
If you want to extend the reliability of your mask, you must inspect it and clean it properly. Keep your cover clean if you're going to spam for a long time.
Water, paintball lens cleaning is recommended by the manufacturer and can use microfiber or soft towels to clean the mask lens.
Do not use glass or home cleaners such as Windex, Simple Green, citrus cleaners, or similar products. These chemicals can deteriorate the lens material and remove anti-scratch, glare, and fog coatings.
Despite their smooth appearance, paper products are abrasive and equivalent to rubbing very fine-grit sandpaper on your lens.
If the front lens has splattered on it, first clean away the majority of the goop with a soft cloth or towel.
If necessary, reapply the spray and buff it to a clean, streak-free finish. Avoid removing any paint that has gotten on the inner lens.
When your Paintball Mask Needs Replacement?
Paintball masks often last a long time if properly cared for. Paintball players should change their paintball mask lenses at least once a year. Most players change lenses in the spring, just before the start of the big playing season.
Make it a habit to examine your lens before each day of paintballing. Hold them up to the light, paying close attention to the corners and tabs attached to the mask. If a player hits the lens directly from a distance of 30 feet or less, you should consider changing your lens as well. When in doubt, switch lenses.
You'll be glad you did it later. There are a few indicators that paintball players should change mask lenses.
1. Eye Strained
If you can't see paintball clearly, it's probably because your eyes are tired. Attempt to change the lens. Remember that eye fatigue could cause by several reasons, including the quantity of sleep you get or any seasonal allergies you may have.
2. Cracks
Suppose there are any permanent scratches on the mask lens. It's time to consider mask lens replacement. To begin, closely inspect the lens for apparent symptoms of deterioration such as cracks or abrasions. If paintball players see any of these signs of wear, it's time to change their masks.
3. Fogs Up Too Soon
Paintball is a fast-paced, energetic activity. As a result of the adrenaline rush, rapid breathing begins. As a result, the lens fogs up. If fog appears on the lens too soon, the lens is destroyed. It is best to take action to reduce fog build-up, but if you notice it happening too fast, it is a warning that you need lenses for your paintball mask.
FAQs
1. How to store Paintball Mask?
Suppose you want to maintain your paintball mask safe and your lens free of scratches; attempt to store it carefully. Always keep your paintball mask in an aftermarket goggle case or one that came with your mask. If you don't have one, a pillowcase will suffice. You don't want the lens to get scratched while it's in your kit bag. If your gear bag does not have a distinct goggle compartment, it is best to place it last, on top of everything else, to avoid crushing them.
2. How long Paintball Mask can be used?
Paintball masks are never readily damaged. As a general guideline, you should change the lens on your paintball mask once a year or when the tint wears out and the lens begins to crack, whichever happens first. Never be negligent in this subject; always attempt to clean the mask and replace the lens to extend the life of the paintball mask.
Conclusion:
How can we improve the durability and lifespan of paintball gear and accessories? It can only be accomplished by properly cleaning and maintaining paintball gear. To protect one's head, mouth, and ears from fast-impacting paintballs, one should strive to utilize a high-quality paintball mask. However, never use too much hot water for mask washing as this will destroy the glue and render the mask ineffective.