Last Updated on August 30th, 2022 at 07:33 am
Shooting paintballs with all of the necessary equipment is vital for a paintball player's performance. What should players do if the paintballs in the marker run out?
Players feel panicked and unable to shoot, and as a result, are ejected out of the game. To keep you out of troubleshooting situations like these. The best paintball pods must be kept by the players.
Which paintball pod is the best? Paintball pods are specially developed for paintball players, ensuring that players have access to paintballs in the middle of the game. Paintball pods, also known as tubes, store an average of 140 paintballs.
Our Top Picks
COST EFFECTIVE
VALKEN PODS
High-Quality Materials
Easy to Carry
Featured Packed
Cost Effective
HIGHLY DURABLE
MADDOG PODS
Lightweight
Flip Top Lids
Spring-Loaded
Highly Durable
OVERALL BEST
HK ARMY PODS
Durable Material
Anti-Slipping Design
Lightweight
Spring-Loaded
Best Paintball Pods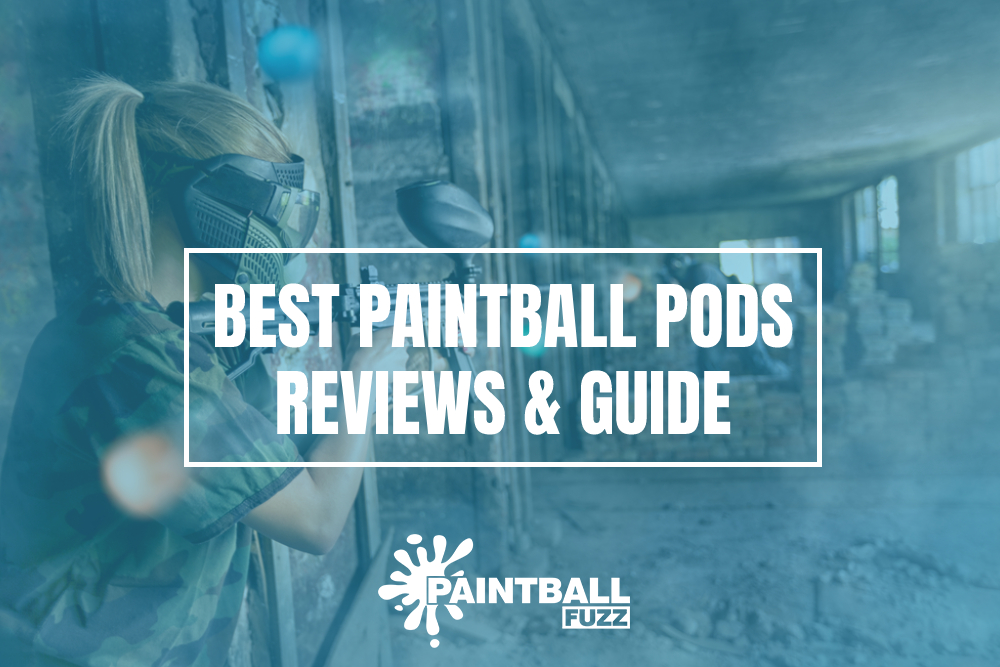 The lid is a spring-loaded mechanism that allows paintballs to be quickly transferred to the paintball gun if it becomes empty. Paintball pods have the great virtue of being simple to use in paintball games.
Players may feed paintballs with just one hand. If you're wondering how you'll be able to bring these pods into the game, read on.
Paintball pods can be stored in a paintball harness or tied to an ammunition belt. As a result, paintballs are readily available in the game.
Paintball pods are comprised of a robust and sturdy plastic that can resist all of the extreme circumstances found on the battlefield. Paintball pods retain plenty of ammo for paintball players to shoot correctly until the end of the game and maybe win.
Some paintball players never want to be limited to just one ammo pod, so they wear an ammunition belt with three to four pods to ensure they have enough paintballs throughout the game.
If you play speed or woodball, you should understand the significance of high-quality paintball pods.
Paintball pods are valued the least by certain players, but visors, Hooper's, barrels, and guns are highly valued. These gamers must keep in mind that a gun without paintballs is useless.
When playing paintball, always have paintball pods with you. Are you still undecided about where to get the greatest paintball pods? Don't worry, we've put together a simple guide and a list of the top 5 pods to assist you in making an informed decision.
List of Top 5 Best Paintball Pods
1. Maddog 4+1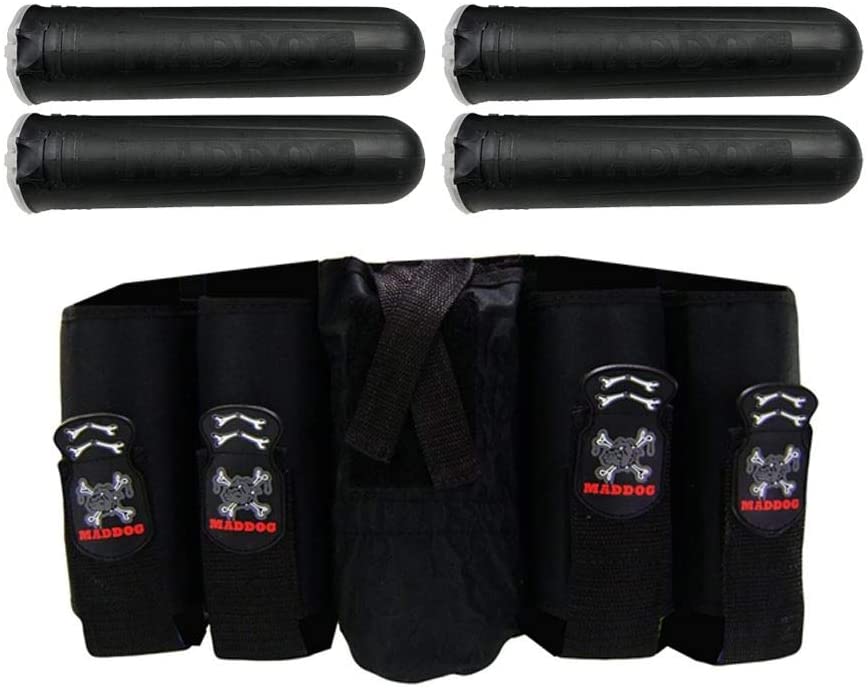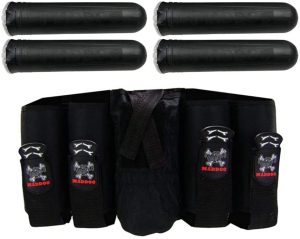 If you want to save money by purchasing a harness and pods in one box, this is the product to choose from. It is a low-cost product with a lot of features.
A back harness that comfortably holds four conventional paintball pods, as well as four 140-round pods, are included in this terrific value set to ensure you can load up and play right away.
This elegant pod also boasts a one-of-a-kind lock lid feature: a thumb button affixed to the lock lids for simple opening.
This is a bonus ability for secure storage of ammo. You must pull the locking Lid down with your fingertips to unlock it.
It will pop open, and then all you have to do is reload it. Simultaneously, some regular pods have sticky covers that are difficult to remove.
Another benefit of this pod is that it snaps. The ribbed outer shell improves grip at the top. When you walk around the gaming fields, this grip keeps the pods in place.
Most paintball players like different bright color paintball pods to be more fashionable and elegant, so these airsoft pods appear in a range of colors.
However, after seeing all of the color combinations, select. These stylish pods are composed of high-impact plastics for added durability.
The texture of the outer shell grip aids in good holding. Ultimately, this amazing paintball equipment is well worth the extra money, and it is one of the best paintball pods available.
The paintball pods are suitable with normal 88/4500ci tanks, and the quick-release lids are especially useful for easy access and reloading. This is the greatest product for the money. If you wish to, get success in the paintball field must choose these pods.
Features:
Very lightweight
Most advanced lock lid easy to open and close
latch system with thumb button for feasible opening
Texture surface
The design offers Decreased slippage
Pros
Cost-effective
Easy to carry
Good ammo storage
These pods are Heavy-duty paintball pack
Comes in a Color variant
Compatible with standard 88/4500ci tanks so you can use them easily for loading
2. Valken Pods

Valken paintball pods are the ideal choice for gamers that seek top-notch performance. Some players must compete in larger paintball competitions, and if their pods are of poor quality, they will break and waste paintballs.
Valken paintball pods comfortably hold 140 paintballs each and are designed to fit with any standard size carrying strap, while the flip-top lid features a secure locking mechanism to keep your paintballs securely in place for the duration of your game.
The 140 paintball storage capacity is sufficient for casual paintball play. Paintball lovers favor Valken paintball pods the most. It is available as a single-piece segment for individuals who do not require the entire pack.
There are various four-piece bundle choices. A long game can be played with enough rounds in each tube. The design of this Valken pod, which features a spring-loaded locking mechanism. The flip lids are made of high-quality plastic to ensure long-term durability.
At the same time, it aids in the protection of your interior paintballs. The locking lid won't open by itself, but it's simple to pop up when you need to reload quickly.
Valken's pod dark color concept, incorporating black, will not display the best appeal and will boost paintball players' confidence. The clear version, on the other hand, can be obtained at any time by anyone who prefers it.
This pod's other amazing feature is that it's made to fit in any harness. And, with all of its unique features and high quality, this pod is available at the most affordable price.
Furthermore, the ultra-smooth outer surface means that these paintball pods can be maintained clean and look new even after a long day of paintballing. If you are a regular paintball player, this high-quality product should be your first pick. The durability of paintball pods is quite important.
Features:
Made from High-quality materials
The pod can Hold up to 140 paintballs that best-storing capacity
Easy t carry
Cost-effective
Featured packed
Pros
Spring-loaded flip-top lids for easy reloading of marker
Fits in any standard size harness so you do not need to buy a separate ammunition belt for the pod
Highly durable
Made from high-quality material
Cons
Not come in a full-size package
Little pricey
3. Maddog Pods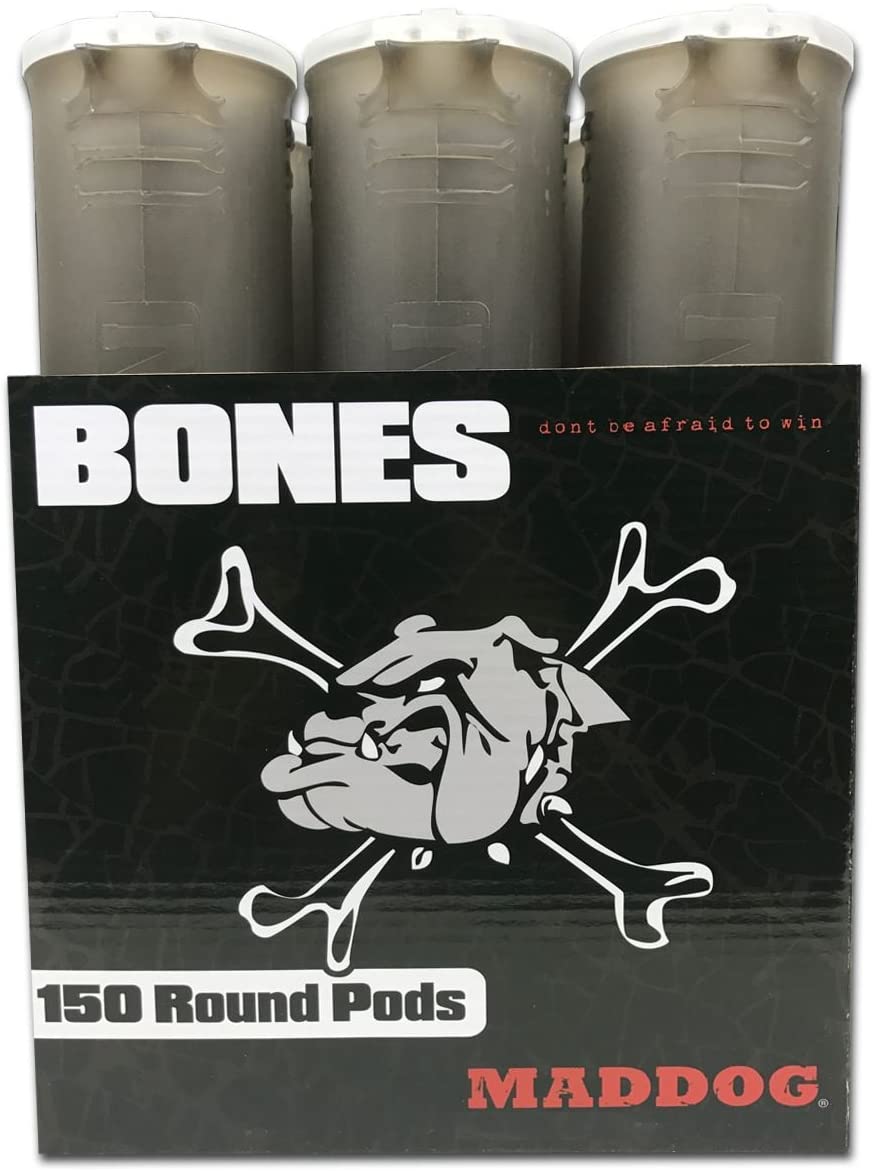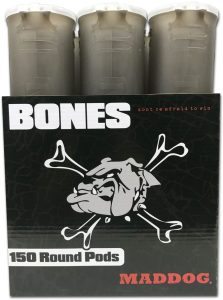 If you are a professional paintball player. As a result, you'll require extra ammo storage pods with a capacity bigger than 140.
As a result, we have the best Maddog 150 round bones paintball pods on the market. These pods are the perfect choice for paintball players due to their unique style, ease of opening, and robust substance.
Each of these paintball pods stores 150 individual paintball rounds, ensuring that you always have enough ammo on hand, while the pods are tailored to accommodate all standard paintball harnesses.
These pods also have higher grips and a thumb tab for significantly simpler retrieve while reloading, allowing you to load your hopper faster than ever before.
These pods do not have a collar and are made of robust polypropylene, enjoy playing as hard as you like. You don't have to be concerned about your paints and pods cracking.
It has cutting-edge reloading and clamping technologies. If your paintballs run out in the middle of a paintball game, don't worry; these pods provide the finest ammo storage. You can even operate them with just one hand.
Reloading is faster and easier with these elevated bones handles and spring-loaded flip-top. You must activate the press flick to benefit from the speedier reload. It allows you to maintain your eyes on your target while filling and saves you time.
Any regular paintball harness will work with it. However, if you're going with this pack, we recommend Maddog pro strapless harnesses. It becomes one of the best paintball pods due to its high level of durability and carrying capacity.
Paintball players' success is entirely reliant on the number of paintballs they have.
So, if you have paintball pods, you can store more ammo and play till the finish of the game.
Features:
Constructed with high impact polymer that enhances its durability
Very lightweight
Pods have Flip Top lids
The spring-loaded mechanism for easy reloading
The best option has Faster and No-Look reloads
Fits with a standard paintball harness so you do not need to buy a separate belt
Pros
Spring-loaded
No lock reloads
Highly durable
Best carrying capacity
4. Virtue PF165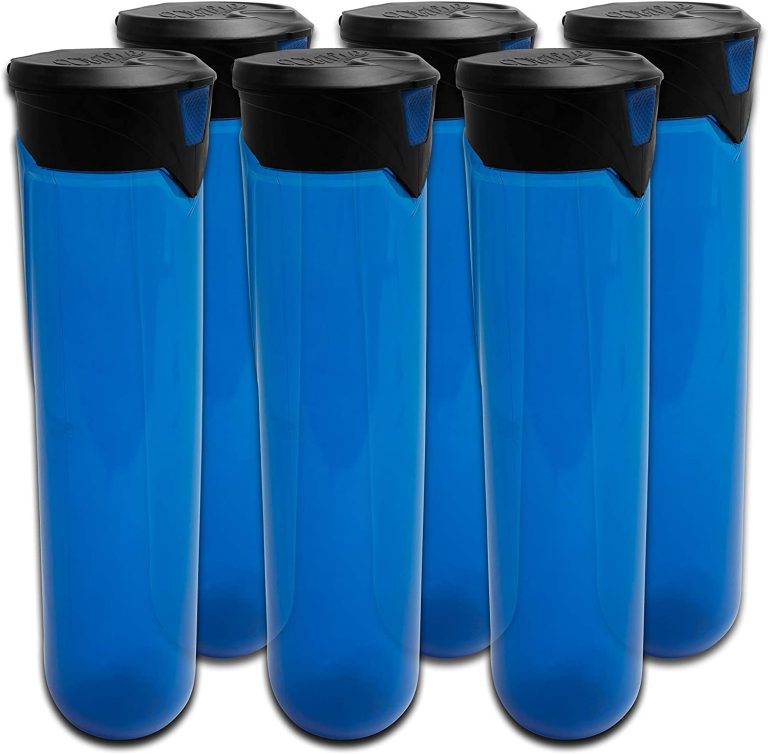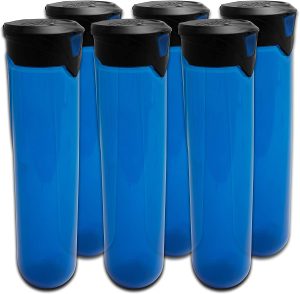 Paintball is a speedily game in which players must glide and run. They will be unable to provide their best in the paintball field if they become burdened by bulky paintball gear.
The PF 165 paintball pods are your top choice if you want the lightest paintball pods that are easy to carry in the field and adjustable in harness.
Virtue-PF165 paintball pods are an excellent choice because they are two inches smaller than similar pods on the market.
The Virtue PF 165 pods have an easy-to-use push flick mechanism for unlocking, and the locking lid is meant to keep paint from spilling out.
These pods are made of durable materials that will hold up to continuous use, with special attention devoted to the smallest of components to guarantee they last a long time.
The Virtue PF165 Press Flick Lid Paintball Pods are a great option if you want to lessen your burden for easier movement on the game field.
This huge capacity pod comes in a basic pack with several unique features and superior materials over normal pods. These pods are available in two sizes.
You can choose between 135 capacity pods and 165 circular storage capacities. Virtue Paintball Pods are 2 inches smaller than the typical pod size, thus it doesn't matter which variety you choose. This will allow you to carry more stuff while saving space.
The PF165 high-capacity round pods can hold at least 20% more ammunition than conventional pods. It also includes a unique and intuitive unlocking mechanism called "Press Flick." Its lockable lid allows for easy loading and prevents your paints from being lost during the fight.
The conventional lid is simple to use and saves time while filling the hopper. These high-quality tubes are long-lasting hinges that come in a variety of colors. You will have a great time playing paintball with these wonderful pods.
Features:
These pods are called larger capacity pod
Smaller than standard pod sizes so fit easily in harness and hands
Design with "Press Flick" lid easy to open and close
Flick locking prevent to spill paints save paintballs from being damage
Pros
Comes in an Amazing color variant
Made from highly durable material
Easy to carry
Cost-effective
Offers good paintball storing capacity
5. HK Army Pods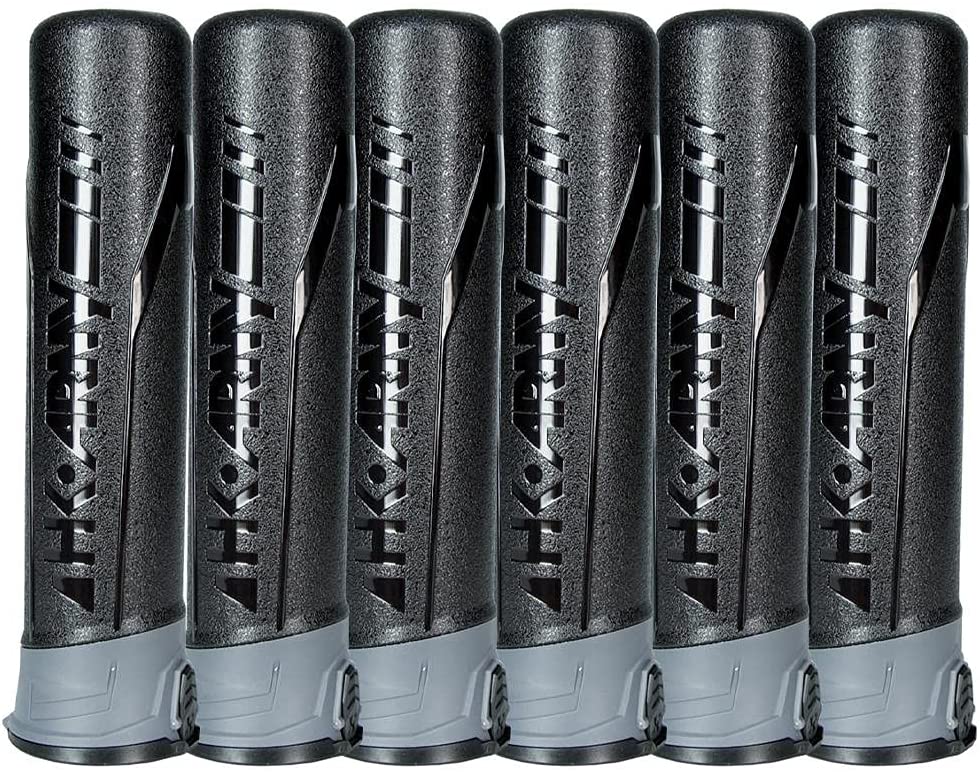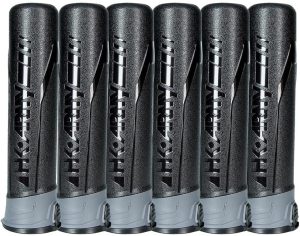 If you're a member of the HK Army, then this high-capacity paint pod is a fantastic and high-quality product. Paintball players, both professional and amateur, adore these paintball pods.
Its pro feature allows you to carry extra paints and avoid having extra pods on the game field. It can, however, contain up to 170 paintball rounds.
To safeguard these paints from an unwelcome leak, an ingenious black press flick button is connected to the side of them.
There is a push-button with the HK eminent logo upon that. The push-button lock is simple, ingenious, and easy to use, allowing you to unlock and reload your weapon fast throughout the game.
The ammo can't get in or out since the loaded flip lids are incredibly secure and fastened on top of the pod. If you're new to paintball, you'll want to buy a paintball pod that's both robust and sturdy.
Paintball is a high-intensity sport. In this game, players must run and glide across a paintball field. If you choose to utilize low-quality paintball pods, they will shatter easily in battle and cause you problems.
For rapid opening and loading, these pods include a sophisticated lid design that uses a spring-loading mechanism.
The spring-loaded lid keeps your paintball rounds safe and secure while you're in the middle of a game, and it's easy to get them back when you need them. Reloading is considerably easier thanks to expanded thumb grooves and contouring at the lid, which allows you to reach and retrieve your pods without having to look.
Furthermore, the HK pod's blossoming outside design, cool features, and incredibly robust plastic tubes set it apart from the competition. These paintball pods could be a good choice if you want to feel like a pro.
This is the final product, however, it is of excellent quality. This is an important factor to consider if you want to succeed in the paintball field.
Features:
Keep in place due to Anti-slipping exterior design
Push-button locking never open on heavy jerks or if player fall
Made from highly durable material
Easy to carry due to lightweight feature
Feature-packed product
Pros
Pods able to restrain unwanted spills
Easy and quick spring-loaded lid for the comfort of paintball players
Durable & high-quality plastic withstand the harsh conditions of paintball field
Can easily fit in any paintball harness
Cons
High Price
Not compatible for many players
Conclusion
COST EFFECTIVE
VALKEN PODS
High-Quality Materials
Easy to Carry
Featured Packed
Cost Effective
HIGHLY DURABLE
MADDOG PODS
Lightweight
Flip Top Lids
Spring-Loaded
Highly Durable
OVERALL BEST
HK ARMY PODS
Durable Material
Anti-Slipping Design
Lightweight
Spring-Loaded
COST-EFFECTIVE: Valken Pods
What distinguishes these paintball pods as the most cost-effective and in-demand item? These pods were chosen as the top quality pods because of their outstanding qualities. If you're looking for a low-cost, high-feature product, these Valken paintball pods are the way to go.
Paintball pods have a capacity of 140 paintballs. As a result, you must select this item to play and shoot freely without fear of the paintballs running out.
OVERALL BEST: HK Army Pods
Why is it vital to acquire paintball pods based on the size of your paintball harness? Paintball pods can hold paintballs. As a result, if the size of the pods is huge, it will be difficult for paintball players to fit correctly in their paintball harness.
As a result, HK army paintball pods can be adjusted in any sort of paintball harness.
These paintball pods come in a variety of colors. You do not need to purchase a separate paintball belt for pods. They fit readily in harnesses because of their robust durability and tiny size.
Buying Guide for the Best Paintball Pods
Buying high-quality paintball pods is a difficult undertaking. It is difficult to keep many essential considerations in mind before picking the appropriate harness pods or independent pods.
Let's take a look at some of the most pressing issues in your mind. What are the best pods for professional players?
Is it necessary to have a large paintball pod budget to purchase high-quality paintball pods? Is it necessary to purchase paintball pods in addition to the harness?
To help you make up your mind, we've created a simple guide that will assist you greatly in selecting the best option. To make an informed choice of paintball pods, keep the following factors in mind at all times.
OPEN LID: Paintball pods are protected by a lid. Always choose a paintball pod that is simple to open and close. When the lid is excessively tight, it will pose problems for the participants during the game.
However, if the lid is not secure enough, it will open and you will lose ammo. As a result, spring mechanism lids are now employed to assure the greatest performance.
CARRYING CAPACITY: What if your paintballs/ammo run out in the middle of a paintball game? It will be a problem for you. You will be easily knocked out of the game in that circumstance.
As a result, you must have an adequate quantity of paintballs to last the duration of the game. As a result, you'll need to have lots of ammunition on hand so that you can shoot without delay.
Always prefer high storing paintball pods that are small in size but have large ammo storing capacity.
DURABILITY: Another important consideration is the durability of paintball pods. Because paintball Pods are composed of plastic, they can be damaged or broken if not handled carefully.
You can utilize ammo belts or harnesses for safety. However, to ensure safety, your pod should be built with long-lasting materials. Various paintball pods are long-lasting.
WEIGHT: Why is weight so important in paintball accessories? Keep in mind that the pace of paintball players is quite important. If you choose hefty accessories, the player will be overwhelmed and the speed will be reduced.
As a result, choose paintball pods that are both comfortable and lightweight.
BUDGET: The budget for paintball pods is really important. The paintball pods are reasonably priced. So if you buy a costly thing, it will last a long time.
Cheap paintball pods, on the other hand, can break, become lost, or even be stolen, so you should think about these difficulties before purchasing an expensive one.
FAQs
1. What exactly are Paintball Pods?
These are little plastic tubes used to store additional paintball ammunition for paintball enthusiasts. The average amount of paintballs stored is 140. Some can readily store up to 200 rounds of ammunition.
2. Which Paintball Pod can withstand the harsh paintball field condition?
Paintball pods are constructed from a variety of materials. The best quality pods can resist all types of wear and strain. As a result, polyester and high-quality plastic paintball pods are recommended.