Last Updated on September 1st, 2022 at 04:43 am
Sometimes on a paintball field, your paintball tank unfortunately empties or your gun barrel may break due to a severe jerk or accident. In this situation, you have no option to defend yourself against the opponents or continue the game. What do you have to do in this situation?
To deal with that situation you need sidearm guns which are called pistols because of their pistol-like appearance. The pistol is loved by both pro and entry-level players. Pistols are Preferred For recreational exercise or even use as an alternative to classical markers on the battlefield.
Our Top Picks
FOR HOME DEFENSE
TIPPMANN TIPX
Best Range & Accuracy
Compact Design
Customizable
8-Ball Magazines
BUDGET FRIENDLY
SMITH & WESSON
Metal Body
Very Realistic
Safety Trigger
.43 Caliber Barrel
HIGHLY DURABLE
T4E TPM1
Low Calibre
Easy to reload
Efficient
Durable Metal
Best Paintball Pistols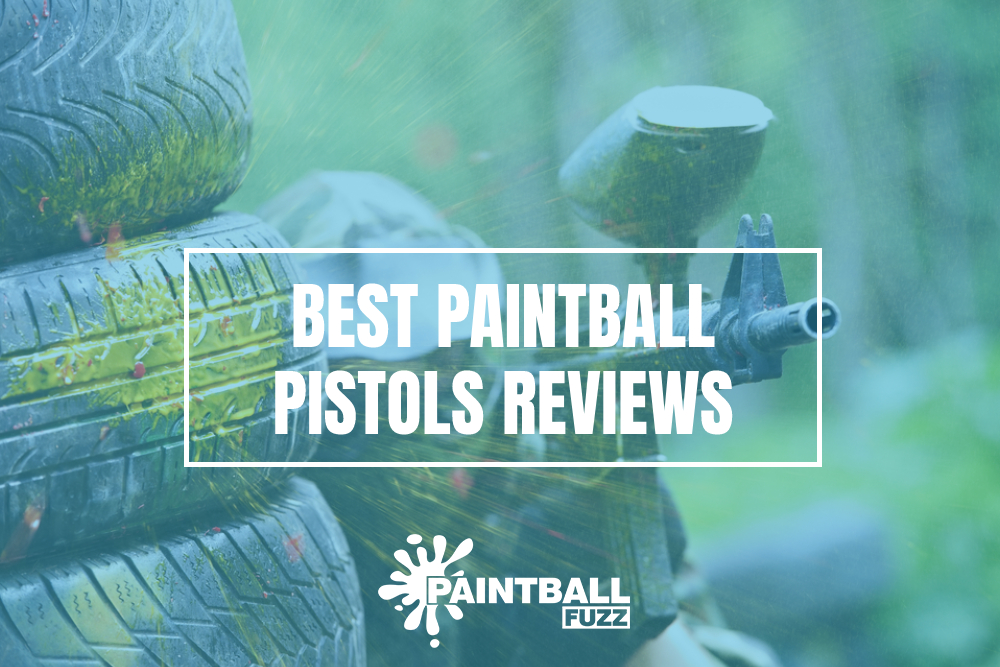 Pistols are very easy to handle due to their small size. These paintball guns are not popular among players due to their small ammunition capability and short range.
Wondering why players prefer this gun if paintball pistols have low range and low capacity? As well as the disadvantages, pistols have many advantages.
Because they are small in size, you can easily carry a pistol on a paintball field. Pistols are lightweight, compact, durable, and can fire continuously.
Paintball pistols never knock or jam during play. If you want to change the rubber grip and tank in the middle of the game, you can easily change them.
Can you believe pistols are also used for the defense of home, property, and loved ones? Yes, it is true. Pistols short-range give an extra advantage to hit the attacker. As pistol shots so quickly and accurately, so the attacker never bears the pain and falls.
Paintball guns have recently gained popularity as self-defense weapons. They will not kill the offender as actual shooting weapons will, but they will inflict enough pain to allow you to prepare for your next move.
So you can easily call the police. The pistol is a wonderful invention in the paintball scenario.
The pistol is not allowed in tournaments and speedball. As you are not allowed to carry two markers along with you in tournaments. There are two types of pistol pump-action and semi-automatic.
If you are still confused which pistol is the best? Which pistol is more cost-effective? So don't worry we have put together a handy guide that will help you a lot.
List of Best Paintball Pistols
1. T4E TPM1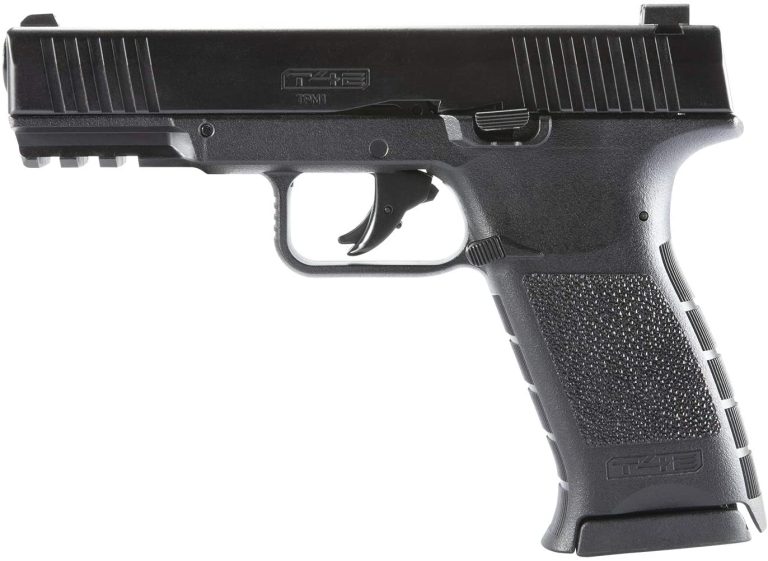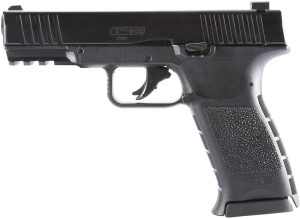 If you want to take your game to the next level, you must choose Umarex T4E. Why is this paintball pistol a strong choice?
As the paintball is made of hard metal and polymer material to increase its durability and life span.
That is why it is a strong choice. It is difficult to carry a heavy paintball pistol as a sidearm.
Paintballing is an intense sport in which you have to climb, climb and swim so that it is difficult for players to carry heavy weapons guns. For this reason, the TPM1.43 caliber is lightweight and smart.
If you are playing constantly and suddenly your traditional marker gets jammed. So you are can use the pistol as an alternative. Extreme fatigue makes it difficult for a player to fire continuously.
No need to worry. The training pistol is semi-automatic that works by pulling the trigger. The marker trigger pull is very effective.
When you pull the trigger, it forces the inside of the barrel to the magazine and thus results in inaccurate shots. Blowback action is used by the Umarex pistol, which accepts .43 caliber paintball rounds and uses rubber ball ammunition.
Pistol ammunition is thought to be in short supply. But these pistols have a range of 8 rounds of ammunition. Isn't that amazing? .T4E pistols are preferred especially in reducing CO2 waste.
So pistols are very economical. The packaging and body of the pistol are impressive. All pistol components such as barrels, magazines, slides, catches, and all pistol interior components are made of hard-wearing metal and are coated with polymer for extra protection.
TPM1 pistol is also used for home defense. Because it has a high firing rate and is equipped with the best barrel for accurate shooting. So he hit the assailant fastly and called it a defensive gun or pistol.
Features:
Lightweight design and solid feel
Due to the low caliber, .43 is also used for training purposes.
Superb finish due to polymer coating.
Semi-automatic
Durable made up of metal
Uses blow-back action.
Pros
Use for defensive purpose
Low-caliber
Easy to reload
Offers smooth operation
Cons
Blowback action of the pistol is narrow
The pistol has a low ammo capacity
2. Smith & Wesson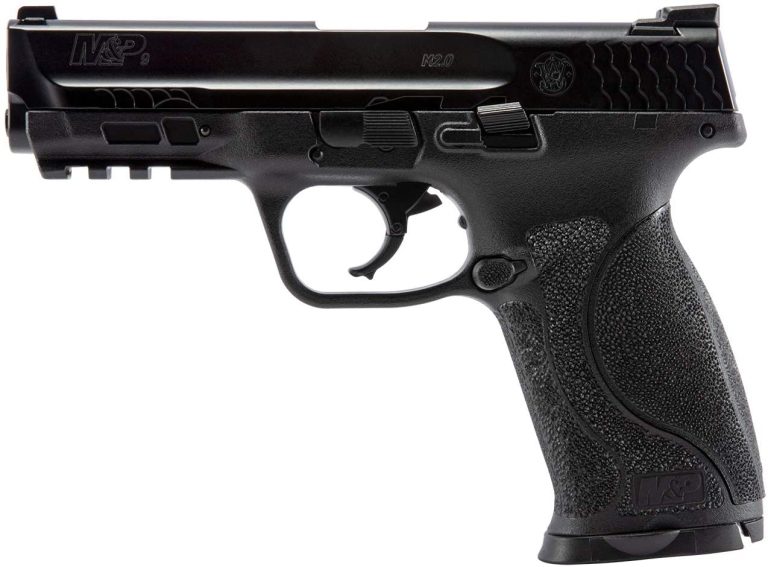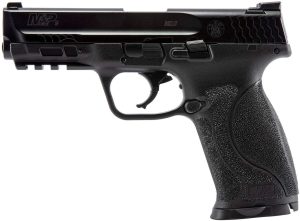 The Umarex T4E Smith & Wesson pistol is a great choice if you want to upgrade your pistol to get the best features.
This pistol is also semi-automatic. Players now ask for paintball pistols that move manually to get faster firing rates and accurate shots.
This pistol is unique in its stunning design and beauty. This realistic and robust design attracts players. It is made with a strong polished metal with a polyester covering which is very high in its durability.
If your pistol breaks repeatedly or small scratches appear on it due to intense play which is a problem for you, you should consider a durable pistol.
Because many players use pistols to gain experience in paintball. If they have heavy pistols, they will feel uncomfortable and will miss the shots again and again. Buy these light pistols to make yourself comfortable.
T4E is equipped with excellent features. Like high accuracy, stability, fast firing rate. One drawback of pistols is that they have a small shelling capacity.
It is also a low-caliber pistol. M&P M2.0 is worth considering if you are looking for a cost-effective paintball pistol. The Umarex paintball pistol has an ammunition capacity of 8 rounds.
Some people can't afford real pistols for home defense because they are so expensive. If you want a paintball pistol that can be used to defend your property and home, you can also play a paintball game with it. So this M2.0 is perfect for this job.
Smith paintball pistol offers high accuracy and durability. The range of the pistol is short but this disadvantage of the pistol gives an additional advantage to the defensive purpose. The Umarex pistol is economical and user-friendly. Overall this is a great product full of features.
Features:
Metal-wearing body and user-friendly
Very realistic in operation offers high accuracy of shots
Safety trigger pull action for fast firing
Spring release magazine system
Wonderful .43 caliber barrel opening
Pros
Durable
Easy to reload
Best for short-range
Offers high accuracy
Cons
Small ammo capacity
Narrow blowback action
Not easy to reload
3. Tippmann TIPX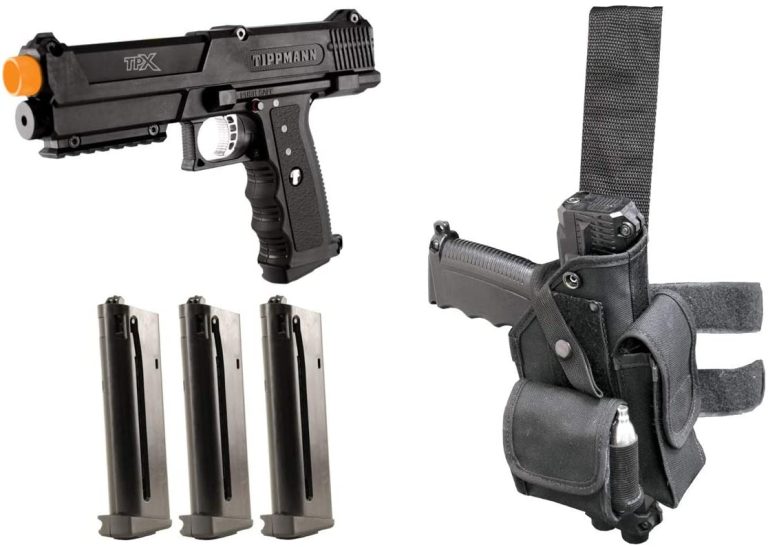 If you are looking for a cost-effective, highly accurate, and potential paintball pistol then Tippman is a great option.
The pistol has a decent and delicate design. Built of the best shockproof material. The graphics are eye-catching.
Comes in black color. Some paintball entry-level players and children demand military-style pistols. They want to defend themselves on paintball battlefields like soldiers.
So this Milsim pistol is the best choice for these players. The TiPX is popular around the world for its shiny shape, compact body, and interesting smooth outlook.
Another interesting feature of the pistol is that the camouflage is customizable. It is difficult for entry-level players to handle or hold a gun due to a lack of experience.
Don't worry, the Tippman pistol has an extra rubber grip. So you can easily handle a gun on the battlefield. The pistol is also suitable for children as well. The TiPX Pistol is semi-automatic.
You can enjoy the handgun operation using this amazing marker. Pull the trigger and it will start shelling the opponent with rubber balls. To ensure the longevity of the pistol it is made up of hard material.
Why do so many paintball players choose this pistol? Why do athletes prefer the Tippman pistol for recreational exercise? Due to its smooth functionality. TiPX is loved by paintball players of all ages.
Pistol shots from the open bolt system, so the pistol moves forward and the frequency of recoil decreases.
Pistol working phenomena are based on spring. The working phenomena of the pistol are spring-based. Having spring-loaded true magazine functionality.  Adorned with 8-ball magazine.
The pistol has a longer range than other paintball pistols. So you can make exact shots. Always remember that the pistol is never shot when you pull the trigger first.
So pull the trigger twice to start shooting right at opponents. You will be surprised to hear that it comes with a two-year warranty. So enjoy the game to the fullest.
Features:
Offers best  range and accuracy
Compact and decent design
Equipped with a lot of customizable features
For more durability, the trigger is constructed from aluminum
8-ball magazines
Shinny appearance
Pros
Comes in Camouflage customization
Pistol has a Two-year warranty
Lightweight
Durable
Easy to reload
Less recoil frequency
Cons
The magazine is small as compared to other pistols
4. GI Sportz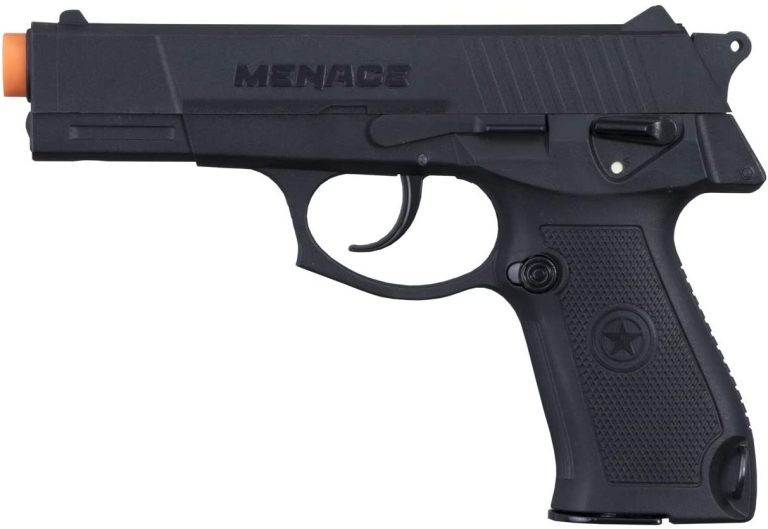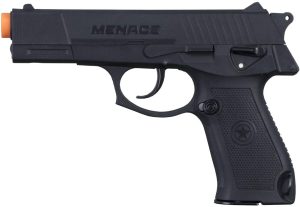 If you are looking for a durable paintball pistol that is capable of playing repeatedly, then your choice should be the highly efficient GI Sportz pistol.
If you want to gain experience in the field of paintball. What to do if you are confused?
Don't worry this paintball pistol is a great option for entry-level players. Since low-caliber paintball guns are a great choice for gaining experience and learning paintball techniques. So this .50 nail pistol has low- impact.
Offers secure shots. In the middle of the game, your traditional paintball gun is not working. Use this sidearm pistol to perform accurate shots.
The distinctive features of the .50 nail pistol are lightweight, durable, and cost-effective. Some players are overwhelmed by too much gear so they should prefer this light pistol.
For beginners, handling a paintball pistol is a difficult task. But this pistol is easy to handle even in difficult battlefield conditions. Despite its small size, this handgun is surprisingly tough and has a long-lasting construction that can withstand shocks and collisions. GI Pistols are also used for defensive purposes.
GI offers high accuracy of pistol shots. Although the range is short, it is preferred by most players due to its high performance and smooth functioning.
Menase.50 cal pistol is perfect if you are looking for a pistol to use as an alternative to a traditional paintball gun. Equipped with 7 rounds of magazines that will provide plenty of ammunition.
You should also keep in mind that C02 cartridges are required to operate and shoot a .50 cal pistol. Since paintball guns are not very effective in this area, you will also need to consider the extra weight of the extra CO2 cartridge. Overall this is an awesome product.
Features:
Lightweight and easy to handle
Surprisingly robust build
7-round magazine
Cost-effective
User-friendly design
Good feel
Pros
Easy to reload
Used by both pro and entry-level players
Small size and compact sleek body
Highly durable
Cons
C02 tanks will need replenishing
5. JT ER4 RTP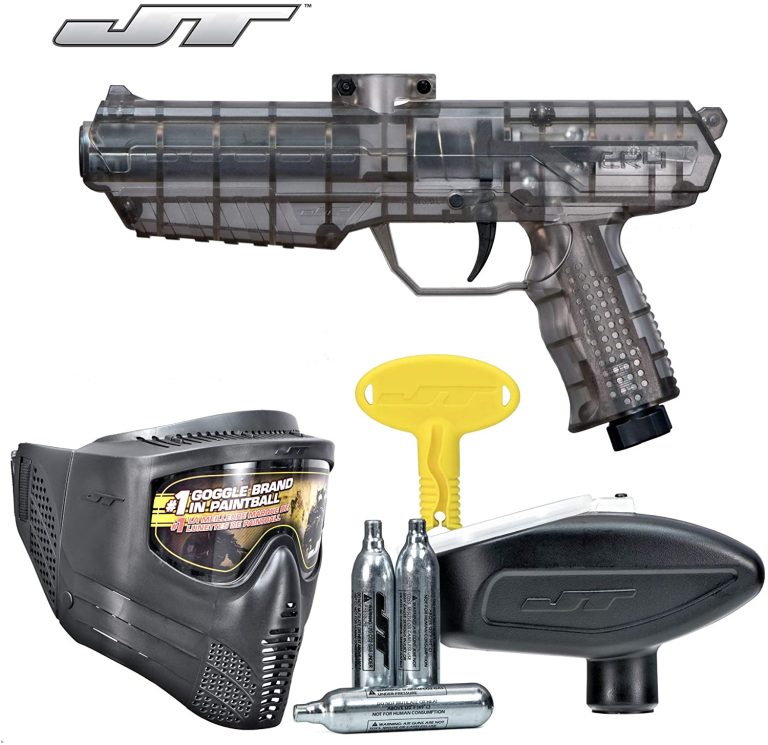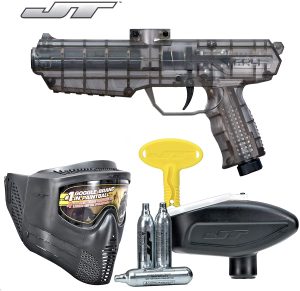 This is the last product on our list. If you are looking for a cost-effective paintball pistol then your wait is over.
The JT ER4 is a solid choice for both Pro and entry-level players. The paintball pistol is .68 caliber. The pistol is used by professional paintball players.
In the case of the wood ball scenario. If your conventional marker is jammed or knocked out, you need a high-capacity, long-range and accurate pistol to protect yourself.
In this case, ER4 is the best option for you. This pistol provides highly effective and reliable shots.
In addition to amazing attributes. The pistol comes with a complete accessory package. This includes all gears. Fog-resistant goggles are also included. It gives you a clear view of the paintball field.
Also, 40 round loaders are included in the kit. Isn't it cool? The pistol manages to pull the trigger manually due to its semi-automatic functionality.
If we talk about its physical shape. Pistol composite material construction. This is a strong choice. Sometimes your sidearm gun breaks in the paintball field because of its small size.
Which causes difficulties for the player. Another wonderful trait of the pistol is If you have to carry a lot of accessories along with a pistol so it becomes difficult but, the Jt pistol is very lightweight so easy to handle, and manageable in paintball games.
JT ER4 is low profile pistol. That user's virtual feed port for convenient reloading of paintballs.
Players demand pistols that ensure their safety. So its push-button safety trigger is wonderful. Secondly, the barrel plug system prevents the sudden discharge of shots so, the plug is also used for safety. Just enjoy the safer paintball shots.
Features:
8-round loader
Pistol provide Reliable and efficient shots
Durable construction that withstands all wear and tear
Equipped with a Low-profile vertical feed port
Great choice as includes all accessories
Pros
Pistol is lightweight
Easy to reload
Efficient working ability
Cost-effective
Conclusion
FOR HOME DEFENSE
TIPPMANN TIPX
Best Range & Accuracy
Compact Design
Customizable
8-Ball Magazines
BUDGET FRIENDLY
SMITH & WESSON
Metal Body
Very Realistic
Safety Trigger
.43 Caliber Barrel
HIGHLY DURABLE
T4E TPM1
Low Calibre
Easy to reload
Efficient
Durable Metal
BEST FOR HOME DEFENSE: Tippman TIPX
This is, in our opinion, the largest paintball pistol for home protection. The first thing about this paintball pistol is that it allows users to choose one of two colors. Since this is not something that is commonly seen in paintball guns, people are happy when they find out that the gun comes in a range of colors.
COST-EFFECTIVE: Smith & Wesson
As far as money is concerned, this is the best choice of paintball pistol for home use. This paintball pistol is often considered the lightest in weight.
It is designed specifically for those who find heavy weapons incredibly difficult to handle. Due to the small weight of the pistol, they will be able to use it effectively.
Ultimate Buyer's Guide for the Best Paintball Pistol
Buying a sidearm gun/pistol is not easy. Because it's a difficult task. Small size, compact body, and light features are not enough to decide on a pistol. You may be wondering which range pistol is best.
How to choose a paintball pistol for home defense? What factors should you consider before buying a paintball pistol?
We will answer all questions. So don't worry, we have listed some important factors to keep in mind before buying a paintball pistol.
A paintball pistol is also used to defend the property, house, and loved ones. So it becomes more difficult to choose the best option. The following are the key factors that will help you choose the best pistol for both defense and sport.
WEIGHT: The weight of the pistol is an important factor to keep in mind as the pistol is used for defensive and sports purposes. Also, a paintball pistol is used as a sidearm on the battlefield.
If your pistol is too heavy, it will be difficult for you to handle and you will feel uncomfortable. On the other hand, If you are using this pistol for defense and want to fire at the attacker, a light pistol is best for this purpose. A lightweight pistol gives you extra control over a gun.
RAILS: There are two types of paintball pistols available in the market. One of them is a pistol equipped with rails while the other has no rails. But guns with rails are easier and more practical.
Paintballing requires a lot of accessories. So you can put accessories on these rails. So you can enjoy paintball to the fullest. You can put sight and scope at these rails. So you can view the target and shoot accurately. This will improve your shooting experience.
BULLET SIZE: This is another important factor to consider before buying a paintball pistol. The standard size of the bullet is important for shooting both opponents on the ball and attackers at home.
Which bullets are best smaller, medium, or large? A medium size of paintballs is preferred. Because the size and speed are inversely related. The smaller the bullet, the higher the target's speed.
RANGE: As long-range paintball guns are preferred in the paintball field. Because the targets on the battlefield are so far away that long-range pistols are needed for accurate shooting.
Pistols usually have short ranges that give an extra edge to you that opponents easily shot you. There are some models of paintball pistols that offer long-range. So paintball pistols are used as sidearm so long-range paintball pistols should be preferred. Secondly, short-range pistols are not effective for defensive purposes.
The average range of paintballs is between 80 feet and 100 feet, but it varies from model to model.
BUDGET: This is another important consideration when considering your alternative. There are many paintball pistols available in the market with a low budget. One drawback of these pistols is that their features are limited due to their low cost.
A simple model cannot be the biggest long-term investment unless it allows for future customization and improvement. If you have extra money to spend, consider doing so in advance so you don't have to pay more for a better model later.
MAINTENANCE: Like traditional paintball guns, paintball pistols also require proper maintenance. Proper cleaning of the pistol ensures its operational feasibility.
For example, after playing an intense game of paintball, it becomes very difficult for the players to clean the pistol due to fatigue. So at least care for the pistol. Second, always look for pistols that are easy to assemble and dissemble. So no special tools are needed to open the gun. This will save you time and money.
ADDITIONAL EQUIPMENT: Always prefer a paintball pistol package with all the extra equipment. As tanks, paintballs and hoppers have to be purchased separately. So choose a package that includes all the gear for paintballing. It will be cost-effective which will save you money.
FAQs
1. Why are the long-range Paintball Guns important for home defense?
Long-range paintball pistols give people an added advantage for home defense purposes. The intruder enters your home or is too far away from you. So if your pistol is short-range, how can you shoot an attacker? That's why it's important to buy a long-range paintball pistol for home defense for accurate shots.
2. If we choose a paintball pistol that comes with all the required accessories, is it economical or not?
Yes, this is a great option for players with low budgets. If you buy accessories separately, it will be worth a lot of money. So always prefer a pistols package with accessories.
3. Why are pistols used as sidearm on the battlefield?
In combat, field pistols are used as sidearm due to their lightweight and small size property. It is easier for players to have two paintball guns on the field. If one jams so second works.