Last Updated on August 29th, 2022 at 07:13 pm
Fantasizing about buying the latest Electronic Paintball Gun? If not then you should start considering buying one. Why? Unlike mechanical guns, this gun gives a high firing rate.
This famous shooting game comprises shooting multiple paintballs. The paintballs are dye-filled gel capsules.
Choosing the right marker for your sport alleviates your experience. Mainly either a marker is mechanical or electronic. Electronic markers might seem a luxury and a hard purchase but that's not the case with the increase in production and availability of varieties.
Owning an electronic paintball gun is possible for all.
Our Top Picks
BEST OVERALL
TIPPMANN STRYKER XR1
Smooth Shooting
Easy Maintenance
Durable Body
Different Fire Modes
VALUE FOR MONEY
ACTION VILLAGE EMPIRE
Complete Kit
Multiple Firing Modes
Rubber Covering
Mask for Face Protection
BEST FOR FAST SHOOTING
PLANET ECLIPSE GTEK
Faster Shooting
Light Weight
Sleek Design
Durable and Saves Cost
Best Electronic Paintball Guns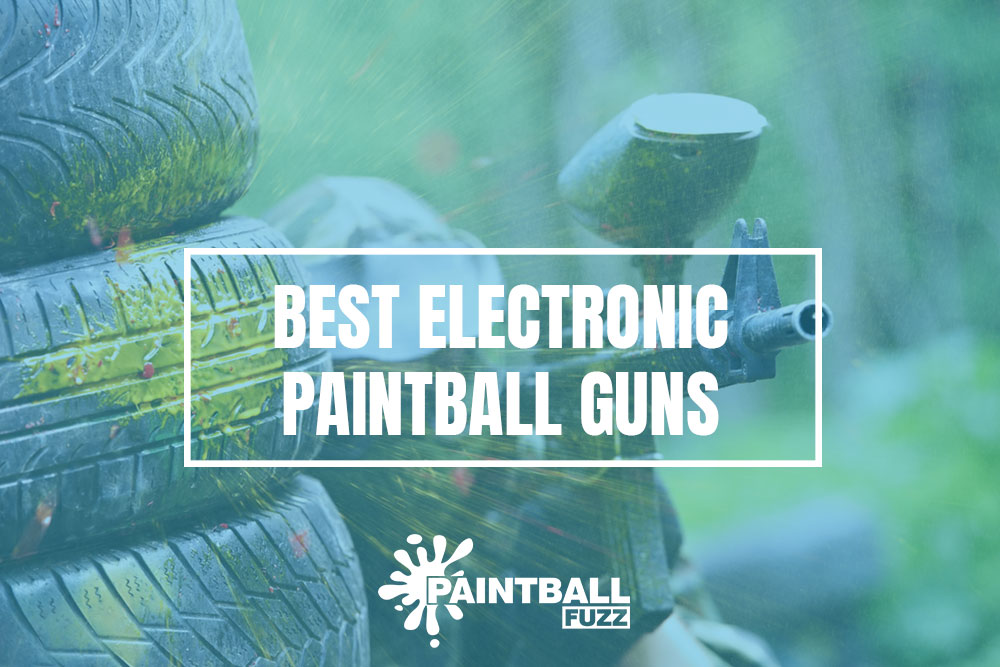 Mechanical guns tend to be bigger and heavier thus you need considerable effort to use such a unit. The newer electronic units being lightweight are convenient to use.
If you are still confused about whether a machine gun or electronic gun would be the best purchase for you, we have listed some important differences for better understanding and clarity of thoughts.
Mechanical guns are low maintenance and the hard parts are easy to find. The electronic guns have a battery-powered circuit board that fires the paintball. One can program the gun to fire automatically. One negative feature of electronic guns is surely the need for frequent upkeep.
The repair or up-gradation will be tough task parts are hard to find and you will most often need to look for some professional help.
Although both the guns are used extensively for sports purposes, if you are more intensely interested in the sport then buying a more efficient electronic gun is advised for you.
We have picked the best electronic paintball guns in the market that are cost-friendly, efficient, durable, and need less maintenance.
The products are listed in order and the features of individual products are explained in detail so you have no problem finding out the best option for yourself.
Next is the list of products we handpicked for you which are durable, affordable, and efficient.
List of Best Electronic Paintball Guns
1. Planet Eclipse GTEK 170R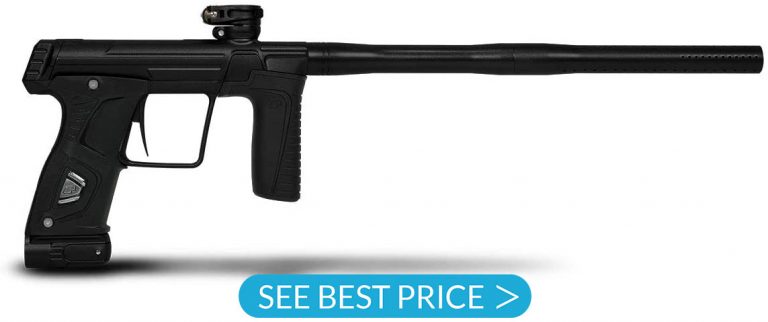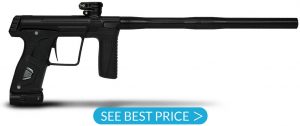 The first product we chose for you to have a look at is the Planet Eclipse paintball gun. This gun has a standard 0.68 bore that fits most of the paints, might not all. This gun has aluminum construction.
This unit has a simple design, maintenance becomes far easier due to the elegant efficient design.
The firing modes of this gun are shit specific implying this gun has a game timer, rate of fire indicator, and gives can different firing modes that improve your experience of sport. The target shooting is improved and more efficient than with other mechanical units.
Battery Remover is located inside the front grip, this modification in design is appreciated by many. The solenoid is mounted inside the frame. This new design unit has all the necessary features within a compact design that makes the unit simple, efficient, and somewhat expensive.
You can access the various parts of your gun without any additional tools. This saves one from hidden charges and gives you the efficiency to clean up the unit quickly. With this gamma core-powered paintball gun one can shoot even the most brittle paintballs.
Spool valves help direct the flow. With the spool valve feature, there are valves with about two to three positions.
This unit by planet Eclipse has a hose-less air transfer system that gives the gun a sleeker design. If you want to master the sport of mid-range paintball marker this unit has all the advanced features you can need in your paintball gun.
This unit has become the choice of those that want to become great players of this sport.
Features:
Metal built
135-pascal operating pressure of the system
Gamma core paintball gun
Spool valve operation
Quick-release bolt mechanism
Hoseless air transfer system
Pros
Lightweight Design, Easily Manageable
Faster Shooting
Sleek Design
Easy to Clean
Durable and Saves Cost in the Long Run
Fire Counting Feature
Cons
Will need higher Maintenance than Traditional Mechanical Units
2. Empire SYX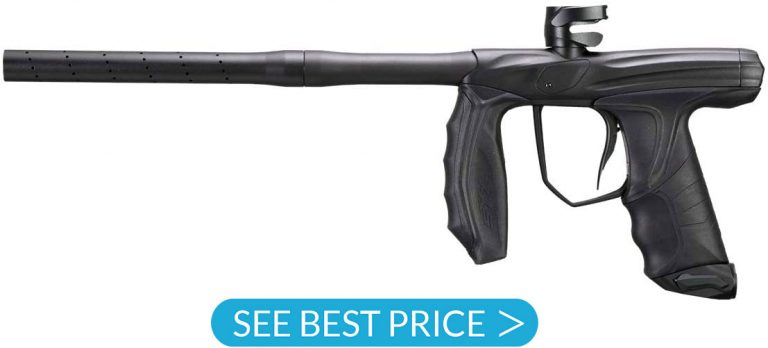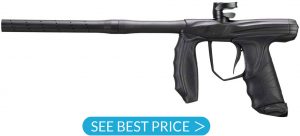 Looking for a newer design body with higher efficiency of performance and better performance, empire SYX paintball marker offers all this.
Air passages and regular are within grip for better safety. Never miss your target anymore with the enhanced grip power of this gun.
Comfortable wrap-around rubber grips give better hold of the gun, so you won't lose control no matter what's the weather or how hard your game is.
Needing a huge box of tools to take out the battery from your gun is not comfortable or convenient, empire SYX has kept this in view and designed a unit that has tool-free battery removal.
A Saftey piston ensures that the bolt will stay at its place as air runs through the marker. 7.5 " inch bore size offers high-level accuracy and efficiency.
The paintball guns have an advanced OLED display that's more convenient to read in all conditions. SYX has a hose-free design. With the electronic units, by pressing the trigger the gun needs only to activate the circuit board the firing mechanism is not activated by triggering so the triggering in the case of electronic guns is light and short.
Put in less pressure and effort and hit more shots with the electronic gun by the empire.
The elegant design does increase the visual appeal of this gun but no comprise is made on the durability or functionality of the gun. The gun is a package of shape and performance both.
This gun has all the possible firing modes you will need at your fingertips. A vast variety of performance settings helps you choose the setting that works for you and make sure of the optimal use of this product.
Features:
Multi-function board
Oled display
Dual button interface navigation system
5-inch control bore
Micro honed two-piece barrel system
Hose free design
Tool-less battery removal
Pros
Better Grip and Control
Quick Hassle-Free Maintenance
Streamlined Body for Better Efficiency
Oled Display gives Clear Information
Variety of Fire Settings to Choose from
Cons
Heavier than Other Options
3. Tippmann Stryker XR1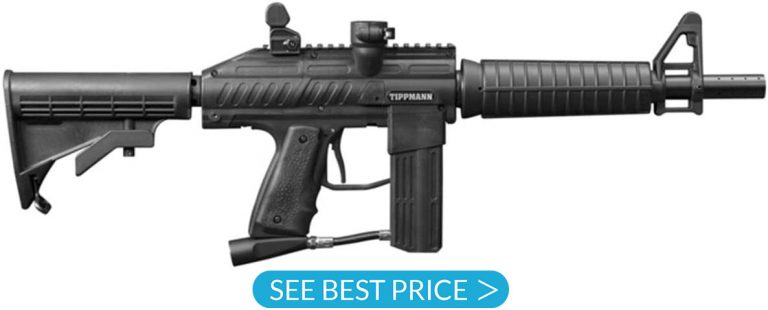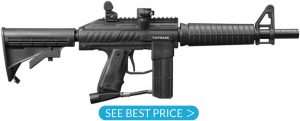 Paintball shooting as a sport has become famous and gained the interest of many. With rising in the popularity of sport various tools and products are being launched that make the sport experience more enjoyable and efficient.
Guns with different firing modes are a must-have feature. You can choose the firing mode according to the need of the hour. The 4 firing modes offered in this gun are semi, burst, ramping, and full-auto.
The firing engine is easily accessible. What advantage does this feature confer? This helps in easy maintenance. The electronic guns need frequent maintenance and so the ease of access makes it easy for you to do the job of maintenance.
The led visual setting indicator gives the necessary indications regarding the product.
This gun has an adjustable telescoping shoulder stock which helps in stabilizing the gun. Aiming right for the target and having a better grip. It's a fully electro-pneumatic marker so the functioning is quiet and smooth. The bottom is made from stainless steel for better durability.
Top Picatinny rail helps mount the accessories. The marker has a well-built design and so access to all the components is easy and quick. This helps with quick convenient maintenance.
Due to easy access, it's possible to lube the parts and keep your gun in the best possible condition for the best performance at the next paintball sporting event.
All new markers are Autococker threaded so they can accommodate the majority of the paintball barrels in the market. The customizable design can make hundreds of accessories.
Features:
Adjustable telescoping shoulder stock
4 fire modes
Stainless steel bottom
Quiet smooth functioning
Picatinny rail for accessories
Low-pressure spool valve
Pros
Smoothest Shooting Spool Valve
Easy Maintenance
Durable Body Built
Different fire Modes
Customizable Design
Shoulder Stock for Better Targeting
Cons
Manual lacks information about how to change firing modes
4. Action Village Empire Mini GS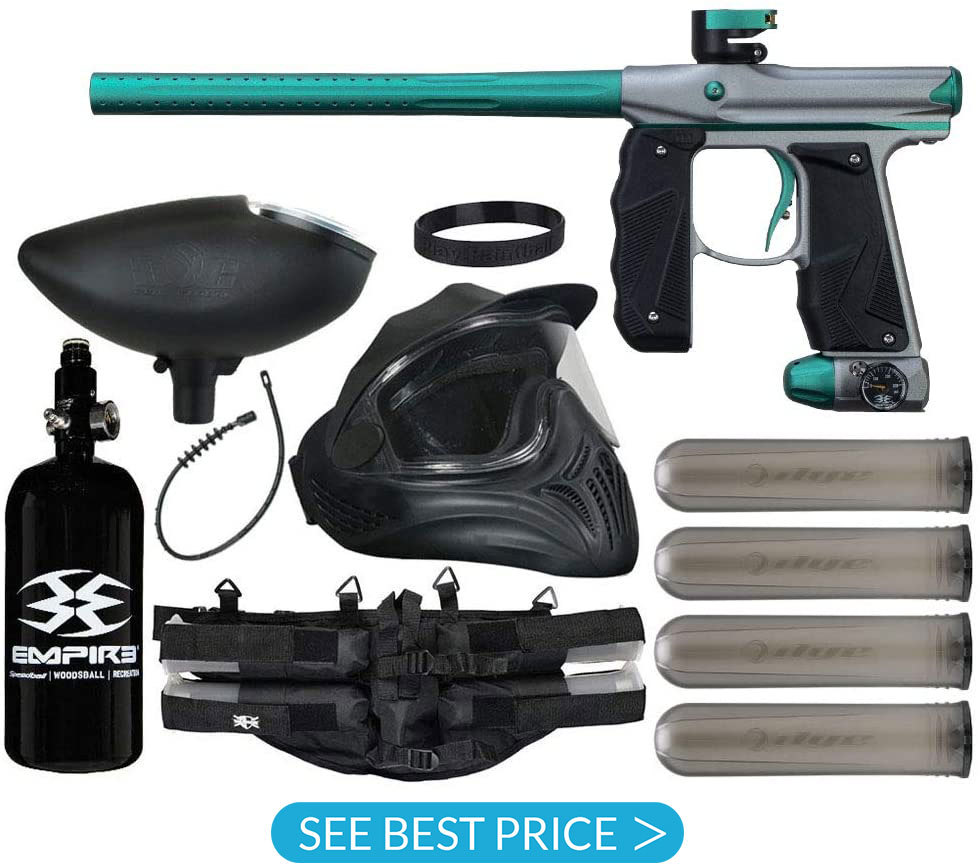 Having a complete kit ready before going for your shooting competition makes the task a lot easy and the sport more fun.
This kit contains several important products some of which are a mask for your protection while you play.
Using a face mask provides safety and comfort for all upcoming levels of paintball games. Visor protects and shades your eyes and can be removed when needed.
The kit also includes a chin strap to comply with the tournament rules. Aluminum high-pressure air tank.
The output pressure of this air tank is 800 psi and it is not adjustable. The kit has a paintball harness that is to be worn around the waist or tied around the chest.
It can carry horizontal pods and one vertical co2 or HPA tank. The velcro straps are adjustable and so appropriate for all players.
The kit is a complete package for enthusiastic players. It contains alpha pods that hold 150 rounds of 0.68 caliber paintballs. The pod is transparent so the paintballs are visible from outside.
Pods are made using high-quality plastic so they can endure more harsh and rough terrain and perform function still. They are designed as such that they have a superior grip feel.
Pod lid has been cut so it's easier to open and fill it when the need arises. The gun shoots quietly and is appropriately paired with a 12-inch single-piece barrel.
The gun has a full rubber grip so you can have a stronger hold over your gun and can target with confidence. Better grip improves your paintball sports experience and helps achieve the target.
The bolt engine has just one screw and can be easily removed when needed for maintenance purposes.
Features:
Multiple firing modes
Single screw at bolt engine
Helix single mask for protection
3000 psi high-pressure aluminum tank
4+1 paintball harness
Pros
Complete Kit for Paintball Shooting
Multiple Firing Modes
Rubber Covering for Better Grip
Mask for Face Protection
5. Maddog Empire Axe 2.0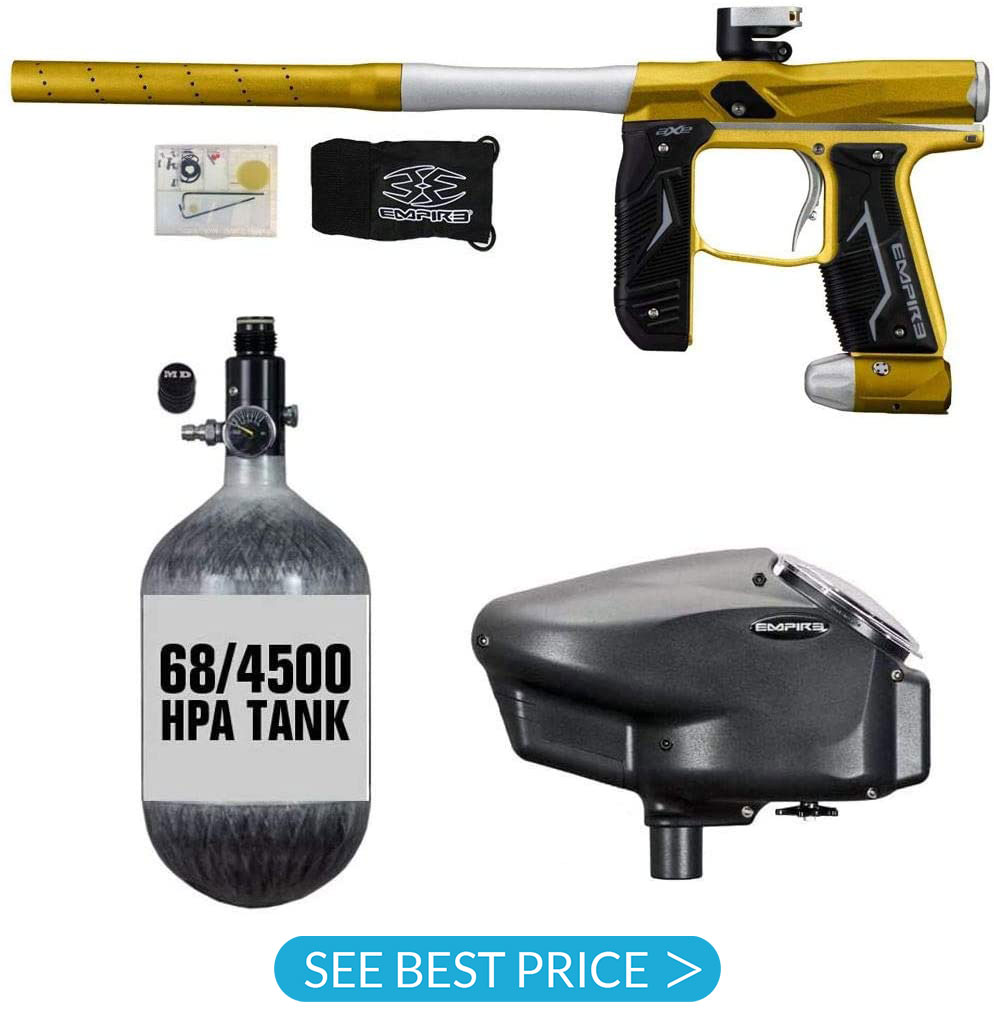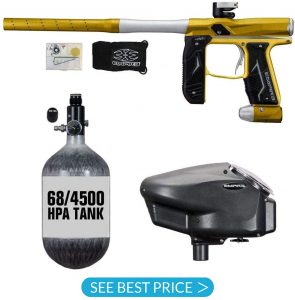 If you are in search of a perfect marker that can offer a variety of features and still be affordable Maddog Empire Axe has been a favorite of many.
As the marker is lightweight you can easily carry it. High accuracy helps you hit the target so you won't miss the chance of winning.
The forearm has a wrap covering so you won't slip the gun. Have better control and hit the target point.
It has multiple adjustable firing modes so you can fully enjoy the game. Have full control. The package contains all the needed accessories in one place which is a dream surely for the player.
The HPA starter kit by Maddog has everything you can dream or ask for and it surely takes your game to the next level. Start by filling the tank, add some water and you are ready to go.
A complete package of necessities before you play the game surely helps you enjoy the sport more fully and have control. The inclusion of all necessities within one package makes it economical and a worthy purchase.
Sick of gathering tools to open up the engine for maintenance. No more. This unit has a push-button bolt removal feature. This helps with quick tool-free engine maintenance.
Just push a single button and the engine is out which you can clean and lube before the next game for better performance. The low-pressure operation helps one enjoy the same efficient performance as manual guns but without applying much force.
It's a fully electronic gun with 0.68 caliber that has a better firing rate than the manual counterparts. The use of electronic guns helps you invest less effort and achieve more targets.
Features:
Tool-less engine maintenance
Paint loader
One hour auto-shutoff
180 ball capacity
Low battery indicator
Pros
Pre-Installed Rip Drive Kit
Maintenance is Quick and Convenient
Lightweight
Low-Pressure Operation
Trigger is Adjustable
Cons
Feedneck design causes issues while handling
6. Tippmann Stormer Tactical


Getting the best gun for paintball shooting is often confusing. The guns now have a variety of features which makes it difficult to just stick to one feature and ignore all others.
This Stormer Tactical by Tippmann has highly efficient performance and helps shoot with high precision. This Tactical gun has a military look to it which might be appealing for some.
The gun is fully black. The 0.68 caliber paintball marker is semi-automatic.
Multiple Picatinny rails are present on the gun so you can place the accessories. This helps carry everything at once. The gun is optimized for 280 fps like other major options available but it is adjustable.
It is adjustable from 250 to 325 fps. The high-performance barrel can resist external effects and forces.
No matter how hard the external effects the gun can withhold all and is thus durable. Durability for a player is an important factor because it implies less cost and saving in long run.
The high-impact composite body can be used for multiple tournaments and the unit will be still in the best form.
The high-performance barrel feature implies that even after multiple uses the interior of the barrel won't wear and tear and the gun will perform the job efficiently for a longer period.
A single trigger needs to be pressed for the activation of the gun and thus less physical pressure of effort is required in the case of a Stromer Tactical. The gun has a military feel to it. Although it has diverse features the tank and other accessories need to be separately bought.
Features:
Adjustable from 250 to 325 fps
Multiple Picatinny rails for mounting accessories
Single trigger activation
Less effort required
High-quality barrel
Pros
Efficient and Durable
Strong Built Quality
Multiple Rails for Mounting Accessories
High Impact Composite Body
Less Costly
Cons
Manual Might Lack Clear Instructions
You May Like:
Ultimate Buyer's Guide to Buy Best Electronic Paintball Guns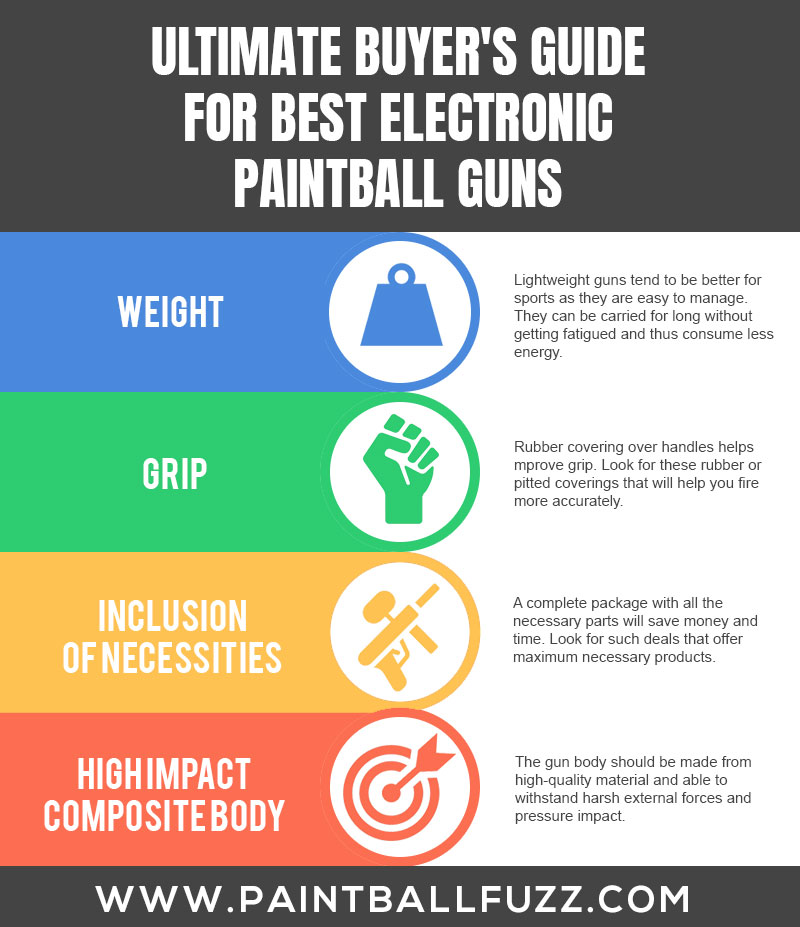 The market is flooded with a variety of options and all the products have immensely different features which can confuse the buyer.
To ease the process of selecting the one best unit we have next listed the most important features to look for in the best electronic paintball gun.
The feature is common among all guns and is the most important one while considering a purchase.
Weight:
Lightweight guns tend to be better for sports as they are easy to manage. They can be carried for long without getting fatigued and thus consume less energy. If you are an enthusiastic player make sure the weight of the unit is light so you can carry it and use it for a long.
Grip:
Rubber covering over handles helps improve grip. Look for these rubber or pitted coverings that will help you fire more accurately. These rubber coverings increase grip power, help with better gun control, and thus better results at the sports field.
Inclusion of Necessities:
A complete package with all the necessary parts will save money and time. Look for such deals that offer maximum necessary products. Most commonly these include masks, air pressure tanks, and pods.
High Impact Composite Body:
The gun body should be made from high-quality material and able to withstand harsh external forces and pressure impact. High-quality units can endure more and thus last longer. This saves a lot of cost in long run.
Conclusion
BEST OVERALL
TIPPMANN STRYKER XR1
Smooth Shooting
Easy Maintenance
Durable Body
Different Fire Modes
VALUE FOR MONEY
ACTION VILLAGE EMPIRE
Complete Kit
Multiple Firing Modes
Rubber Covering
Mask for Face Protection
BEST FOR FAST SHOOTING
PLANET ECLIPSE GTEK
Faster Shooting
Light Weight
Sleek Design
Durable and Saves Cost
Overall Best: Tippmann Stryker XR1
This paintball gun has a telescoping shoulder stock so you can stabilize the gun on your shoulder and a better aim for the target. It provides stability and better grip. The gun has different fire modes which you can choose from according to your needs.
The different fire modes help you decide which pattern will suit the given situation. The Picatinny rails on the gun help mount the accessories. This feature helps to keep things assembled in one place.
Value for Money: Action Village Empire Mini
This is a complete package by action village. The package not only contains an electronic paintball gun but has several other necessary items such as an aluminum air tank, mask, pond, and harness.
The gun had multiple firing modes which you can choose from according to the need.
The package makes the deal affordable as one gets different necessary objects at once. The mask for face protection and Safety helps you fully enjoy the sport. The aluminum air tank has 3000 psi pressure. The package has the harness for the paintball and con2 container.
FAQs
1. Which tools are needed for engine maintenance of an Electronic Paintball Gun?
Most electronic paintball guns have a single push-button feature that removes the engine so you can clean and lube it. Thus the paintball guns don't need any special tools for maintenance. The engine maintenance is tool-free. Some engines might have just a single screw at the rear.
2. How much force is required to activate the Electronic Paintball Gun?
Electronic guns have a single trigger and unlike manual guns no need for High pressure or effort. A single trigger activates the board and the unit is ready to function. Electronic units are much simpler to use and much more efficient. They tend to have better durability and a higher fire rate than their traditional counterparts.