Last Updated on August 25th, 2022 at 02:14 am
It is the technological era. Paintball players are now requesting more relaxation by documenting their greatest moments on the battlefield. In the past, a dedicated cameraman was assigned to the field to film the whole game.
Mini cameras that are placed on a barrel or marker to capture gaming are now accessible because of advances in technology.
Are you looking for the finest camera to record your game? If you answered yes, then action cameras are the ideal solution for you.
Our Top Picks
ACTION CAMERA
OLYMPUS TOUGH
Easy to Use
Durable
High-Quality Video
Good Resolution
OVERALL BEST
DJI OSMO
Good Battery Life
Various Resolutions
HD Graphics
Durable
VALUE FOR MONEY
GOPRO HERO 5
Waterprood
Weather Resistant
Easy to Operate
Good Battery Life
Best Paintball Cameras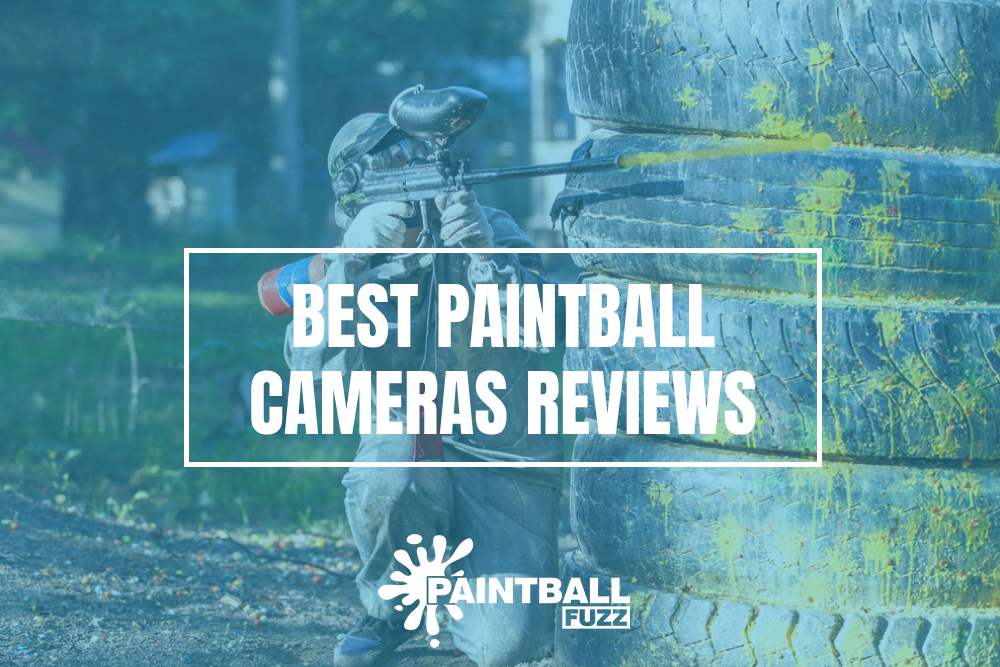 Paintballing, leaping, hunting, and shooting are just a few of the sports that employ action cams. These cameras use an SD card or USB connection to capture your actions on the paintball field and send them to storage devices.
What is the purpose of using a camera in a paintball game? Many players, whether professional or amateur, desire to know the dos and don'ts of the game. As a result, they utilize a camera to record their performance.
They can identify their weak areas and improve their performance by watching the game footage. Paintball cameras are purpose-built to provide excellent resolution. Action cameras are usually waterproof and can edit footage without blurring the image.
The video quality and frame rate are excellent. 720p with a frame rate of 24 frames per second. As a result, all of the cameras on our list work admirably.
You may attach an action camera to your helmet and use it to capture the activity. The camera's video quality is quite important. Because of the HD video quality, action cameras are the most popular.
After you've recorded your game, you may share it with your friends, family, and gaming partners to share the excitement. If you're still undecided about which camera is the best, so don't worry, we've put up a helpful overview of the top 5 highest-resolution paintball cameras.
List of Top 5 Best Paintball Cameras
1. G0Pro Hero 8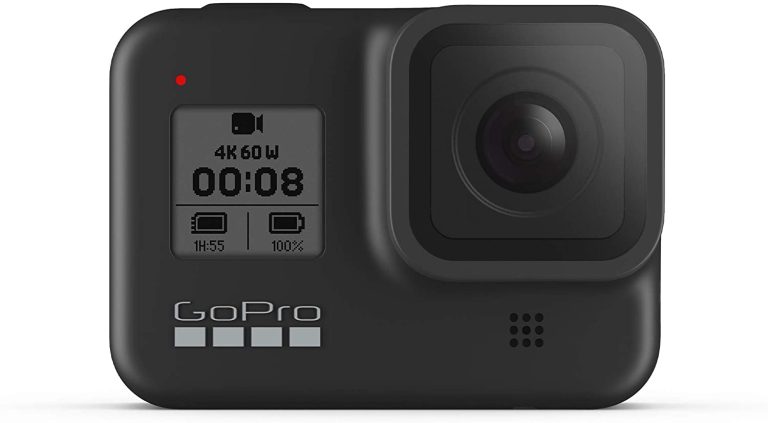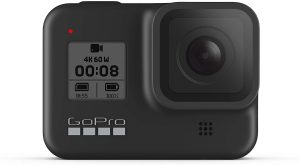 Paintball cameras must be of excellent quality. GOPRO black camera is the ideal choice if you expect the greatest product to capture your moments.
This is a low-cost product. Hero8 cameras have a fantastic design, a new microphone, a companion software, and the greatest image stabilization on the market, innovative new modes, and a slew of additional features that justify the product's pricelist that amazing?
The HERO8 Black is extremely tough and robust, with a 10-meter water-resistant rating. Also, have touched screen ultra 4K HD resolution. However, it has gotten some notable enhancements, including double the shock resistance of its predecessor, new Corning Gorilla glass on the lens, and improved impact resistance.
As paintball is an intensive game you have to run and climb if your camera will not be durable it will break so prefer this top product. Furthermore, the gadget now features a pair of folding hinges termed "fingers" for attaching the device to a marker or barrel.
Most paintball players choose lightweight cameras since they are easier to carry, and this camera is no exception. One of the finest features of the paintball hero8 camera is its forward-facing microphone, which has superior placement and is wind resistant, allowing it to record sound properly.
Moving on, this beast has a 1,220mAh battery. It has a longer lifespan and is more efficient. This battery life allows for 50 minutes of continuous 4K recording at a higher frame rate level.
In addition, because it is constructed around an ultra-wide lens, the GoPro HERO8 Black offers a broad range of video possibilities, including 4K video at 60 frames per second, 2.7K video at 120 frames per second, and 1080p video at 240 frames per second.
As a result, you may capture video according to your preferences. The GoPro HERO8 Black is the finest in the market, with outstanding picture stabilization and overall capability.
However, if you choose a lesser definition film or the incredible Time Warp movie, you may record for up to two hours. The camera's most important feature is its quality, which has been increasing the HDR and night mode quality for the GoPro HERO8 Black, which is fantastic.
Although the camera does not produce smartphone-level photos, it is still rather decent.
Features:
Video possibilities, including 4K video at 60 frames per second, 2.7K video at 120 frames per second, and 1080p video at 240 frames per second
The battery life of the camera allows for 50 minutes of continuous 4K recording
Cameras have a fantastic design, a new microphone, a companion software, and the greatest image stabilization
The camera is extremely tough and robust,
Comes with a 10-meter water-resistant rating
Pros
Durable
Lightweight
Easy to put on the barrel
Good resolution
Cons
Sometimes SD cards cause issues in connection with the camera
2. Olympus Tough TG-6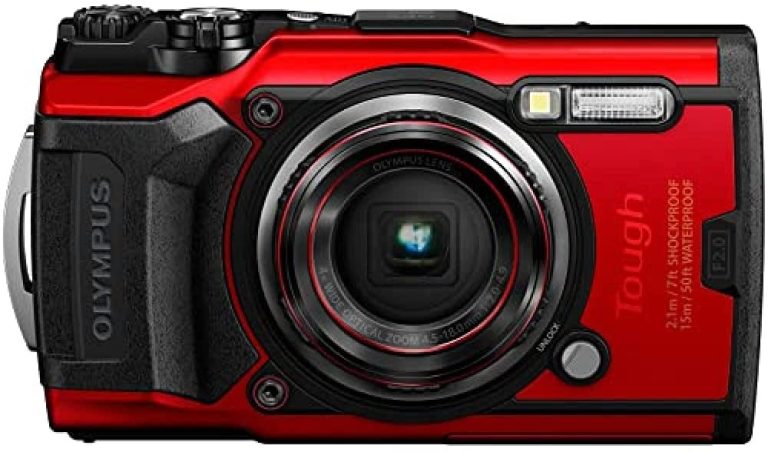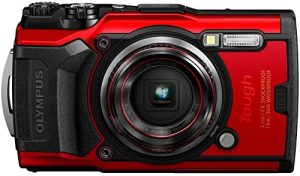 New paintball players are always looking for something more appealing and appealing. If you want to make your paintball gun more appealing, choose a colored paintball camera.
As a result, your first choice must be an Olympus camera. The TG-6 camera has a red color scheme with appealing graphics.
This feature-rich camera is simple to operate, intuitive, and produces excellent image and video quality. It also has a solid build quality.
If you wish to zoom in on an image, the Tough TG-6 camera features a lovely zoom lens, making it one of the most dependable cameras on the market.
The Olympus camera is extremely long-lasting. It has a shockproof shape that can resist any combat field circumstances up to 2.1 meters. This gadget is quite durable since it can dive to a depth of 15 meters underwater.
Another great feature is that your camera will never get soiled while playing in muddy areas because it is dustproof, crushproof up to 100kg, and freezeproof down to -41 degrees Fahrenheit.
The Olympus Tough TG-6's excellent image stabilization technology, which performed admirably in both stills and videos, was one of our favorite features. The GPS sensor system also provided valuable data.
This beast will be your favorite action camera because of its capacity to shoot 4K footage at 30fps and 120fps at 1080p. It also includes anti-fogging characteristics thanks to the dual-pane protective glass on the screen.
The camera's anti-fogging capabilities make it the finest option. The backlit 12MP 1/2.3-inch sensor of the Olympus Tough TG-6 is rather outstanding and provides plenty of adaptability in various settings.
The camera may also be utilized for other activities such as jogging and hunting. One of its main qualities was that it performed well in low-light situations. The 4.5 to 18mm lens was also extremely fast, with a maximum aperture of f/2 providing outstanding results.
This package comes with an extra charger or also has a Wi-Fi connection. Overall this is the best quality product.
Features:
Anti-fogging characteristics of a lens
Crushproof up to 100kg, and freezeproof down to -41 degrees Fahrenheit
The backlit 12MP 1/2.3-inch sensor of the Olympus Tough TG-6 is rather outstanding
Built-up of the sensor system
Shoot 4K footage at 30fps and 120fps at 1080p
Pros
Durable
Easy to fix on paintball gun
Offers high-quality video
Provides good resolution
Cons
Sometimes cause difficulty in connection with the smartphone 
3. DJI Osmo Action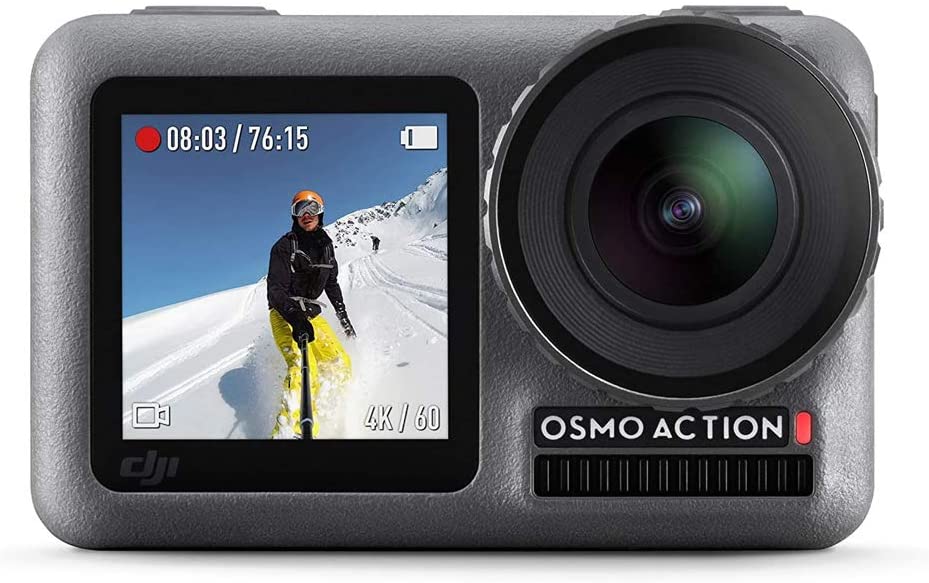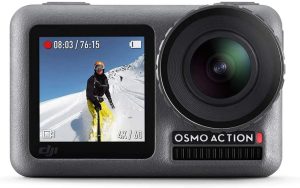 If you want to take crystal-clear photographs or films of battlefields at a reasonable cost, this fantastic gadget DJI Osmo action camera is the way to go.
This gadget offers a lot of cool features, like a fantastic front display, outstanding video quality, superb image stabilization, and a lot of other stuff.
On top of that, the DJI OSMO Action is quite reasonably priced for what it provides. With its rectangular shape, the big lens on the front, LCD on the back, and the same mounting method as the GoPro Hero series, the DJI OSMO Action has a traditional aesthetic.
In the battleground, having a good grip on your paintball marker is crucial. If you attach camera marker becomes heavy but by using this camera players feel no burden.
The image quality of the DJI OSMO Action is equivalent to that of its high-end competitors, and it consistently produces excellent material. If you reduce the resolution to 1080p or 720p, you may get a frame rate of 240 frames per second for super slow-motion pictures.
However, you should be aware that the Rock Steady uses 60fps caps and 12MP pictures. The body of this gadget is two-toned, and it features a fantastic metal body with a grippe textured band that wraps around the frame.
Because it's so light and simple to use. The DJI camera is small and light, with a 1.4-inch screen that has a pixel density of 300ppi and a maximum brightness of 750 nits, making it viewable even in strong sunshine.
As a result, you don't have to be concerned about the camera's brightness. A USB Type-C connector and a Micro SD slot are located behind the flap on the device's right side, while a pair of latches on the device's base remove the battery, and the touchscreen display is located on the rear.
Because the camera has a Wi-Fi connection, you may easily transfer and share your photos and movies with friends on social media.
Features:
Battery life is pretty good you can use it continuously on the battlefield
Has various shooting resolutions and also provide the zooming effect
Captures impressive 4k video with many options
Good electronic stabilization technology
Touchscreen features are easy to operate
Pros
Made up of durable material
Comes in exciting packaging
Very attractive and eye-catching graphics
Cost-effective
4. GoPro Hero 5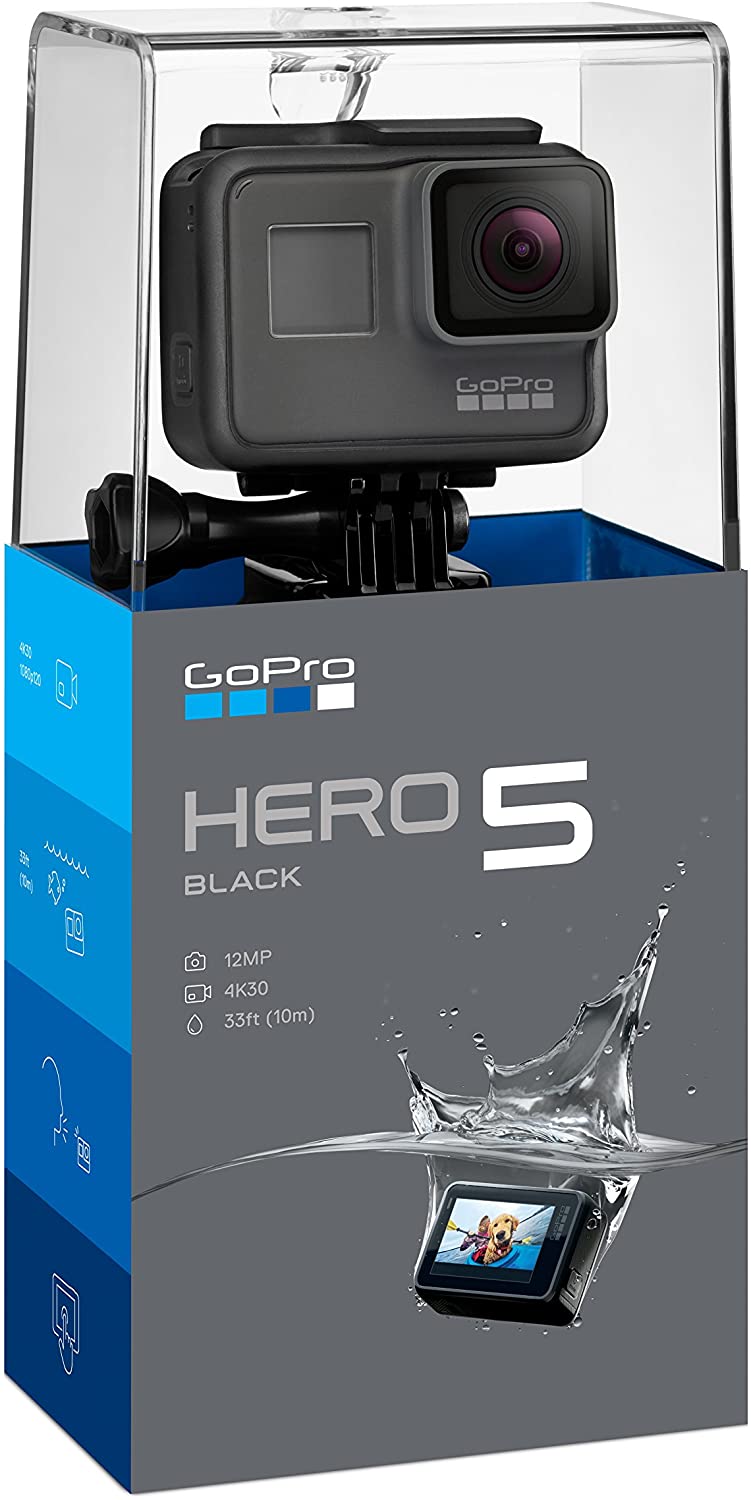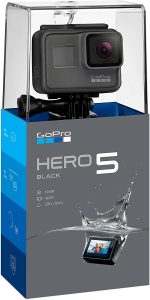 If you're looking for a high-end camera. So your wait is over since this paintball camera is a feature-rich device. This camera offers a variety of interesting features at a very affordable price.
This high-end camera comes with a slew of capabilities, including 4K video recording, 10MP stills, video stabilization, simultaneous video and still capture, voice control, Wi-Fi and Bluetooth connectivity, sophisticated wind noise reduction through two microphones, and waterproofing to a depth of 10 meters.
As a result, you may use this camera in any conditions. Capture all of life's moments without being distracted.
The GoPro Hero 5 Session is a fantastic update that can be used in all weather. Even though it is a little on the pricey side, it will offer you years of service without the need to keep looking for a better camera.
This camera is the lightest. It would look best if you mounted it on top of the mask, but it would also look well if you mounted it on the side.
As you can see, the display is very small, and to compensate for this, the GoPro comes with a phone app that you can use to obtain complete camera control and a live feed of what's being filmed.
You must also be able to replay captured snippets and edit them into a movie if necessary. If you're playing a game of speedball, you may easily use this camera.
It captures video at a good quality. The video stabilization is decent; it's not the finest, but it's certainly better than average; however, it only uses this function up to 2.7k. You also get a commanding voice to make it easier to control and manage the camera.
This camera is fantastic for paintballing. Just think about this fantastic product and have fun with paintballing.
Features:
Pretty lightweight easily portable
Camera quality is next level gives high-level resolution
Has a superb performance by capturing HD video
Made up of durable material
Pros
Waterproof and weather-resistant
Easy to operate
Offers good battery life
Cons
Difficult to connect the mobile app with the camera
Little expensive
5. YI 4K Action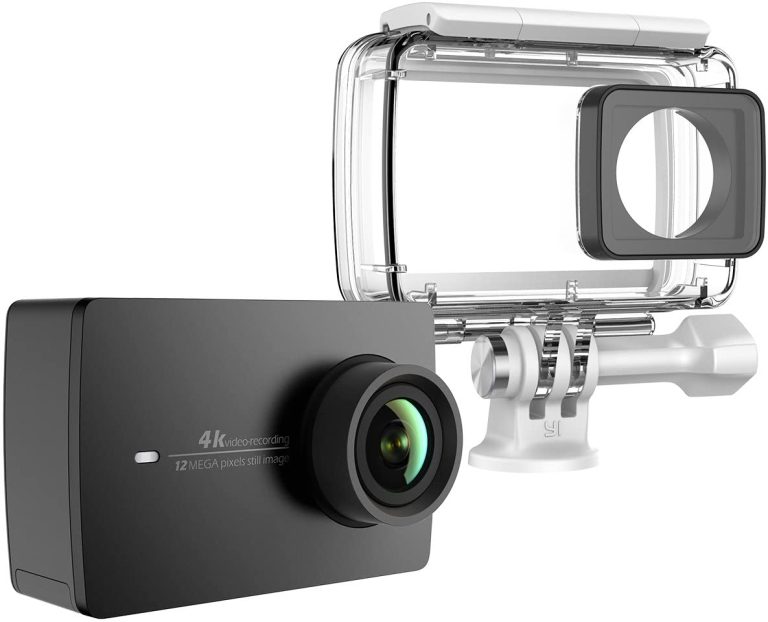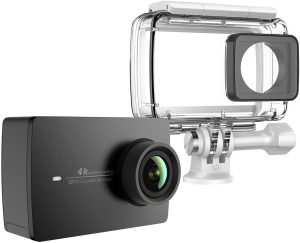 This is the last item on our list. If you're on a tight budget, this fantastic Yi 4K camera should be your first pick.
Sport camera comes with a plethora of impressive capabilities and is reasonably priced.
The firm still claims that the camera is the "greatest action camera ever," with one of the primary advantages being the ability to quickly shoot 4k at 60 frames per second.
You'll be able to record in several resolutions, including Full HD, with this high-end camera.
You can also capture still photographs, with the option of shooting in raw format. The external housing is also included with the Yi 4k+.
I strongly advise you to use it because it will help protect your equipment from paintball hits while you're running around on the paintball field.
Various filming resolutions such as 720p at 240 frames per second, 1080p at 120 frames per second, 2.7k at 60 frames per second, and 4k at 60 frames per second are available with this high-end camera, which is very impressive due to the intense nature of the sport, taking high-quality photographs and films is extremely challenging.
But don't worry, this camera is fantastic because it has a high resolution.
Even some of the most expensive full-frame cameras on the market are incapable of doing so it also includes a voice command feature, which you'll like. Because you'll be yelling a lot on the field, this isn't necessary.
The battery life is decent; you'll be able to use it for quite some time before needing to recharge it. The batteries are also swappable, so if you have any extras on hand, you'll be good to go for the entire day.
As a result, this low-cost paintball camera must be preferred.
Features:
The camera has a waterproof case that can be submerged to 132 feet underwater.
Has a unique design and attractive outlook
Packed with features like lightweight, durable, and easy to operate.
The high-end performance will provide you with good video quality
Has multiple ranges of resolution you can zoom or select resolution according to your need
Pros
Camera is lightweight
Made from durable metal that withstands harsh battlefield conditions
Easy to mount on marker or barrel
Cons
The camera is waterproof with the housing only
Conclusion
ACTION CAMERA
OLYMPUS TOUGH
Easy to Use
Durable
High-Quality Video
Good Resolution
OVERALL BEST
DJI OSMO
Good Battery Life
Various Resolutions
HD Graphics
Durable
VALUE FOR MONEY
GOPRO HERO 5
Waterprood
Weather Resistant
Easy to Operate
Good Battery Life
COST-EFFECTIVE: GoPro Hero 5
The camera appears to be costly. Is there a camera that is both affordable and feature-rich? Yes, the GoPro camera is both affordable and long-lasting. It has good video quality and is both water and shock-resistant. As a result, you may enjoy paintballing without fear of harm.
BEST ACTION-CAMERA: Olympus Tough
What role does the camera play in paintballing? Cameras are used to take high-resolution pictures and movies. As a result, the Olympus camera is the finest option for HD video with stabilization.
There are a variety of video recording modes from which to choose. What distinguishes this camera as the best? It is the greatest product because of its beautiful red color and quality features.
Buyer's Guide for the Best Paintball Camera
Paintball camera selection is a difficult and time-consuming job. There are several essential aspects to consider when purchasing a paintball camera. You must understand what the camera's video quality is.
What are the characteristics of a good camera, and which camera is the most versatile? And there are so many questions. Don't freak out. We've put up a useful guide that will assist you in making the best selection possible.
BUDGET: When it comes to choosing the finest paintball action camera, price is a big factor. Some individuals choose to buy inexpensive cameras under $50, but we do not advocate doing so because they are not equipped with high-quality functions.
Expensive cameras cost around $200 and come with a plethora of high-quality capabilities. Provides high-quality video with superb resolution and stability. Expensive cameras are also water-resistant, giving them an advantage in battle.
BATTERY LIFE: This is the most essential thing to remember. Paintball is a fast-paced game that can continue for many hours. Always choose a battery with a long operating time.
Also, consider what you can do if the camera's charging system fails. Use a camera with a solar charging system.
SIZE AND WEIGHT: Paintball cameras should be modest in size and weight so that players can easily carry and operate them on the paintball field. If you use a big camera, it will be tough to transport it on the battlefield.
CAPACITY: Actin cameras come with no internal storage. So make sure that you have an SD card Or USB to store your capture videos.
RESOLUTION: Always verify the resolution of your paintball camera to record high-quality footage. The majority of cameras capture footage at 720p and 24 frames per second, but if you want the best camera quality, opt for 2.7k at 60 frames per second.
WATER RESISTANT: The best paintball camera action is one that can be utilized in any weather. Is there a camera that can work in any situation? Yes, the paintball camera is weatherproof and waterproof. As a result, you may use your camera in both the summer and the winter.
INTERNET CONNECTION: Paintball players are becoming increasingly crazy, and they want to broadcast their game films immediately on social media. Always choose a paintball camera with an internet connection for this purpose.
You may also share your video with relatives and friends if you use such a camera. Moreover, the video may be transferred immediately to a smartphone or a computer.
FAQs
1. Can paintball cameras be harmed by paintballs?
No, they don't cause much harm to the paintball camera. Even though the front LCD is shockproof, sometimes paintballs damage it's a result, apply a screen protector to keep your camera secure.
2. Why do we play with an action camera on the paintball battlefield?
The action camera is adaptable. That can be linked through USB and SD cards, allowing you to simply share gaming videos with whoever you choose. A high-resolution action camera is also available. So you can capture HD videos.