Last Updated on August 31st, 2022 at 07:50 am
Paintball is a team sport in which two teams compete against one another. There is a fight between victory and defeat. Paintball is a popular sport among both professionals and amateurs, and many people wish to pursue it as a career.
As a result, paintball players are looking for the greatest paintball league.
How do you pick the finest paintball league if you want to join one? Don't worry, and we've compiled a list of the best paintball leagues to assist you in selecting the best decision.
Now People are more interested in having fun while working out because Paintball is played worldwide. If you are a pro- paintball player, you must compete in huge tournaments to gain more success and glory.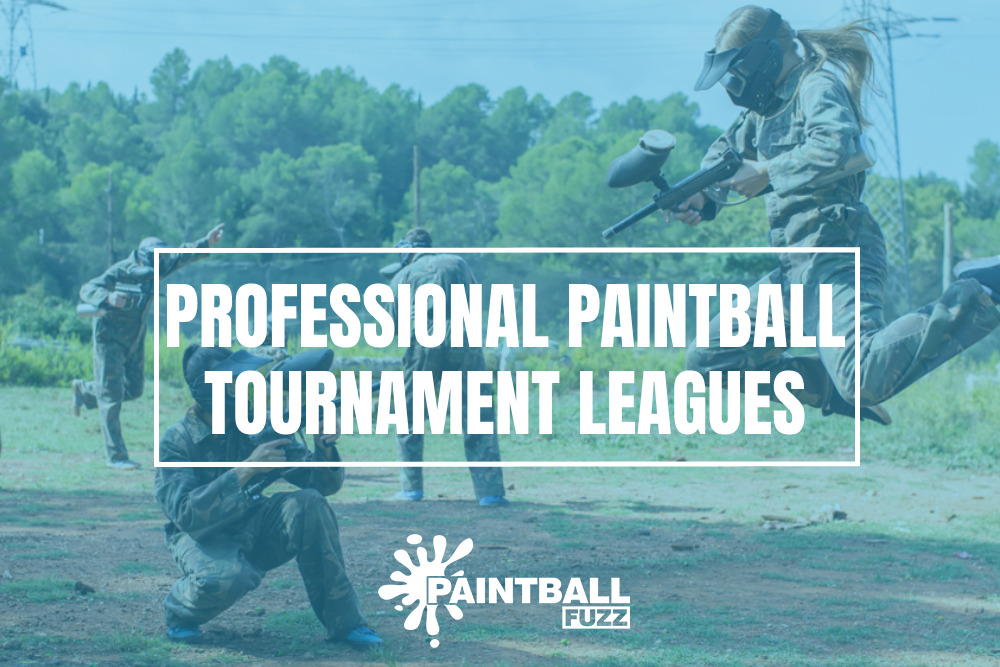 Like other fun sports, Paintball has a thriving league scene in the United States and worldwide. It mentions that leagues are divided into local and regional leagues, with the latter inviting beginners to take part in a structured event.
If you wish to join more established organizations that host corporate events and fixtures across the country, the leagues listed below are the best options.
Some best advice before you Enroll in Paintball League
Most paintball players require different experiences in the world of Paintball. Numerous paintball leagues operate in the United States, enrolling players and providing them with suitable training.  Are you interested in joining a paintball league? If this is the case, keep this in mind.
Many paintball leagues need a significant financial investment to join. Never try to join a paintball league when you're on a tight budget. To do so, you must form your squad of 6-7 people and practice paintballing.
Paintball leagues are the most acceptable way to improve your skills. Second, you must determine whether you want to continue in the woodball or speedball fields of Paintball.
Top 7 Tournament Leagues for Paintballing
Welcome to the League of Paintball. It's great that you've decided to join the league and made the best decision possible. Are you undecided about which paintball league to join? Don't be concerned if you answer yes.
There is a list of the best paintball leagues in your area for you to choose leagues from the list given below.
1. Eastern Paintball League (EPL)
Do you want to play in a highly regarded regional, cost-effective, and reputable league? In the United States, the EPL is a highly well-known regional paintball league.
Additionally, the EPL is reasonably priced, with low entry fees across the board. Throughout the year, three different playing conferences occur in the league, culminating in the East Coast Cup, which brings together all of the league's successful clubs. The EPL is a dream for Paintballers.
2. National Xball League (NXL)
The National X Ball League is one of the best choices for professional paintball players specializing in speedball. NXL is a prominent field that offers professional paintball formats and skills in the United States. Check out the most common NXL forms.
It is played as a traditional 5-on-5 game, lasting a little under 12 minutes per match. Its division determines a match's duration.
The other format is 5-on-5, with games lasting five minutes each.
There are also three-minute games of 3-on-3.
NXL is one of the most significant paintball leagues. Paint ballplayers all around the world wish to participate in the NXL league.
3. International Classic Paintball League (ICPL)
The most sophisticated paintball league available. A famous paintball league similar to the NXL is the ICPL. NXL's subsidiary league is the ICPL. Paintball is a relatively new sport, but it is gaining popularity rapidly. ICPL offers a limited number of paintball types, with the most common being a classic 10-on-10 game.
These 10-on-10 classic paintball games are popular with larger teams. Please be aware that this traditional playing style is incompatible with woodball, hyper ball, and mound features. This league is for professional paintball players.
Capture the flag includes as a standard scenario. In the professional bracket, 24 teams compete at three ICPL events each year.
Newcomers can gain experience by participating in the entry-level player category.
4. National Collegiate Paintball Association (NCPA)
This is among the ideal platforms for more minor professional leagues and teams to team up and participate in a single stage at the national level. The National Collegiate Paintball Association is the governing body for collegiate Paintball in the United States.
NCPA supports high school teams in addition to tournament-level competition with college teams. The majority of paintball competitions are between collegiate leagues. It hosts events every year.
There are also various continuous playing divisions in which participating teams are allowed to master the paintball game to achieve long-term success ultimately.
5. Elite Xball League (EXL)
EXL is the paintball league to join if you're looking for a low-cost registration option. This league lets lesser-known teams, institutions, and clubs compete in events customarily reserved for professional-level competition.
For new paintball players, this is the ideal option. It also has a variety of paintball game styles. The cost of enrollment is relatively minimal. Paintball players must also choose the paintball field they want to play on. Join EXL to improve your abilities.
6. Outback Paintball Series (OPS)
Do you want to join a minor paintball league? Do you have a limited budget? So don't be concerned; join the OPS paintball league, a tiny and economic paintball league. Like other highly regarded leagues in the United States, the Outback Paintball Series is hugely accessible and available to all.
This is the most fantastic paintball game for newbies. It has a variety of game modes. All of them are informative and simple, so even novices may learn a lot. The various playing grounds allow for a wide range of game formats. It has some of the most exciting speedball and woodball fields around. As a result, everyone wants to join OPS.
7. NRPL Paintball League (NRPL)
Many paintball players choose to play in paintball leagues that are close to their homes. So, if you reside near Maryland and play Paintball, you must enlist in NRPL.
This is a divisional paintball league, which means that teams of all skill levels are welcome to join. There are also several play configurations available in this league so that both small and large groups can fight with competing teams. Throughout the years, this paintball league has hosted numerous events.
Conclusion:
You've decided to join the league. It's good. In the United States, there are just a few major paintball leagues. Join one of the best paintball leagues listed above if you want to improve your paintball skills.