Last Updated on August 27th, 2022 at 02:22 am
Paintball is a game that is vast in its benefits, it boosts your mind and thinking capabilities as well as helps you get the best of exercise. Like every game, it has certain protocols that every player has to follow before digging into the game.
First of all, before starting the game you must have all the essential equipment to play the game. Playing paintball without accessories of paintball is just like playing cricket without the ball. If you want to enjoy fullest then you must have all gears, equipment, and tools of paintballing.
If you are in search of the best paintball gear then you are present at the right place. We will provide you complete description and information that what you need for paintballing.
Best Paintball Gears & Equipments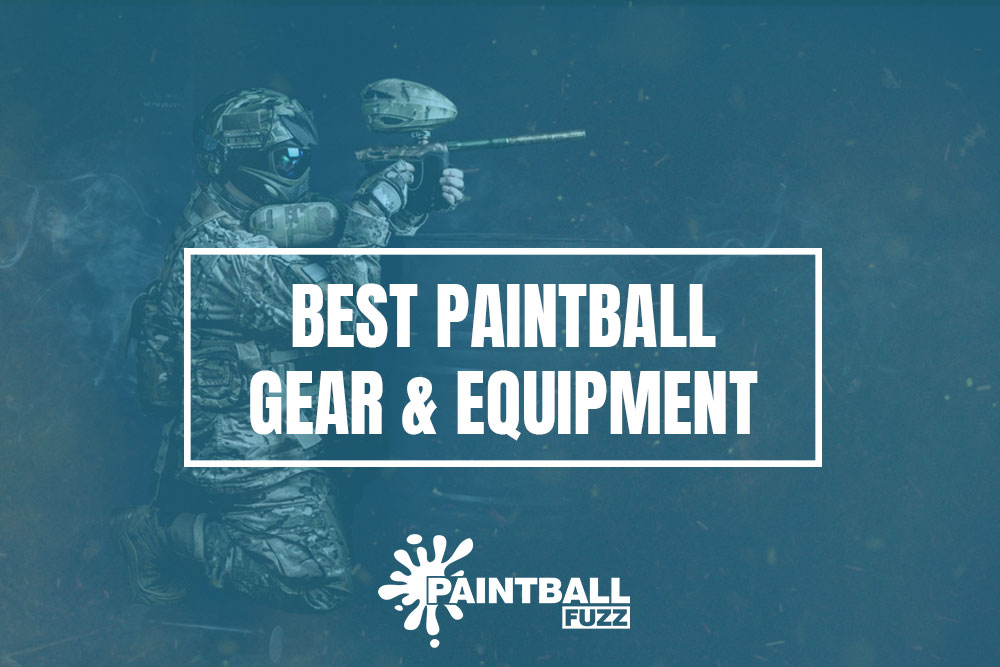 First, you have to buy an amazing paintball gun. Which is considered as the main tool in paintball. Your marker should be reliable, accurate, strong, and easy to operate. If you are a beginner you have to buy a semi-automatic marker.
Paintball loaders are another important tool you have to consider. Beyond this all there are a lot of the best paintball accessories that you have to buy. If you are a spinner in paintball must buy a spinner barrel to enjoy scenarios.
If talking about a safety kit for paintball then you have to buy a paintball suit, gloves, footwear, paintballs, swab, and lubricants to protect yourself and maintain your paintball.
Paintballs are small in size. They are rubber balls and they never hit too strong. But sometimes they hit sensitive body parts like eyes and cause damage. To protect yourself must wear a safety suit.
If you want to enjoy the battlefield of paintball then you must have to wear and carry all required accessories. Maintenance of markers is also essential for the smooth functioning of your gun. The selection of tools also depends on which field of paintball you are interested in.
Woodsball players need more protection of body due to intense conditions of the wood. Also, long-range paintball is required for wood ballplayers. Speedball players need the low-range marker to protect others from a fast firing rate.
To clear your mind about the best paintball gears we have made a list of all accessories required for paintballing.
List of 9 Best Paintball Gears & Equipments
There are the main accessories that are required to feed paintballs to the internal chamber of the paintball marker. Also called ammo-loading tools. Normally hoppers work on the gravity-assisted phenomena to feed paintballs in the device. Hoppers are fitted on top of the paintball marker.
So you can easily examine the paintballs left in the marker internal chamber. By using a conventional hopper you can make the best shorts. The alternative to the hopper is magazines. These are called ammo holders that are only used in Meg-fed markers. The best hopper for paintball is given below.
Virtue Spire IV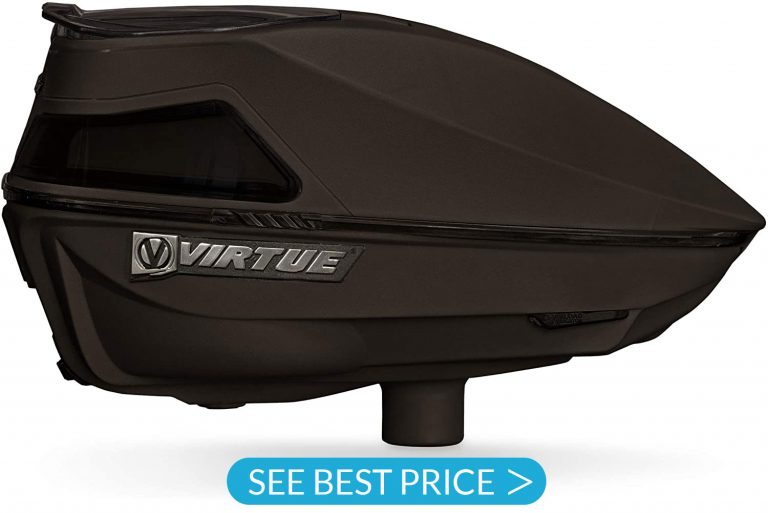 As hopper is the main component for paintball marker. This provides the best firing rate and good range to paintball guns. The best choice for hoppers is The Virtue Spire IV electronic paintball loader. It is considered one of the best paintball hoppers.
This hopper is feature-rich as it gives protective feeding logic which results in consistent and reliable results. Sometimes markers get jammed during playing paintball games. So you need a tool to maintain the gun. For this purpose fuse-free integration is the best option for you.
By using this you can do quick adjustments to the wireless system by using mobile phones and android. These all adjustments need no tools. You can maintain your gun easily in the middle of the game.
This hopper is very durable and reliable. Provides smooth functioning. You can use easily this hopper again and again by using its hinge-mounted design.
These hoppers assemble magnetically gives robotic features. Isn't amazing? It comes in attractive packaging and eye-catching colors. A Virtue Paintball is also present in the hopper.
Features:
Wireless Programming of Hopper
Durable
Easy to Use
Pros
Lightweight
Magnetic Settings
Easy to Operate
Cons
Sometimes Cause Difficulty in Functioning
A paintball gun is the main tool in paintballing. It is the gear with which you shot your paintball and your whole game depends on the paintball gun. You must best the best paintball gun if you want to win the game.
You might be thinking that you will have to find the best paintball gun by yourself, well we have got you covered in this case. And below described is the best gun available in the market depending on its features.
Planet Eclipse EMEK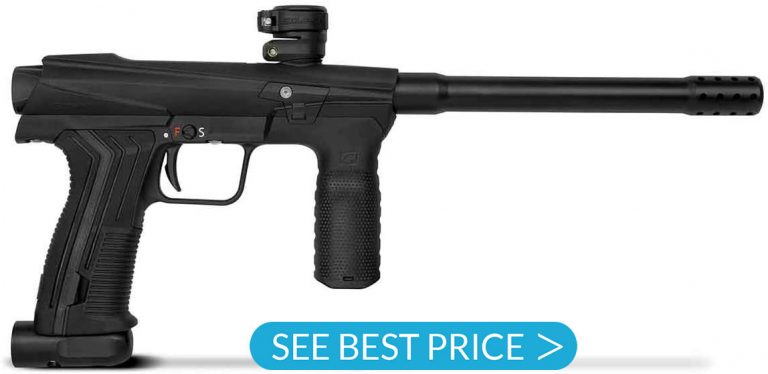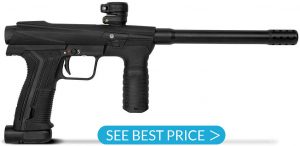 This is the best paintball marker. Offers all traditional along with many additional features that you can brag about when you purchase this paintball gun.
This product is a superb quality product used by professional players in tournaments. As the bore of his marker is small use medium size paintball as result its velocity is very high. One of the main features of this product is that it comes with decent graphics.
Its modern and eye-catching graphics are amazing. This marker is very light in weight. It will never allow you to slow down in running, climbing, etc. during paintballing. So it is easily portable on the battlefield of intensive sport. It is semi-automatic. If you are a beginner purchase this marker it will work manually.
To regulate the amount of air passing and pressure during each short, there is a Gamma core bolt that works on Breech sensing technology. Its firing rate is 1000 shots on a 4000 psi fill-up. Having high working potential and produce less noise on firing.
Features:
Easy to Use
Metal Body
Low Recoil
Extremely Durable
Accurate Shorts from a distance
The firing rate is 1,000 shots on a 4,000 PSI
Pros
Easy to Clean
Minimal Maintenance
Having a lot of Advanced Features
Lightweight and Well Balanced
A paintball barrel is a part of a paintball gun that can be changed according to your needs, especially if your demand is high efficiency but the built-in paintball barrel doesn't fulfill the requirement. Given below is our top barrel pick that is highly efficient.
Deadlywind Fibur-X8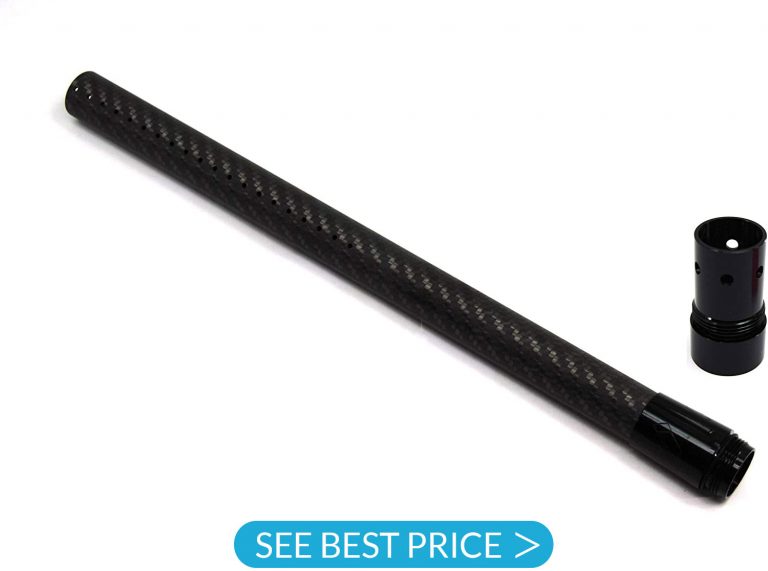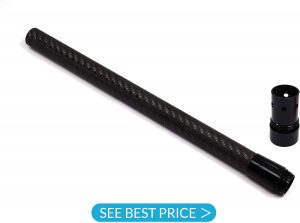 One of the best barrels is Deadly wind. One of the most famous features is its quietness, accuracy, and lightness. It makes use of Freak replaceable inserts, giving only one barrel and multiple inserts to perform the function of quite one barrel.
This paintball barrel gives me the prospect of swapping to varied threads without letting you spend an excessive amount. This specific barrel system has three parts. The primary one is that the thread adapter is designed to perfectly match the type of gun you've.
Features:
Its weight is average 64 grams (77 grams with insert)
Fibur-X barrel is built with a unique 3 layer construction
Affordably Swap to different threads
Pros
Very Durable
Provide Extra Strength
Playing paintball is tricky and risky. Protection is required to save yourself from paintballs. If you are looking for upper body protection then your choice must be a tactical vest. Its importance cannot be denied. This vest is made up of hard-leering materials along with padding.
Also the best option for players that play in warm weather. The fabric of the vest provides good circulation of air. Lessen the chance of heat stock. The best feature of a paintball vest is that it provides a lot of storage for paintball accessories. Its amazing pockets and pouches provide extra space for tools. Given below the best paintball vest.
GZ XIN XING Tactical Vest
A good tactical vest may be a must for anyone looking to shine at paintball. It has many premium features as it provides good storage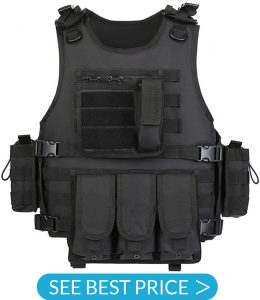 capacity and protection. This tactical vest is especially robust with high-grade materials throughout.
The nylon mesh material of the vest is very lightweight, Gives you an extra edge that you will never be burdened by this. You'll calculate an excellent fit because of through-zip fastening to the front, while an adjustable waist belt with buckle fastener ensures a firm fit form in the least time.
You also have an enormous amount of integrated storage here. The inside of the vest features two zip-fasten document pockets, with one on either side. However, it's the surface of the vest that yields the foremost storage capacity.
On the left-hand side of the vest, you'll find a pistol holder that ought to comfortably accommodate paintball pistols of all sizes. Adjacent to the present, you'll find three pistol magazine pouches that will be readily adjusted to suit the precise height of your magazine rounds.
The shoulders also can be adjusted via rip-tape strips, while two metal D-rings provide you with a convenient place to connect a spread of accessories and essential equipment. This is one of the best options for players to protect the upper part of the body.
Features:
Features Two Zip-Fasten Document Pockets
Vest made up of High-Quality Material
D-Rings Provide you with the best connect a spread of accessories
Good Air Circulation System
Pros
Provides Protection
Best for Players who play in Warm Condition
The layering of Hard Material
If you are a player of wood ball. You want to enjoy the fullest. As you have to climb, jump, glide and run in the woods. So it is recommended to wear pants that are longs. Long pants protect yourself from dangerous insects long pants are considered best. Your pant must be too durable to withstand all rough surfaces, wear and tear.
When you sit on the battlefield to do the fast firing. High pressure comes to your knee area. Which may damage your pant. So to avoid this pants should be made up of the best material. Pants for this purpose are made up of hard material that provides support and durability.
HK Army Pants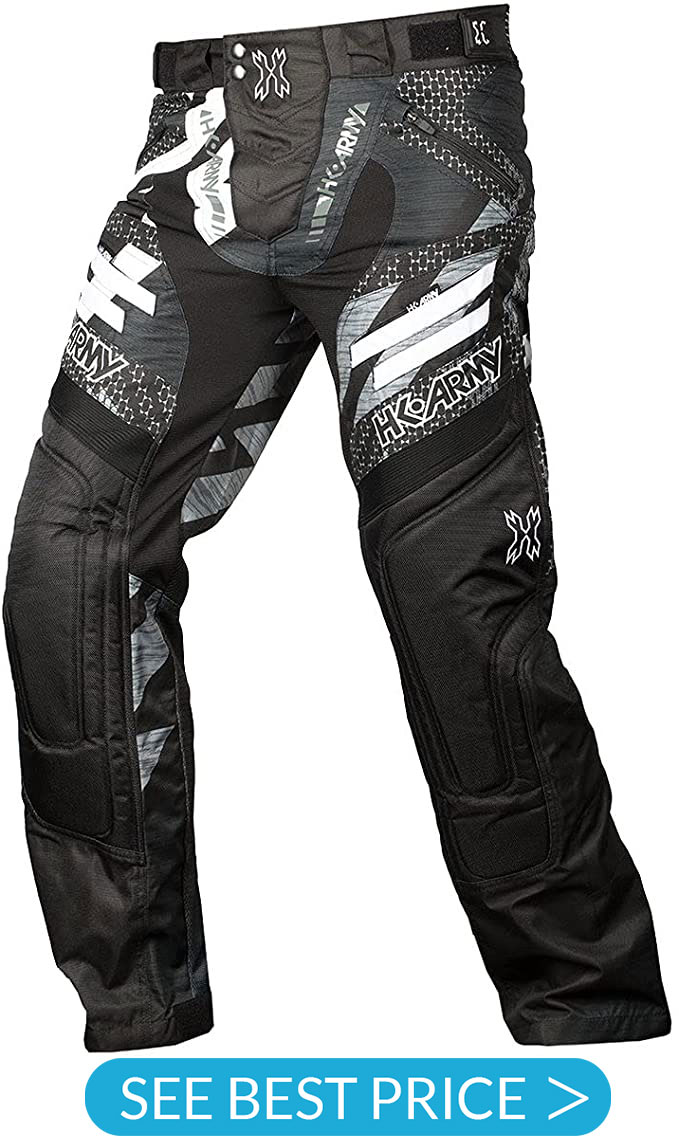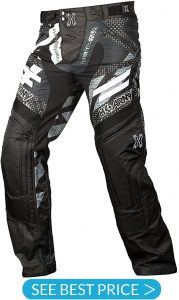 This is the best brand that gives exceptional quality gear for paintballing. Premium quality tools are made by this brand for paintballing. If you demand the best pants to guard your legs this is often the best choice for you.
These hard-wearing pants are designed to face up to heavy use and therefore the most rigorous of activities, making them a perfect choice if you're constantly diving, sliding, and crawling through your playing environments.
These pants vary in size. Always buy the pant that fits in your legs epically hip areas. The fit is further enhanced by stretch material at the knees that stop the pants from demolition toward the bottom if you're crawling or squatting.
Breathable sections at the inner thigh also make these a cushy choice and a perfect option for those looking to play for hours at a time, particularly in warmer weather. You've got a variety of trendy clearways to settle on from here also, allowing you to seek out the right pair to enrich your other paintball gear.
Features:
Very Comfortable
Gives Extra Protection
Good Air Circulation Mechanism
Affordable
Pros
Made up of Layering Material
Available in Good Colors
Best for Woodsball Players
Cons
Not suitable for Hot Weather
During paintballing the main area that is exposed to paintballs are the hands. Paintballs hitting on hands cause serious injury and pain. As there is no meat on fingers so paintballs direct hit the joints and bones.
So must buy the best paintball gloves. Paintball gloves come in a variety of designs. Some are made up of layering material that protects your palms and fingers from serious injury.
Always choose lightweight and comfortable gloves to give full movement to hands for proper grip on the marker. In short, these gloves provide ample padding. For speedball, very lightweight gloves should be used to provide full dexterity.
HK Army Gloves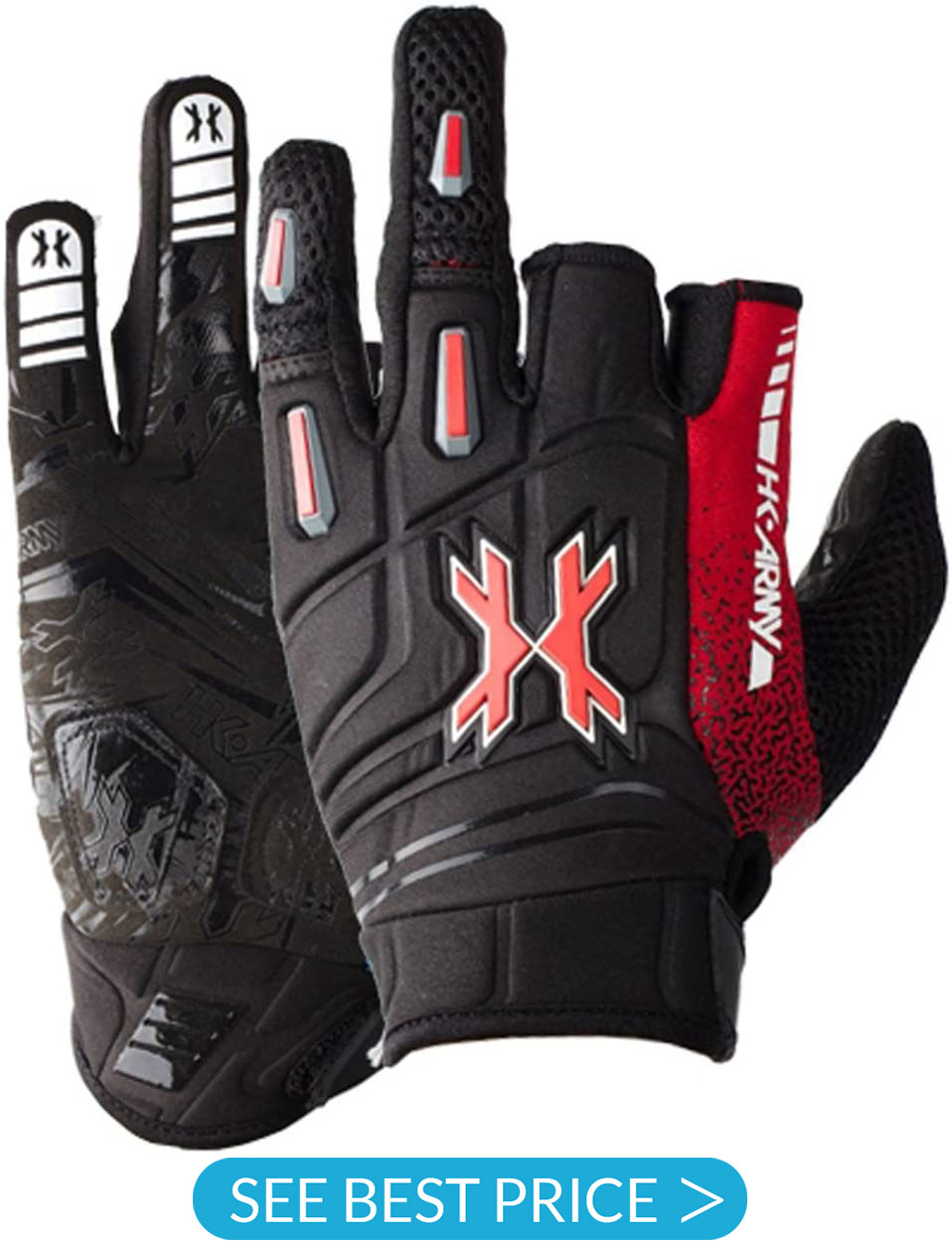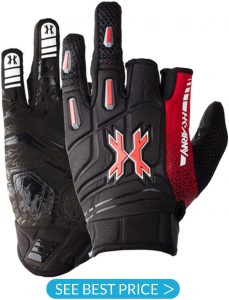 When talking about comfortable grip on marker paintball gloves are the best choice. These premium features gloves offer tons of protection against high-impact collisions with the bottom, with ample padding across the palm and out of doors of the hand.
The molded wrists also make sure the gloves remain firmly in situ once fitted, with little chance of them pulling freed from your hands when operating your marker.
The middle and index of every glove have been cropped just above the knuckle, keeping your primary digits free and unobstructed to make sure optimal operation of your marker and other gear.
This design detail makes these gloves an excellent choice for those looking to take care of good levels of dexterity in the least time. The opposite fingers and thumb of every glove offer full protection, while the within the section of every covered digit features additional grips, ensuring your marker or accessories never slip from your grasp, even in wet conditions.
These gloves are made up of very durable and elastic material. That allows you to do full hand movement.
Features:
Additional Grip
Gives Full Protection
Ample Padding
Pros
Good Ventilation System
Protect Hands Fully
Suitable to Every Field of Paintballing
To protect your face and eyes you need the best visors and goggles. While basic goggles can sometimes be utilized effectively, a more substantial visor mask is that the thanks to going. Search for a visor that matches the face snugly, leaving no exposed areas where paintball rounds can penetrate.
Foam inserts will ensure a far better fit of the face, while also enhancing overall wearing comfort. Multiple strap adjustments also will ensure a mask remains firmly in situ during rigorous activity.
These are considered basic tools in paintballing. The visor lenses should also provide optical clarity. Search for anti-fog lenses as standard as these are designed to catch up on a variety of environmental conditions. Given below is the best paintball goggles.
Dye i5 Goggle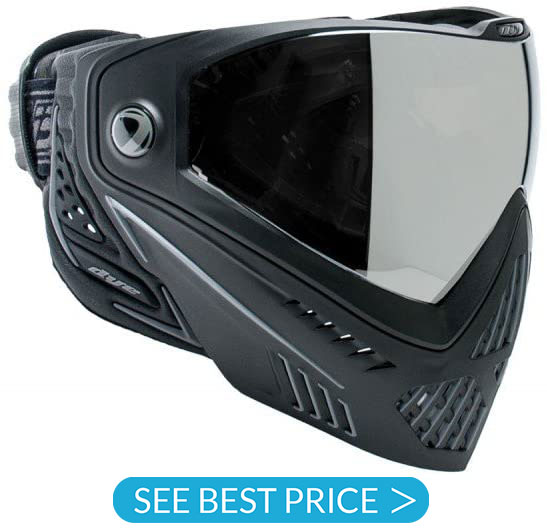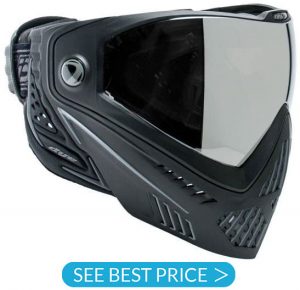 If you are in search of the best paintball goggles then this is the best option for you. Protection of eyes and face is essential in paintballing. To protect the head, face and eyes this product is the best option. These paintball goggles provide extra protection and safety.
The Tirodial Horizon 290-degree anti-fog lens also makes this visor an honest choice for outdoor play altogether sorts of conditions. With the premium lens treatment, this visor will provide optical clarity in the least times
Multi-directional venting also comes as standard here, providing the inside of the visor with good air circulation.
Not only will this keep you cool and cozy during long gameplay sessions, but it'll also make sure that the within of your lens remains free from moisture in the least time. This is the best option to protect the face and eyes.
Features:
Multi-Directional Venting
290-Degree Anti-Fog Lens
Durable
Pros
Comfortable
Good Protection
Easy to Wear
For all Ages
Cons
Not Upgraded Lens too much
During the game, you have to be active and play energetically. So-called tactical boots and military surplus stores are often an honest source of suitable footwear. Attributes that you demand include high-grade construction. Full-grain leather is especially effective and maintaining its form and withstanding the weather.
Always prefer boots that include protective toe caps and extra protection at the heel to attenuate the prospect of injury. To play tension-free. While paintball boots should provide ample protection against injury, they ought to never impede your freedom of movement. Given below best footwear.
Free Soldier Boots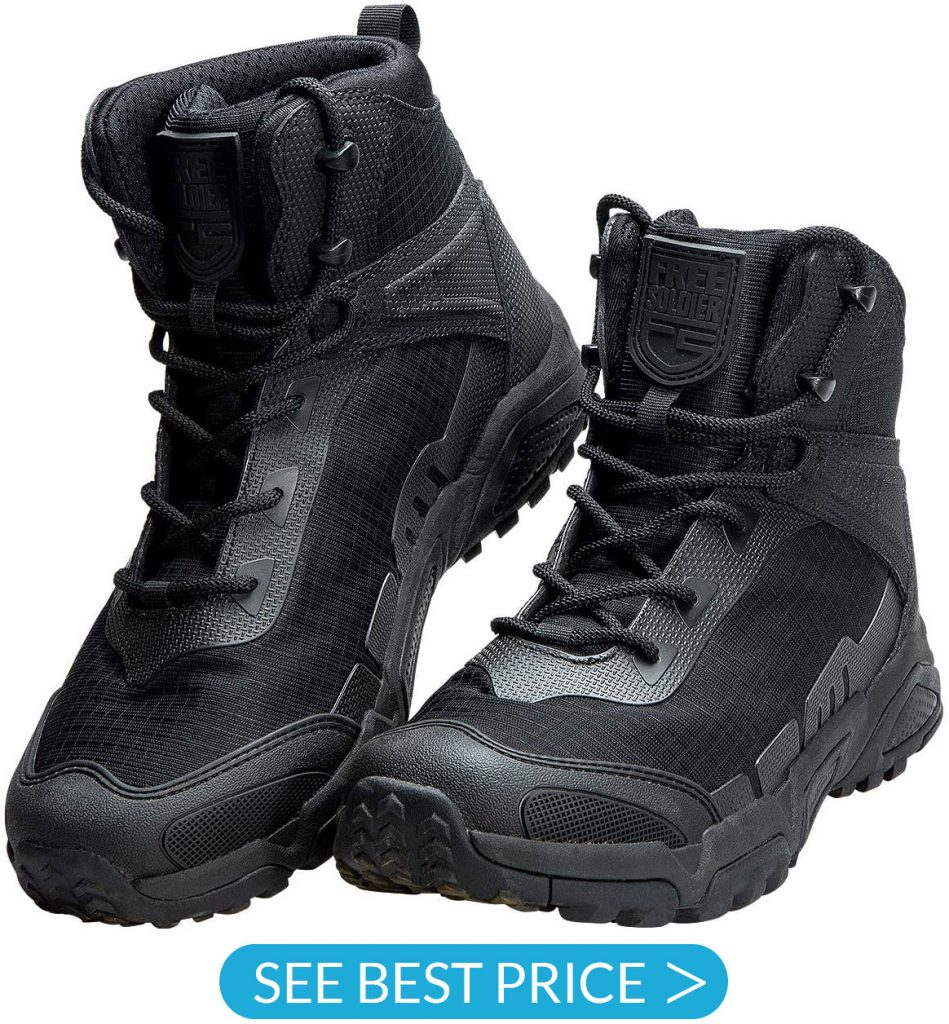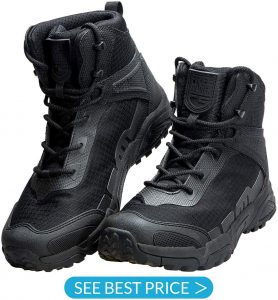 Boots are main in the body movement. If boots are comfortable you will play tension-free. These boots are made up of robust gull grain leather, with abrasion-resistant mesh linings to stay your feet comfortable in the least time.
The moisture-wicking mesh lining keeps moisture to a minimum, maintaining dry conditions on the within of the boot for day-long comfort.
Protective toe caps also make these boots suitable for the foremost rigorous of outside activity, especially if you would like to kick your way through tough environments.
Further shock absorption is often found at heels, ensuring your Achilles tendon is shielded from injuries. Ankle support also here gives you fast and comfort in running. The insoles also can be removed at the top of the sport to be thoroughly dried out before your next session.
Features:
Rubber Strips for Grip
Comfortable
Easy to Wear
Oil and Water Abrasion-Free
Pros
Abrasion Free
Thick Material Construction
Durable
Paintball gun runs on special phenomena. It requires compressed air or a compressed CO2 tank that gives pressure to the gun to eject paintballs. So paintball tank should be highly durable to provide smooth functioning of a paintball gun.
Tippmann Empire Tank


One of the best paintball tanks that provide extra features to your marker to figure best. This premium–feature tank is suitable for any paintball marker that needs high air to work.
Made within the USA to an exceptionally high standard, this first-rate tank offers a generous 3000 PSI fill capacity, making it ideal for even the foremost intensive demands.
The Paintball tank is lightweight aluminum construction makes this an honest option for those looking to lighten the load, especially if your marker is already heavily loaded with accessories and upgrades. So this lightweight tank gives you the best option to play easily.
This tank also offers an output pressure of 800 PSI, making it a solid bet for those trying to find high-performance firing in the least time. Its pressure operation is best. Gives a fast firing rate and long-range to marker.
Features:
Aluminum Body Construction
3,000 PSI Full Capacity
Durable
Easy to Carry
Pros
Durable
Lightweight
Good Pressure Generating System
Cons
Not suitable for Meg-Fed Markers
FAQs
1. What Gear do you need for Paintball?
You need the following gear for paintballing:
2. What Paintball Guns do Professionals Use?
For professional use, you need a gun that has a long-range and fast firing rate. Always consider a semi-automatic or automatic paintball gun for use.
CONCLUSION
All these are the best tools for paintballing. Just go and purchase these amazing accessories to protect yourself and to enjoy this magical game with a full boom. If you want to play in special places of paintballing these all tools are essential for playing. Without these, you will never be allowed to play in tournaments of paintball.