Last Updated on September 3rd, 2022 at 02:53 am
The paintball game is a lot of thrill and joy. Many paintball players are unable to buy high-quality gear. Do you believe that paintball is an expensive sport? If you answered yes, you are correct. Paintball is a costly sport.
Because you'll need to acquire a lot of extra paintball accessories to meet the requirements of the paintball game, paintball can also be a great activity to pursue if you're searching for something to do regularly. How much paintball will cost you depends on how much money you wish to invest.
Playing paintball is a little pricey. Many new paintball players want to know how much it costs to play paintball. So, depending on where you are from, playing paintball for the first time and renting equipment will cost paintball players anywhere from $30 to $60.
If you opt to buy your equipment, you could spend a few hundred dollars to obtain the basics. Paintballs themselves range in price from $30 to $60 per box.
Paintball players frequently allude to the use of used equipment. If you want to buy a fresh one but want to know how much it will cost. So come along with us. We've developed a list of paintball accessories that you'll require.
Always use caution when purchasing paintball equipment, as various paintball equipment are available on the market. However, you must select the correct one.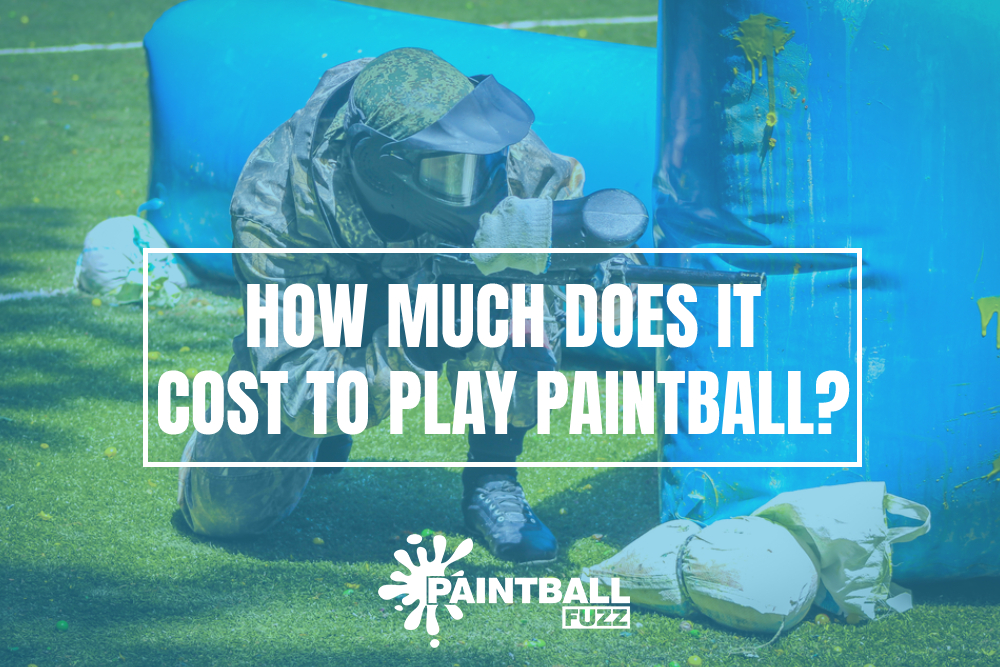 Cost for Just One Time Play
Many paintball players enjoy the game as a hobby. They do not intend to continue playing paintball in the future. Are you one of those people who wants to play a paintball game just once?
If so, you should go to a club that charges a one-time cost rather than a monthly fee. Check to see whether you can rent the required equipment there as well. A round of paintball can cost anything from $10 to $25. It will also cost you an additional $30 to rent all of the equipment.
Some regions additionally demand you to buy field paint, which is paint purchased in their fields and is frequently more expensive than paint purchased elsewhere. Field paint costs between $30 and $60. So, playing paintball is full of thrills that you will enjoy the most.
Buy Equipment on Rent
Are you on a tight budget? How much does paintball cost? How much is it to play paintball? If this is the case, don't worry about spending money on pricey paintball gear and accessories. In this case, you must utilize leased paintball equipment.
This is a competitive price, and you will never have to worry about money during the month. If you decide to rent equipment on the spot, here is a list of the essential items they should provide you.
Is the Paintball Game is Expensive to Play?
Paintball is not a costly game to play if you like to play it once. However, if you want to pursue paintball as a career, you will need to purchase and select high-quality paintball apparel and equipment, which will be costly.
If you're going to play paintball regularly and make it a long-term passion, you will need to invest more money upfront when acquiring your equipment.
Based on how much money you want to spend, the quality of the materials you buy may be better than those you can rent. So, to be successful, you must select paintball equipment that is durable, lengthy, and of good quality.
How to Purchase Paintball Equipments?
It is not arduous for professional paintball players to choose top-grade paintball gear. However, paintball clothing is too pricey for beginning players. If you wish to buy a local paintball pack, it will cost $30 and $50. These packs often comprise the following items:
Paintball gun
Mask
Hooper
CO2 tank
Paintball Pack for Advanced Players
Advanced paintball players prefer a semi-automatic or electromechanical gun. As a result, it will cost somewhere between $70 and $100. If you do not wish to purchase a paintball pack, you must purchase paintball accessories separately.
Masks start at roughly $20
The initial cost of CO2 is around $12
Hoppers are roughly $5
When you buy a paintball pack, you must also purchase several other paintball accessories. Aside from the fundamental equipment required to play paintball, you will need to purchase additional products such as paintballs, air, high-end guns, accessories, and clothes.
All of these items are not required to play paintball, but they can enhance the experience. Do you wish to purchase low-quality paintball equipment? Nobody likes to wear low-quality paintball gear. As a result, you must invest more to achieve good results.
Types of Things to Wear for Paintball
Are you a newbie to the paintball field and want to estimate your paintball outfit budget but don't know whatever you need? So don't be concerned. We'll offer you a quick rundown of paintball accessories.
As a result, you will be able to clear your thoughts regarding the budget you must invest in. You must purchase the following items:
FAQs
1. What to wear to Paintball in Hot Weather?
In the heat, it is difficult for players to wear fully padded clothing. Are you perplexed about how to dress in padded clothing in the summer? Are you unsure about investing in separate paintball outfits for the summer?
Don't freak out. When playing paintball, it is critical to protect your body from ailments and paint.
This can be more difficult in the summer heat. If it's over 90 °, sweatpants and long-sleeved ones don't seem like a good choice. If you plan to go paintballing during the summer when it is hot outside, wear lightweight, comfortable clothing. Use cotton paintball clothing to keep your body well-ventilated.
Conclusion:
The quality of his paintball equipment determines a paintball player's entire career. If you want to be successful in the paintball field, you should always wear high-quality paintball gear. Should never be compromise Quality. Cheap paintball accessories will never endure. More money must be invested to participate fully.