Last Updated on August 26th, 2022 at 02:43 am
Paintball is a magical fun game. Played all over the world. People are now more curious about the safety rules of paintball games to protect themselves from injuries. If you also want to enjoy the real joy of paintball. You need to know what to wear for paintball so that it does not hurt.
Protect yourself from accidents and injuries. If you are new and do not know much about what to wear paintball. Don't worry, we are here to help you.
Many players do not wear proper paintball clothing and accessories, which can lead to injuries. Paintballs are small in size which are made of rubber but due to high speed, they hit the body at full speed and cause severe injury. To protect yourself and enjoy yourself to the fullest, it is important to wear the right accessories and follow safety rules.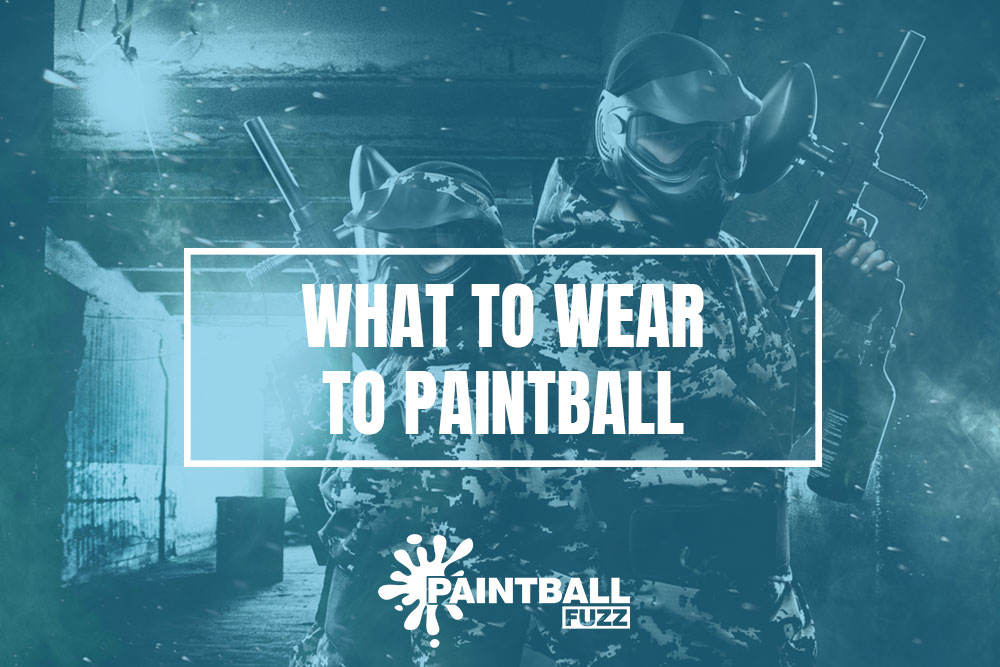 Wearing special clothing, goggles, helmets, and gloves will make you feel safe and fresh. Paintball is a very busy and entertaining sport at the same time. There is no other way to protect yourself without wearing protective clothing. Playing indoors is different from playing outdoors. If you want to play paintball in a specific place, then you must wear the following items.
What to Wear & What Not to Wear to Paintball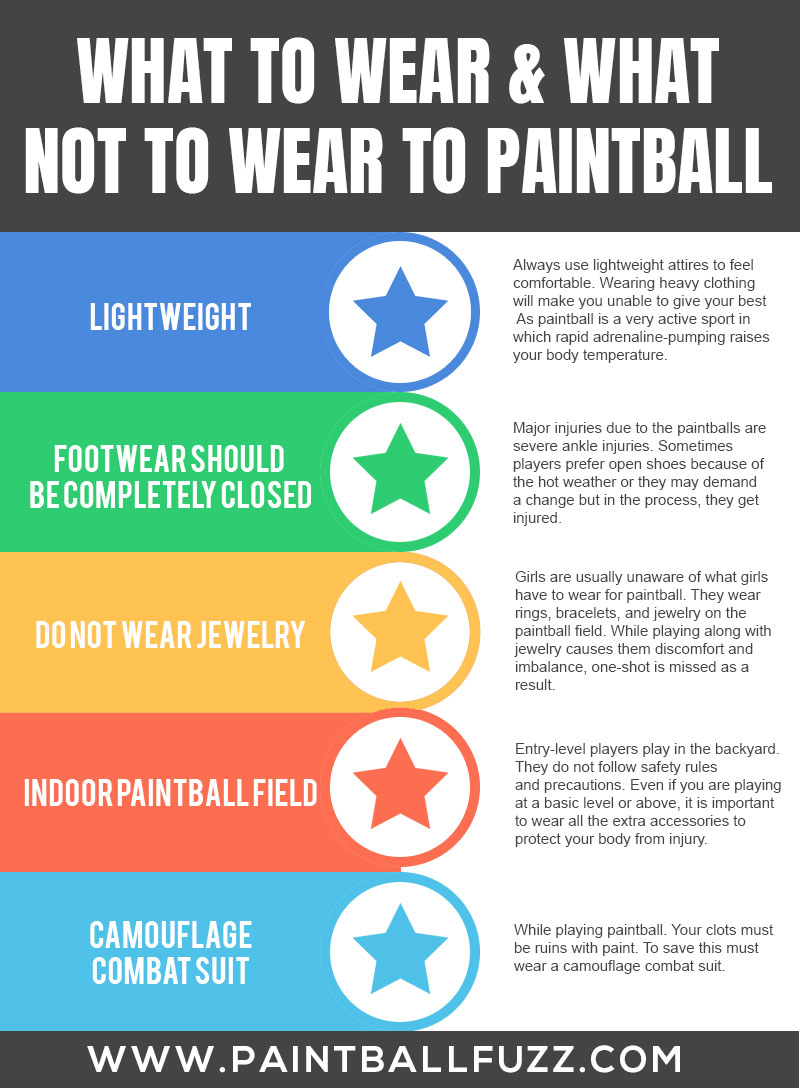 1. Lightweight
Always use lightweight attires to feel comfortable. Wearing heavy clothing will make you unable to give your best. As paintball is a very active sport in which rapid adrenaline-pumping raises your body temperature.
Due to excessive sweating, your ability to play is reduced and you will be defeated by your opponent. Players use the best layering cults. But instead of using thicker fabrics, use lighter layers.
2. Footwear Should be Completely Closed
Major injuries due to the paintballs are severe ankle injuries. Sometimes players prefer open shoes because of the hot weather or they may demand a change but in the process, they get injured. Therefore, it is always advisable to use only closed and comfortable shoes to prevent your ankles from breaking. Closed shoes provide extra smooth and comfortable walking and running ability.
3. Do Not Wear Jewelry
Girls are usually unaware of what girls have to wear for paintball. They wear rings, bracelets, and jewelry on the paintball field. While playing along with jewelry causes them discomfort and imbalance, one-shot is missed as a result. The chances of defeating your enemy are reduced. So never wear any jewelry on the paintball field.
4. Indoor Paintball Field
Entry-level players play in the backyard. They do not follow safety rules and precautions. Even if you are playing at a basic level or above, it is important to wear all the extra accessories to protect your body from injury.
5. Camouflage Combat Suit
While playing paintball. Your clots must be ruined with paint. To save this must wear a camouflage combat suit. By wearing this you do not need to take tension that your clots are getting dirty with paint. Play in relaxed mood and knock out the opponent.
What to wear for Paintball to Protect Yourself
As our body is divided into many parts head, lower trunk, upper trunk, hands, and feet. The following best paintball clothing should be worn to protect each part.
Layers for more protection
1. Protect the Head and Face
Let's start with the upper body. First of all, you have to protect your face and head. Masks, goggles, and helmets are used for this purpose. All three accessories are designed to protect your entire face from ear to ear and from chin to forehead.
To protect the eyes, the mask has a polycarbonate lens. It protects the eyes from paintballs. There are two types of masks, one that does not cover your head and the other that covers your head completely. If you buy a half cover mask, cover your head with a baseball cap.
This gives extra protection to the head. As one of the famous headbands, Sandana is also used for this purpose.
2. Protect the Upper Body
It should be kept in mind to protect your upper body. Different paintballs have different hitting speeds. As 40-50 caliber paintballs never hit hard, so many layers of clothing need to be worn. But 60 caliber paintball hits fast so wear full.
Players with sensitive bodies and entry-level players wear long-sleeved T-shirts, as well as sweatshirts and hoodies for safety. These paintballs are the best clothes that give you complete protection. Most paintball players are usually young and do not like to wear layering dresses. Also, if the weather is hot outside, use a cotton layering dress.
3. Protect the Lower Body
Long pants should be used to protect the lower body. Either you are playing indoors or outdoors. You need more precautions than luck to succeed in the paintball field. It's as if you're playing paintball.
There are many possibilities for you to be injured in the forest, perhaps bitten by small insects and crabs. Wear long pants to protect your feet from injury. Indoor fields are covered with AstroTurf, so crawling behind a bunker may burn your skin.
4. Camo Coveralls
If you want to protect your whole body by using one coverall so we have the best option for you. Isn't amazing? One coverall protects your full body from neck to wrist and ankle to toes.
Don't wait just buy a protection package that comes with front and back protection. Available at very reasonable prices. This is considered as best paintball outfit.
5. Protect your Hands
The hand is the most common area to hit with paintballs. It causes severe pain because there is no meat and the paintballs hit the finger directly. Be sure to wear gloves to protect yourself from it. Choose gloves that provide excellent grip and freehand movement.
Many athletes choose weightlifter gloves and winter gloves. Special paintball gloves are now available in the market for rubber backing to protect the back of the hands.
6. Protect your Feet
Most people never pay serious attention to shoes for paintball. They wear casual shoes such as running shoes, tennis shoes, and sneakers. But for paintball open shoes sandals are not allowed.
There are 90 percent chances of an ankle injury. It is advised to wear properly closed and comfortable shoes. Also, remember that many fields do not allow open shoes for paintball.
FAQs
1. What to Wear to Paintball in Summer?
Normally it is recommended to wear full sleeves cloth, sweat pants, Sweatshirts, and layering cloth to protect your body from paintball injury. But when the temperature is too much high as 40-60 C never wear sweatshirts. Using soft cotton layering clothes instead of thick fabric.
Use protective pads on the elbow and knee. Also wear a mask to protect your eyes from direct contact with the sun. It is advised to keep your clothes lighter to run and fight easily on the battlefield of paintball.
2. What to Wear to Paintball Girl?
Followings attires should be wears by girls for paintball
Sweatpants with leggings
Layers items of clothing, pants, sweatshirt
Chest protector to protect the body
A high ponytail or low braids so long hairs cause no disturbance
Dark colors for camouflage
Clothes that can get dirty
Comfortable athletic shoes to prevent ankle twists
Flexible padded gloves to protect fingers
3. Does Paintball Paint Wash Out of Clothes?
Everyone demands clean clothes. No one wants that their clothes become paint-splattered. If you want to know can paintball paint wash out cloth? So the answer is yes.
Paint of paintball is water-soluble it can easily remove from cloths in the normal cloth washing cycle. If you get paint on your hair and face it can also be removed by taking bath. Never forget this paint is hypoallergic cause adverse reaction on the skin to some people.
4. Does Paintball Ruin your Clothes?
Paintballs are made up of biodegradable material. They never give permanent stains on clothes. When your clothes are laundered all stains will be removed easily wash out any hardship.
So don't be afraid of pinballs stains. It is recommended to take all necessary precautions to save yourself from any injury and accident.
CONCLUSIONS
Playing paintball is full of joy. But always remember every game has some rules and protective measures. Before playing paintball must buy wearing clothes for this game. If you get injured contact your doctor. Proper dress and attire are present in the market that protects and support your body to perform well on the battlefield.
If you have no idea how to buy it. Order all items online. By wearing all protective attires you will never be injured and enjoy the real taste of the game. We have summarized all wearing
Wear hamlet, goggles for head and eye safety
Wear long sleeves, long pants, sweatshirt, and pants to protect the upper body
Use closed and comfortable shoes
Use gloves to protect hands and figures