Last Updated on September 1st, 2022 at 10:45 am
Many kids nowadays also want to play paintball. They want to play a paintball game in a battleground to experience being in actual gaming. But what about children's safety?
Because paintball is a challenging game to play, there is a high opportunity that high-velocity paintballs will hit a paintball player.
As a result, parents frequently inquire about the minimum age to participate in a paintball game. According to most experts, paintball is best to start between the ages of 12 and 14 years old.
Most paintball players of that age can understand and follow the safety requirements while still having fun and without overreacting when they hit.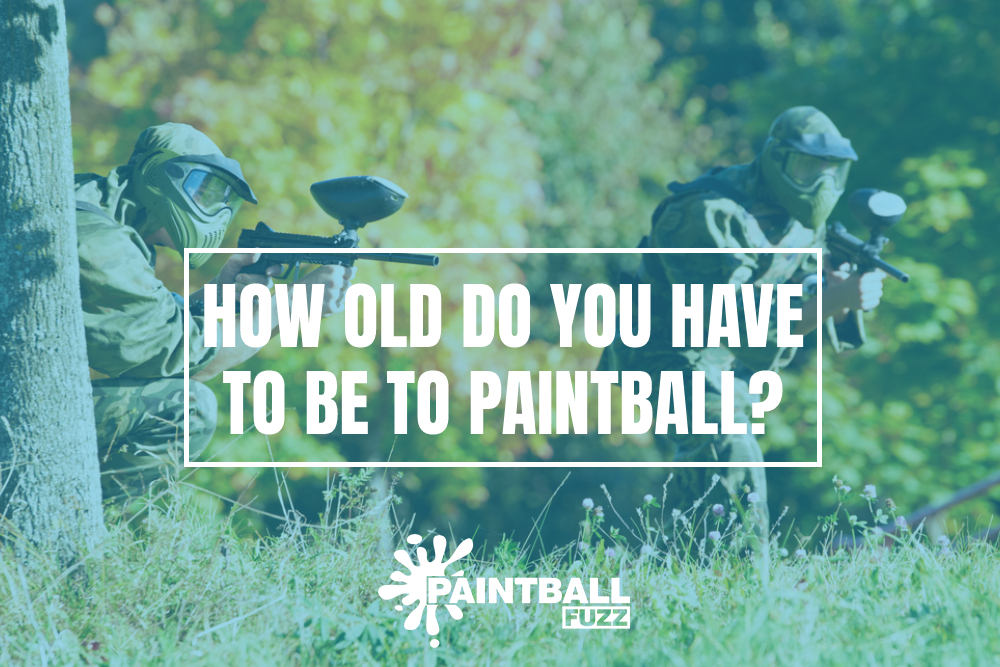 Furthermore, for liability concerns, parent judgment is usually necessary. Therefore families should be prepared to sign contracts for their children under the age of 18.
Because paintballs never hit too hard, but because children are more sensitive to pain than adults, they should wear safety attires and follow the rules. Today's children desire more fun. It is the most acceptable approach to play paintball and has more fun while also experiencing more thrills.
Requirements to Play Paintball
There are various prerequisites that participants must meet to participate in a paintball game. Because age restrictions differ by country and state, the best line of action is to contact a local paintball facility and speak with an owner.
Aside from the legal age to participate, there's also the matter of awareness. Paintball players between the ages of 12 and 14 must adhere to the following paintball guidelines.
Use low impact paintballs
Teach the child to be positive
Never be aggressive
Play just for fun
Use appropriately padded cloths for paintball game
Minor paintball players must adhere to paintball safety rules because children's safety is paramount in paintball games.
Protective Attires for Paintball Players Ages 12 to 14
Suppose your child has never played paintball before. It would help if you considered what you need to acquire for your child to play safely. What is your child's favorite color so that you can buy paintball gear in that color? We've listed some of the safety gear that players must wear while paintballing for your convenience.
Mask for the Face
This is one of the most considerable pieces of protective clothing you should get for your child. A face mask is necessary to protect the head, eyes, and ears. Paintball injuries to the top head are the most common.
Goggles
How do you keep your eyes safe from flying paintballs? Paintball goggles are the most outstanding solution for protecting the eyes from injury. It would be best if you got little paintball goggles for your child.
Helmet
Is wearing a helmet the best way to protect your head, face, and ears? Yes, the hamlet is made of extra padded material to preserve the paintball player's head. Because paintball is a fast-paced sport, youngsters should wear paintball helmets.
Clothes with Padding
Is a tiny size paintball cushioned clot available? Yes, little paintball protective gear is available. As a result, choose more durable, extra-padded paintball outfits to safeguard your children from serious injury.
Pants with Long Legs
Paintballing attire should consist of long pants and sweat t-shirts. Children rarely have a good hold on the marker in a paintball game and maybe hit by a bunker. To protect themselves, children should wear long pants that are both breathable and comfortable.
Paintball Tips for Newbies
How do you begin a paintball game? What is the ideal way to learn how to play paintball for the first time? To start your paintball game, we offer numerous fantastic pieces of clothing to choose from, allowing you to play and enjoy the game.
It's crucial not to be afraid of the pain of a paintball because it's not as bad as most people think. Although paintballs may sting for a brief moment or maybe leave a slight bruise, this is all part of the fun.
Paintball players, on the whole, get over the emotion quickly and find the entire sport to be exhilarating. Furthermore, hiding throughout your first few games is not an excellent approach to improve your skills.
Arrive at the paintball field equipped.
Do not remove your mask. If your face is not adequately protected, your game might quickly turn dangerous and unenjoyable.
Whether this rule beak, serious injuries can result, and most venues will take you out of the game, if not outright ban you, for violating the regulations.
Whenever you see an opponent and believe you have a good chance of tagging them, fire your paintball gun.
Be prepared for paintballs to go your way, as the loudness and direction of your paintball gun can alert other players to your location.
Always make an effort to fulfill the safety guidelines. If you don't, you'll get hurt by fast-impacting paintballs.
Success in the Paintball Game requires Safety
If you stay safe while playing paintball, you will undoubtedly perform well. Must wear protective clothing to keep yourself safe. Carrying your face mask, it's also crucial to have your goggles on at all times while on the field, even if you're not playing.
To provide proper protection, your goggles, mask, and other gear should be built expressly for paintball or approved.
FAQs
1. Do kids suffer more from paintballs than adults?
Paintballs, in particular, may give anyone a good sting, especially if it's a close-range, dead-on shot to naked skin. To avoid this, most competitive paintball fields demand a competitor with the situational bottom hand to call for surrender if they are within 20-10 feet of shooting.
Conclusion:
Playing paintball is a lot of fun and exciting. How old do you have to be to play paintball? This is the most common question. If your children are bored, you should purchase paintball gear as well as a low-profile paintball marker.
As a result, they are simply having a great time playing paintball. However, teach kids and beginners how to play paintball safely by teaching them to obey the regulations.