Last Updated on August 27th, 2022 at 03:00 pm
Do you have a fear of paintballs that hit you hard? If you answered yes to both questions, you should be fine. Small gelatin-filled balls are known as paintballs. Are you wondering do paintballs hurt?
They seldom strike too hard, but they can inflict extreme discomfort in sensitive body areas, including the head, neck, eyes, and face hands. How can you protect yourself from paintballs that hit you quickly?
Although it is a challenging undertaking, you must protect yourself by wearing paintball gear.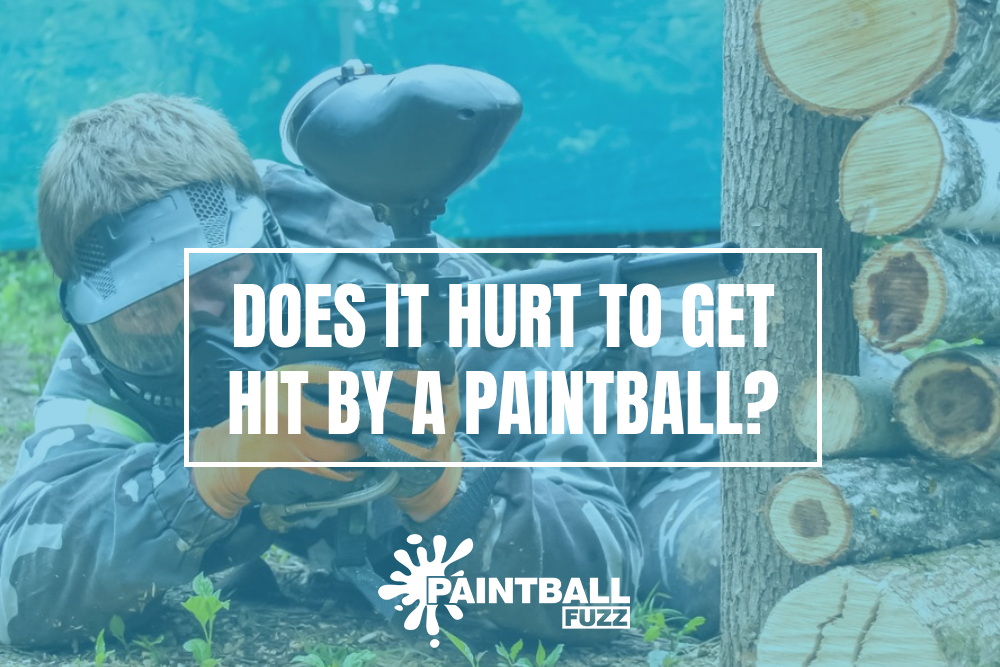 Shooting at enemies while moving through obstacles and terrain sounds like something out of an army manual rather than something you'd do on the weekend with your friends. Yet, tons of players experience it every year at paintball arenas across the country.
You can have a lot of thrill and joy playing paintball. On the other hand, paintball causes ulcers and blisters on the skin and stinging sensations. As a result, the paintball player will never be capable of playing with a full boom.
Must follow paintball rules also must use protective gear to enjoy the game entirely.
Some important factor for determining Paintball Hurt Intensity
Several significant factors influence how much you will hurt if a paintball injures you. For instance, if paintballs hit you from a short distance, the pain will be greater than if a longer length hits you.
1. Shot Distance
Why is it that paintballs that come from a far distance cause more minor damage? The power of the paintball diminishes as it travels from the point of origin to the target.
As a result, the farther away your opponent is when firing, the less pain you'll feel when a paintball hits you. As a result, paintball players prefer to make paintball shots from a distance of 10 meters.
2. Hitting Frequency
What would happen if hit paintball players with impacting paintballs? You will feel nothing if you are only beaten by paintballs once. However, if you are hit by paintballs repeatedly in the exact location, it becomes painful.
This is especially true if the paintball landed on bare skin. Hands, fingers, face, and forehead, for example. As a result, you must safeguard yourself by wearing protective clothing.
3. Part of Body where you get hit
Some sections of the body are incredibly delicate. Paintballs will cause significant pain and blisters if they hit sensitive body regions. A paintball that strikes you in an area where you have fewer muscles, such as your back, hurts more than one that hits you in a position with many strengths.
Furthermore, if the paintball hits you on bare flesh, it hurts more than if it reaches a spot that protects by protective gear. Second, paintballs have a high impact on tendons.
Ways to reduce Paintball Hurt Pain
What will you do if you get hit by paintballs today, and your competition is tomorrow? Paintball players become panicked in this situation and consider withdrawing from the tournament. This, however, should not be done. We have some fantastic advice for you that will enable you to lessen the agony of paintballing.
1. Use Protective Gear
Many Paintballers are afraid of colliding with other paintballs. As previously said, paintball is more painful when it hits bare flesh. With this in mind, don't go to the field without the proper equipment.
Wearing the appropriate gear includes a safety vest, goggles, long pants, a layered t-shirt, and padded clothing that completely covers your body. So, to play safely, you must put on protective gear.
2. Groin Protection
Why is groin protection so important? Because the groin is the most sensitive portion of the body. You will suffer significant injury and discomfort if you are hit by paintballs or fall unexpectedly in a paintball field.
Both men and women should wear the groin cup protector to protect their groin area. Most players avoid utilizing it because it makes them feel uneasy. Use high-quality groin protection to ensure comfort and complete range of motion when playing paintball.
3. Footwear
Wearing inappropriate footwear on the paintball field will limit your movement on the field. Paintball is a fast-paced sport in which participants must sprint, slide, and leap. To avoid ankle damage, always wear comfortable footwear.
If you are not sufficiently covered, your opponent may aim at your feet and injure you. When playing paintball, hiking boots are the ideal shoes to wear. Otherwise, other shoes, such as sneakers, are a good choice because they are comfy and protective.
How to reduce Paintball Hurt Pain Instantly?
If fast-impacting paintballs hit you, there are specific rules you must follow. These recommendations will assist players in reducing pain and itching in paintball-affected areas.
1. Be Comfortable
Paintballs will injure you more if you are more afraid. Just take it easy and try to withstand the pain. You must prepare your body to handle minor discomforts such as being hit by a paintball.
You can utilize dissociation as a strategy to alter your pain perception and hence maximize your game potential. If you are in excruciating agony, sit down for a few minutes, take a deep breath, and drink plenty of water. You'll feel a lot better.
2. Use Aspirin
If your skin is susceptible, aspirin might use as a pain reliever. Most Paintballers take aspirin before a tournament to help with pain management. For paintball, you can utilize the same method by taking aspirin tablets before your game. To reduce pain and stay active, you must mentally and physically prepare yourself.
3. Quality of Paintballs
Always attempt to use high-quality paintballs that are designed to hurt and cause as little pain as possible. Paintballs of higher grade hurt less and allow you to enjoy the game with fewer distractions.
FAQs
1. Do Paintball hit children suffer more?
Paintball has a powerful impact on children. Pain that adults can tolerate may be excessive for toddlers. As a result, when a paintball hits children, they are more likely to complain about discomfort.
Conclusion:
There is no gain without pain. As a result, you must mentally prepare yourself to endure paintball discomfort. Paintball is no exception. To succeed in any game, you must be willing to take risks and accept difficulties.
You will not experience any pain if you get competence in the paintball game. You're only interested in achieving success. Use protective clothing to keep yourself safe from paintballs.