Last Updated on August 30th, 2022 at 12:37 pm
Paintball is a competitive shooting game in which players hit their opponents with small spherical rubber or gelatin-filled balls called paintballs. To fire these small balls, they use special light air shooting guns called markers or paintball guns.
Many people have the misconception that this game is too old. Are you one of them If so, you are wrong. The game does not have a very old historical background. But yes, the game gained popularity in a very short time.
We will give you the complete history of paintball so that your mind is clear.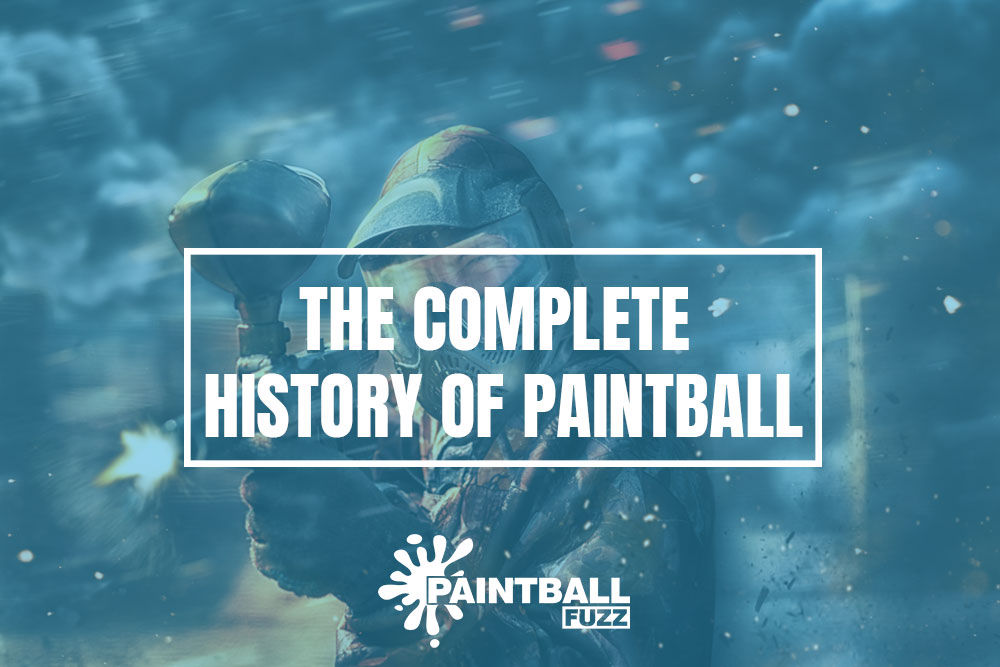 There are many types of paintballs, the most common being a speedball wood ball and a scenario. Most young people play these games to enhance their abilities and enjoy new adventures.
This game gives players the feeling of playing a real video game.
In the past, these markers and paintballs were introduced for protective purposes in the wild. As time goes on, people want to create the best battlefield using paintballs and markers.
As a result, there are now specific fields and costumes around the world where this adventure game is played and enjoyed.
History of First Paintball Gun 1960
In past, it was very difficult for people who live in the woods to find the correct way in the woods. Thus Nelson Paint Company in the 1960s presented a new idea to use CO2 for paint.
They were aiming to mark trees in woods that were inaccessible on foot. As a result, they marketed a Neel sport-007 that was able to shoot small gelatin-filled paintballs.
These markers were also used by farmers to locate the position of cattle that had been bred. This paint was used for marking so it is named a paintball marker less common name is paintball gun.
History of Paintball Game 1970
In later 1970 two, Hayes Noel and Charles Gains friends were discussing the survivability of city-dwellers in woods. How far will the mountains of survival take you? How is this against the learned behavior and experience of the outsider?
In meanwhile they heard about the paintball marker Nel-sport-007. They decided to make a real, fantastic, and survival game by using this tool.
Who Created the Rules of the Game?
The friend Bob Guernsey created the rules first time for this amazing game. Now many rules are modified with a better experience. First of all the Nel sport-007 was tested that whether it hurts or not.
So it was proven that paintballs never hurts too strongly. The first person who was hit by paintballs was Shelby's Gaines wife. Who reported that paintballs didn't hurt strong?
As a result in 1981 paintball was first played by a group of 8-9 people as an adventurous game.
History of First Game of Paintball
After testing of paintballs. A group of people was ready to play this adventurous game. On 27 June 1981, the first game of paintball was played. The group of people was from 3-12.
Additionally, 9 players paid $175 to join the team. This payment was used for equipment food and drink. Of that 6 players were hunters and the other 6 were from another profession.
The first game was played in an 80-acre ski field. There were four stations each having 12 flags. City players found difficulty in playing due to the difficult map. At last forester, Ritchie White emerged victoriously. He is the first winner of the paintball game.
What is National Survival Game (NSG)?
Bob jones called this game a national survival game. He also wrote an article about this game in 0ctober 1981. They noticed people are paying attention to this amusing game.
People are more curious to learn how to play this game? And what are the rules? To get more benefit and attention bob johns and his friend decided to sell paintball kits.
History of First Commercial Field
Bob john's in 1982 decided to open the first commercial paintball field in Hampshire. He did a contract with Nelson paint and made the National survival Game brand. His friend Gurnsey provided licensing branches of NSG to those who wanted their field.
Jeff Perlmutter and David Freeman were unable to make a contract with NSG. They built their own company named Pursuit Marketing Incorporated (PMI). With the formation of PMI, there was now big competition for NSG. This was the fabulous and interesting beginning of the paintball industry.
History of Professional Paintball Tournament
1983 is considered the most growing year of the paintball industry. This year the first National survival tournament was held. The first winner of this historical tournament was Unknown Rebels, a team hailing from Ontario, Canada.
They were using modified markers. Pump handles, barrel and magazine extensions, and gravity feeds were invented in this game. As a result in this year, new markers were
History of Modification of Marker
In 1983 following year new markers were released by both NSG and PMI. NSG released the original Splat Master model. It was the first marker designed for the sport, rather than being modified from the released Splat marker from NSG and Pursuit Gun pump from PGP.
At that time paintball was built only with water-based paint for easy cleaning purposes.
History of Types of Paintball
After that three major paintball fields were made by players
Speedball (played in an open large area, full of thrill and joy. Use bunkers made by man
Woodall (this game is played in the woods. Natural and man-made bunkers are used
Scenario (played by professional players. Both manmade and artificial bunkers are used
History of Safety and Precautions
Bob John's and his friends are considered as honors of paintball kit. They started selling paintball kits to provide players best outlook and appearance. These kits were included a mask, Nel-Spot 007 and paintballs, safety equipment like goggles and a compass, and their NSG rulebook.
These all rules were created by both these friends. Afterward, gloves, shoes, and layering dress was added to the kit.
History of Attires of Paintball Game
It was considered best to use full sleeves dress along with pants to save your body from paintball. Though they never hurt hard but precautionary measures were essential according to the NSG rules book.
But at present-day players must have to wear a full paintball suit, gloves knee, and elbow pads to fully enjoy the paintball game.
History of the Best Place of Paintball Game
Skirmish Paintball UK is the best place to play paintball. It was built in 1984. this company is widespread in the UK. All branches belong to UK Paintball Sports Federation (UKPSF). Skirmish Paintball is open to playing for all ages. This is the best and historical place to play paintball at a high level.
FAQs
1. What is the History of the Female Paintball Team?
Paintball history was made by the female on Sunday, October 2013(national professional paintball league). This was the first time that all females of density have won the non-segregated championship in America.
All females played very well with full energy and boom. They wore a specialized dress and created an amazing history. Kat Secor was team captain.
Secondly, the USA women's paintball team is also considered as the best team of female paintball.
2. What was the Purpose of the Paintball Game?
The major purpose of paintball was to provide the best amusing and entertaining game to the world. In early this game was called as National survival game. By using markers people who live in the woods protect themselves and survive easily.
After some years this was introduced as a game by Bob John and his friend. As paintball fields are populated with bunkers the major purpose is to capture Flag, attack the opponent and protect yourself. This all scenario provides the feelings of playing a real video game battlefield.
3. Is Paintball still Popular in 2022?
The answer is yes. In past for some time paintball lost its popularity. But now people all over the world again diverted toward this game. As this is the best game provides the best experience, health, and a lot of joy.
Now youngsters are more demanding. They want craze, thrill, excitement, and adventure. All attributes are present in paintball games so in the USA and America it is considered the most loving game of the young generation.
4. How Dangerous are Paintballs?
At the same time, this game is very hectic and easy. Paintballs never hurt too hard but precautions are essential. The normal most common injuries of paintballs are the eye, ankle, fingers, and wrist. To save yourself from paintball you must have to wear all additional clothes to protect and enjoy fully. Never be afraid of this game these all injuries are not too severe.
CONCLUSION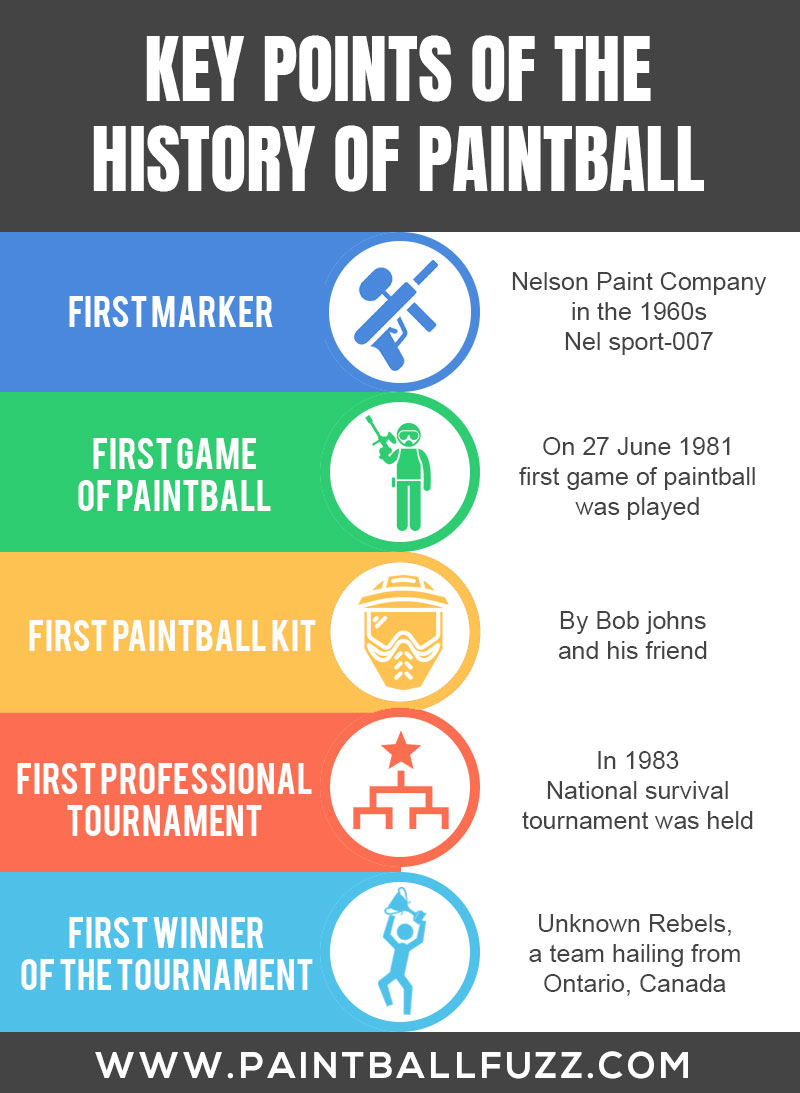 Paintball has a great magical historical background. As this game is also full of thrill so its history is also colored. I think now your mind is crystal clear about the history of paintball but below are some key points
First marker (Nelson Paint Company in the 1960s Nel sport-007)
The first game of paintball (On 27 June 1981 first game of paintball was played)
First paintball kit (by Bob johns and his friend)
First Professional Tournament (1983 National survival tournament was held)
The first winner of the tournament (Unknown Rebels, a team hailing from Ontario, Canada)