Last Updated on September 2nd, 2022 at 02:39 am
Playing a paintball game is a great source of fun and entertainment. It brings a lot of joy, adventure, and peace of mind to a busy life. If you are also a player in the world of paintball magic games and are looking for the best place to play paintball games.
If you don't know the best routes, locations, and landscapes to play this game. Don't worry, we will provide you with complete information in detail.
Playing in a special paintball game field gives players the best opportunity to think they are part of a real video game. It's amazing to play there. Like the triumph of thrill, excitement, and sharp shots. Playing a paintball game in the open is great fun.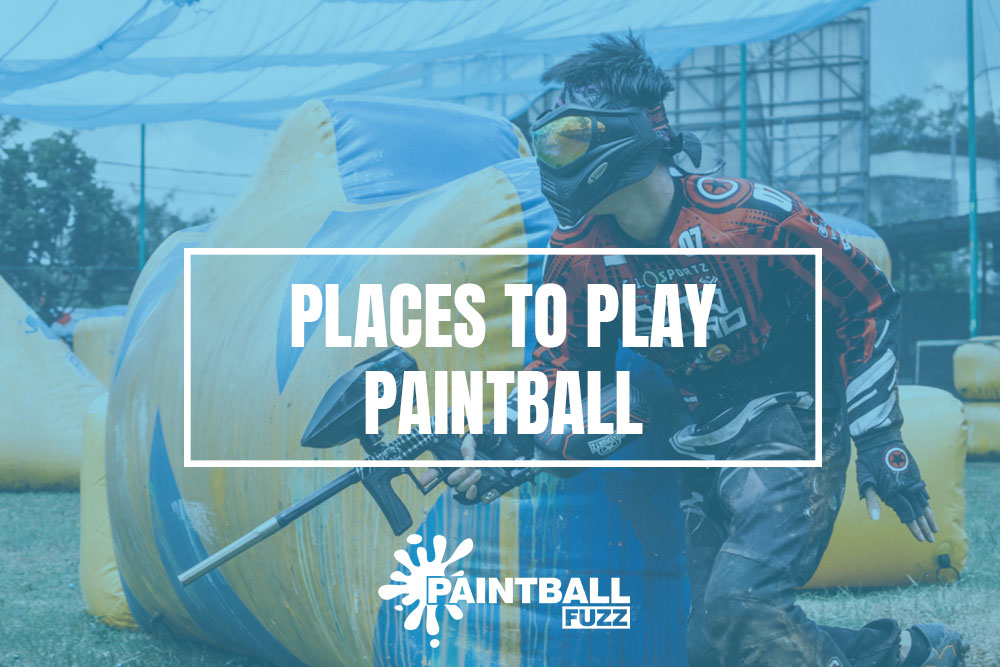 These locations provide a simulated battlefield environment in which players with special equipment fight opponents with rules and tactics. Paintball game fields are gaining popularity all over the world which is considered to be the home of many paintball fields, which are rich in special tools, tools, and obstacles required to play this game.
If you find the perfect place to play a paintball game that is fully equipped, you will have a lifetime experience. Fortunately, the United States is rich in battlefield locations that enhance your ability and experience of playing paintball games.
 Types of Paintball Places
Playing paintball games is an instant thrill. Places of paintball games are designed according to the type of paintball field. There are three major fields of paintball magical game
1. Speedball
If you want more adventure and thrill choose the speedball field. These areas are small and well structured. Having light manmade bunkers. The fighting in speedball is consistent for 10-15 minutes.
2. Woodball
Woodall field is landscape. Built-in woods. Having both natural and manmade bunkers. Playing in the field provides an upper level of thrill.
3. Scenario
It is the field of professional players if you want to boost your experience and adventure choose the paintball scenario paintball game field. It boasts different types of paintball fields.
Places to Play Paintball Game
Below are some best places to play paintball (speedball, woodball, and scenario) games.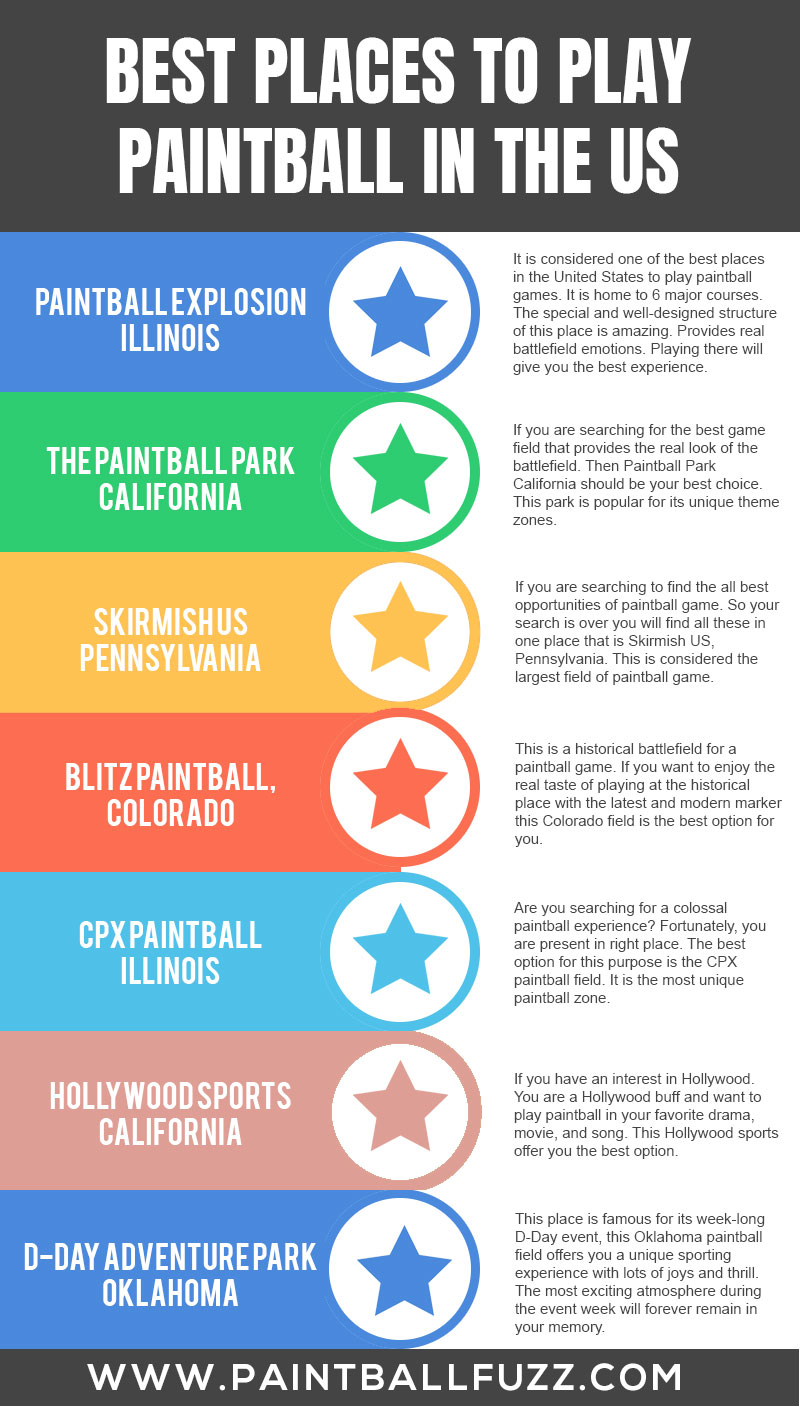 1. Paintball Explosion, Illinois
It is considered one of the best places in the United States to play paintball games. It is home to 6 major courses. The special and well-designed structure of this place is amazing. Provides real battlefield emotions. Playing there will give you the best experience.
Here you have the option to play laser tag and airsoft. If you want the perfect experience, you must visit Paintball explosion Illinois.
This Illinois arena is designed to create a real battlefield with test dummies, school buses. There are also easy hiding and firing zones. Precautions are also taken to protect the players.
2. The Paintball Park, California
If you are searching for the best game field that provides the real look of the battlefield. Then Paintball Park California should be your best choice. This park is popular for its unique theme zones.
If you want to get success .just like a real battlefield you must have worked hard for it to gain victory. Amazing, helicopters and fuel bunkers are placed to hide from paintball rubber bullets.
3. Skirmish US, Pennsylvania
If you are searching to find the all best opportunities of paintball game. So your search is over you will find all these in one place that is Skirmish US, Pennsylvania. This is considered the largest field of paintball game. It covers 700-acre .this place is the best choice for all paintball players who want to enjoy the real taste of the battlefield.
People all around the world wish to visit this place. Here players get the experience of 50 zones. Its design is appealing and attractive. Having set up of woods, battlefield enriches with weapons, and bunkers make it an amazing place to play. It also has helicopters, fuel tanks, and obstacles to customize your game.
4. Blitz Paintball, Colorado
This is a historical battlefield for a paintball game. If you want to enjoy the real taste of playing at the historical place with the latest and modern marker this Colorado field is the best option for you.
This place is considered the best place for playing paintball games due to its attractive ancient design, large area, and creative building. By playing you will get a real thrill of the game. Must follow all instructions and rules of the game to become the best player of paintball.
5. CPX Paintball, Illinois (Best Paintball Field in the US)
Are you searching for a colossal paintball experience? Fortunately, you are present in right place. The best option for this purpose is the CPX Paintball field. It is the most unique paintball zone. Having exceptional attributes. Provides the best battlefield to enhance the experience and thrill of the paintball game. This Chicago field gives you atomic age experience.
If you haven't visited this zone for playing you are far from real adventure and thrill. Must visit this place to boost your fun with your friends.
6. Hollywood Sports, California
If you have an interest in Hollywood. You are a Hollywood buff and want to play paintball in your favorite drama, movie, and song. This Hollywood sports offer you the best option. This is a magical place. By playing here you will feel that playing in a real video game show.
This place is popular for its amazing themes. This loss angles field provides you real-life thrill and a high level of experience. Isn't amazing? Don't miss the chance must visit this place to enjoy in real mean.
7. D-Day Adventure Park, Oklahoma
This place is famous for its week-long D-Day event, this Oklahoma paintball field offers you a unique sporting experience with lots of joys and thrill. The most exciting atmosphere during the event week will forever remain in your memory.
Every year they arrange specialized shows and fields to make your experience more exciting. They offer camping, vendors and many mini-tasks by plying in this field you will enjoy a lot.
Every year organizers bring a unique theme to make playing more challenging. You will have campgrounds, vendors, and several mini-games to enjoy maximum
8. Apocalypse Paintball, Wisconsin
This field is the best option for all types of paintball players. Designed in such a way to give a real thrill to both professional and entry-level players of paintball game. Apocalypse Paintball field has 16 themed amazing playing zones of all sizes. For new players, there is a smaller zone and for professional players, they have a larger zone with more adventure and thrill.
This   40,000-square-foot, three-story Apocalypse Fortress has been rated the best on the ballpark with courts. Hiding secret places and a big catwalk makes it one of the best paintball castles to have a thrilling paintball gaming experience.
If you know the best place to play this game then your answer must be Apocalypse paintball field. If you want to make your way towards success in the paintball game. This place is the best option for you. Must visit this amazing place and make your way to success.
FAQs
1. Can we play Paintball at home?
The answer is no. It is not possible to play paintball games at home. According to USA state law, you are not allowed to play this game at home. By playing at home you will hurt someone. Or maybe injured by paintballs. This game requires proper safety rules which are very difficult to follow at home.
2. How much does playing paintball cost at places in the USA?
It is dependent on the place, Avenue, Park, and club in which you want to play. But on average cost is 3-5 cents per ball. There are some parks which also include the cost of co2 air tank. It is advised to choose a place according to your budget, First search on the internet for the best places to play paintball then decide which place matches your budget.
3. What do I need to know before Playing Paintball in Paintball Playing Areas?
This is a simple magical game. You must know about the rules, strategy, and plans of games. Then you must know in which field (speedball, wood ball) you are interested. Then you also know about the dress and additional accessories you should wear to play a game.
4. How Many Top venues are in the World where Paintball is played?
Skirmish USA. With a 700-acre paintball mecca
Hollywood Sports California
CPX Chicago
Hot Shots Paintball Australia
Asylum Paintball New Zealand
These are considered top places where you must have to go to enjoy a real taste of paintball game.
CONCLUSION
Playing paintball is fun. It brings a lot of joy and happiness. But if you want to enjoy the real taste of the battlefield, you have to visit the places mentioned above. Playing in this area gives you the feeling of playing a video game.
The first search on Google Maps is that Paintball Avenue is near you then visits the area. No need to worry if you have trouble finding the best place for a paintball. You can get a contact number from the internet. Call them for more details. By visiting these places you will get a truly great experience.