Last Updated on September 2nd, 2022 at 06:08 pm
If you are looking for a sport that gives you a lot of adventure, thrill, and excitement then paintball is the best option for you. Paintball is a fun magic game.
I think you are confusing your mind. You will have the following questions: How to play this game? Which gun is best to play with? What to wear don't worry, we are here to give you complete guidance on the equipment, costumes, and rules of this adventure.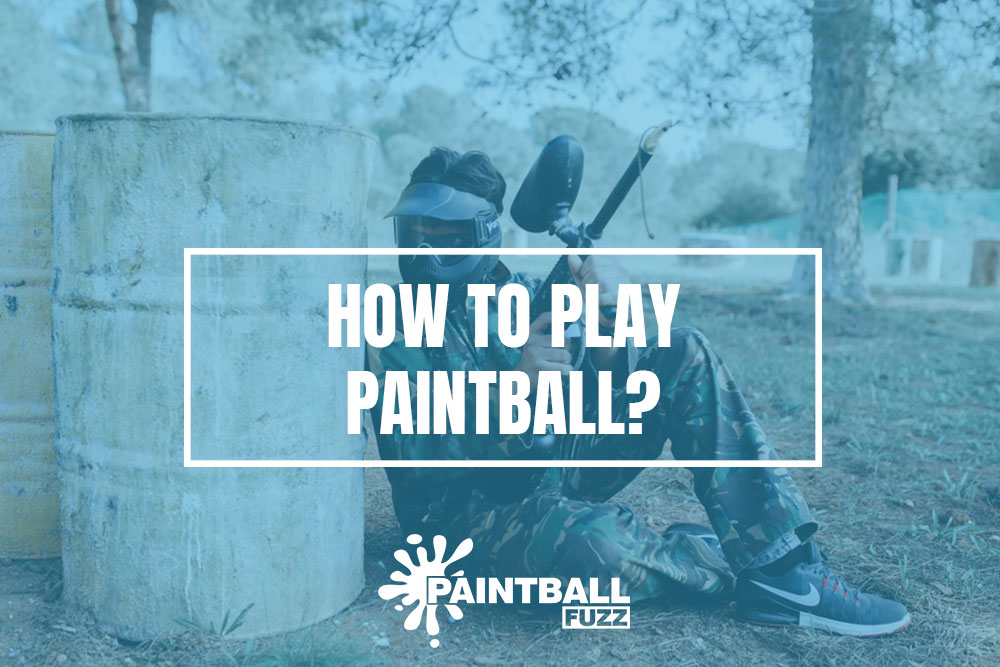 Paintball is a game of sworn enemies. In it, players play and knock out their opponents with strong tactics and rules. Players use small spherical balls to short on the target called paintballs. They just get the real taste of the game by getting their shirts dirty.
They play to their full potential to succeed. In this field of paintball, players sometimes get injured but still, they are excited to play with the batting experience. Now, the paintball game is played all over the world. Most common in the United States and the United States.
People of all ages enjoy the sport, but most young people are fans of paintball. If you are a beginner and you have decided to play then go ahead and play you will enjoy this thrilling game.
Purpose of Paintball
You can play this game indoors or outdoors. But always remember precautions should be taken the battlefield may be natural or artificial. Always remember your aim to
Capture the flag
Eliminate opponents
Defend a spot area
Capture hidden objects in the field
Period of Game
The period of the paintball game is dependent on the type of game (speedball, wood ball, and scenario). Time varies from some minutes to hours. From one hour to more hours. If a game tie between two leagues it may reach from few hours to days.
Equipment you Needed to Play Paintball
If you are a beginner at paintball don't buy anything new first get the experience of paintball then decide. Whether you want to play or not. It is advised to use renting equipment for the first trial of paintball. You must need the following equipment's
1. Marker
A paintball marker or paintball gun is the main piece of equipment. By using this gun players shoot each other. This is a low-power air gun. There is a magazine to fill the gun with paintballs.
This magazine provides gravity. But at present, very modern guns with advanced systems such as air compressed systems and other expensive systems are also available in the market at a high price.
2. Paintballs
Paintballs are small spherical gelatine-filled balls. Made up of rubbers. Built of water-soluble dye that is nontoxic. They are fired by air gun hit the targeted area and explode all filled material. No need to worry paint is water-soluble it will be washed out easily.
They never hit too hard. They only cause little injuries. Now paintballs are made up of environmentally friendly material. If you get paint on your skin and hair never panic. The paint is easily removed by water.
3. Paintball Kit
You must need a paintball kit. This kit is essential for safety purposes. As of now, there is a specialized dress and body cover for paintball. This kit includes a protective suit, mask, goggles.
For more safety must buy gloves and closed comfortable shoes. If you want to cover your whole body with one dress only then must use camouflage to play perfectly on the battlefield.
Game Types along with Playing Tips
As this game is played both outside and inside. But for more thrill and enjoyment this game is played on outdoor battlefields. There are the following types of paintball games.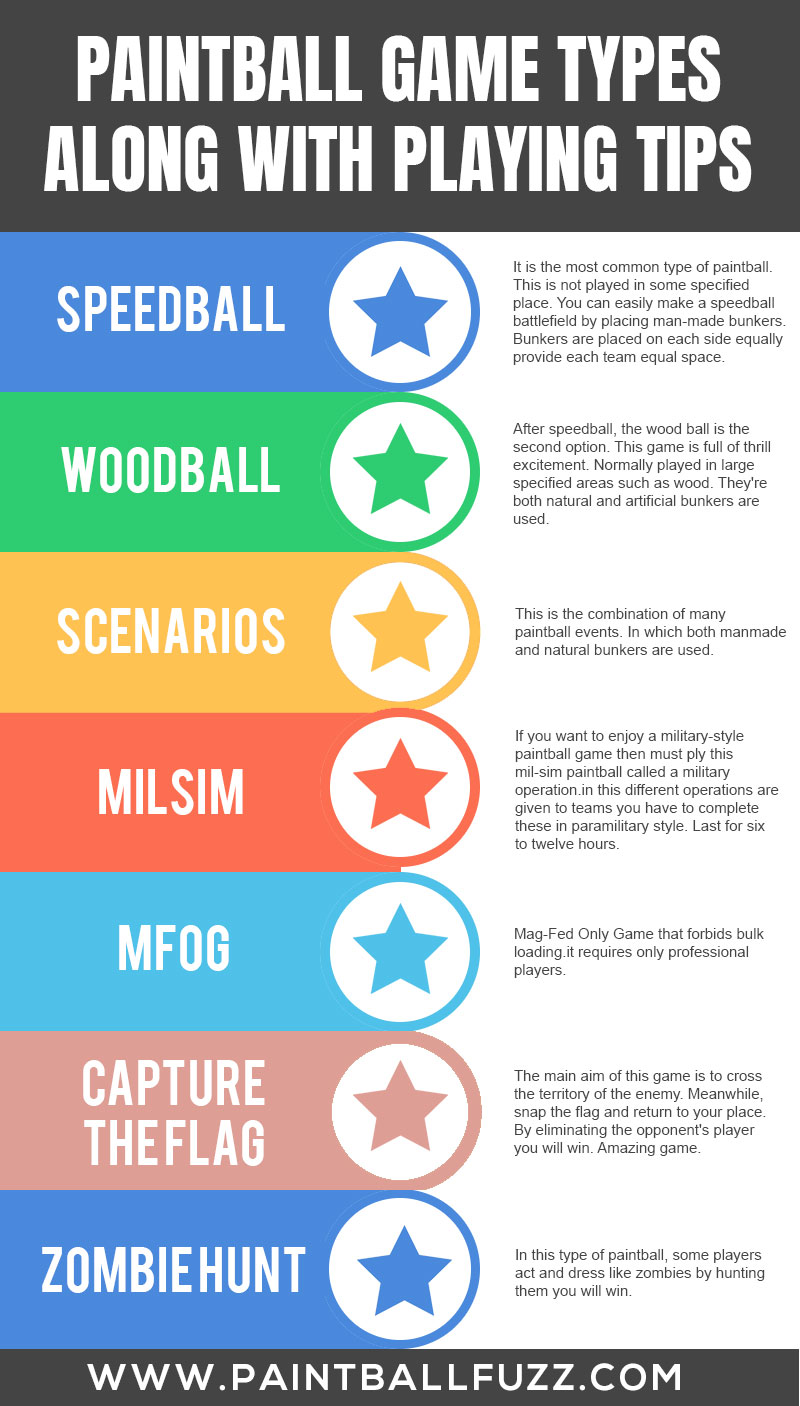 1. Speedball
It is the most common type of paintball. This is not played in some specified place. You can easily make a speedball battlefield by placing man-made bunkers. Bunkers are placed on each side equally provide each team equal space.
2. Woodball
After speedball, the wood ball is the second option. This game is full of thrill excitement. Normally played in large specified areas such as wood. They're both natural and artificial bunkers are used.
3. Scenarios
This is the combination of many paintball events. In which both manmade and natural bunkers are used.
4. Milsim (Military Simulation)
If you want to enjoy a military-style paintball game then must ply this mil-sim paintball called a military operation.in this different operations are given to teams you have to complete these in paramilitary style. Last for six to twelve hours.
5. MFOG
Mag-Fed Only Game that forbids bulk loading.it requires only professional players.
6. Capture the Flag
The main aim of this game is to cross the territory of the enemy. Meanwhile, snap the flag and return to your place. By eliminating the opponent's player you will win. Amazing game.
7. Zombie Hunt
In this type of paintball, some players act and dress like zombies by hunting them you will win.
What to Wear for Paintballing?
This is the most commonly asked question. As we assure you that paintball never hit too hard but precautionary measures are essential.
Long sleeve shirt and long pants.
Mask or helmets
Sweatshirt, sweatpants, and multiple layers
Dark or camouflage colors.
Loose-fitting attire that gives free activity and movement.
The clothing you don't mind getting dirty.
Athletic sneakers or combat boots.
Bring a change of clothes.
Rules of Paintball
Following are some important rules of the paintball game. If you want to play paintball like a pro or beginner must read these rules carefully
Never remove facemask on the battlefield.
Fire opponents from a given minimum distance. Never shot those players who have been already marked.
In the USA you can never get closer than 10 feet and just stand to upload your marker on someone says Schwarz.
If you are hit by paintball and it leaves a dark mark you are out of the game.
Paintball that bounces back never counted
Put your hand up to indicate that you are out. Then walk off the battlefield since the referees have acknowledged you
You are responsible for your defeat. Take this game as fun and joy never be serious
Don't rub paint marks from your shirt if you do this you will face a harsh penalty for wiping.
If you get shot very early you must have to clean the paint and come back say, Schwarz.
Leagues
Paintball is a game of two teams. Both teams are enemies of each other. Teams try to defeat their opponents with strong strategies and well experience. First of all, you have to choose which team or league you want to go to.
Advantages of this Game
This game provides:
Thrill
Joy
Adventure
Good health
FAQS
1. Do Paintballs Hurt?
Yes, paintballs hurt but not much. There are many ways you can protect yourself. Properly cover all exposed areas of your body. Wear layering clothes. Cover your upper body with a long-sleeved shirt, sweatshirt, and hoodies. Wearing all this, they provide bouncy paintballs.
The most common areas of injury from paintballs are the hands and fingers. Use gloves to avoid this painful injury. The most common injuries caused by a paintball game are eye, knee, and hand injuries. Protect by using protective clothing.
2. When do players get out of play?
Players get out of play when they are hit by small spherical gelatine-filled rubber balls called paintballs. The paintballs break out and marked the cloth brightly. It is out of debate whether it is hit by an enemy or a friendly player. In both cases, the player gets out of the game.
Never try to rub paint from your paint otherwise you will be punished. Take this game as a source of fun never have to be very serious about this.
3. Is paintball hard to play?
No paintball is a very simple and easy game. It needs experience only. This game is all about fun. Rules and strategies are very simple and easily understandable.
It is an ideal play to get exercise and joy at the same time. If you want to get adventure, thrill, and joy at the same time must play this best game to boost your potential and experience.
4. Are Glasses Allowed during Paintballing?
Yes, of course, playing paintball by wearing your glasses can be done easily. Many players wear glasses for paintballing. If you are thinking about how to wear a mask and glasses at the same time.
Don't worry it is quite easy you can comfortably do this. By wearing your glasses you can easily play and defeat opponents. If you feel uncomfortable. Wear a baseball cap and half mask we assure you that you will never feel uncomfortable.
CONCLUSIONS
Great if you have decided to play this magical game. You must learn that by reading this article you will get the best idea how to play this game. This game is very simple and full of adventure. People all over the world prefer to play this game to make their time full of joy. As a beginner, you have to follow tips to start paintballing.
Buy equipment and tools (marker, paintballs, and safety kit)
Follow precautionary measures
Decide in which field of paintball you want to play (speedball, wood ball, scenarios, and zombie hunt. Eliminate)
Must read all rules of paintball carefully
Select league
Select a place at which you wants to play