Last Updated on August 27th, 2022 at 01:59 pm
As a professional paintball player, the appearance of your paintball gun is very important. If you are not satisfied with the current color of your paintball gun.
Your paintball paint may slow down or fade. If you are confused about how to paint your paintball marker, don't worry, we are here to help you. In this article, you will find the best way to paint your gun in full detail.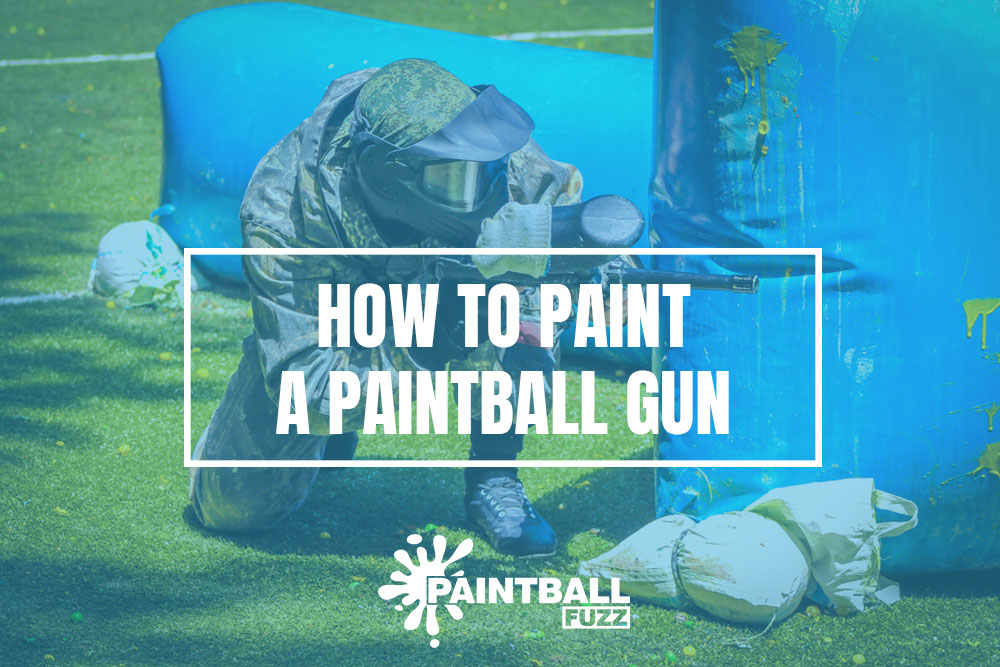 The physical shape of the gun makes it more attractive and eye-catching. It enhances the players' ability to play well on the field. Painting your paintball will increase its lifespan. Painting protects paintballs from rusting or weathering. The attractive shape of the paintball gun enhances the spirit of better work.
There are three common methods used to anodize a paintball gun, powder coating, and spray. The best way to paint a paintball gun is by anodizing. Powder coating is also great for painting, but spraying paintball guns is the least common method. As it is done by professionals.
Painting a paintball gun is a difficult and time-consuming process. Here we will discuss some of the best tips that will help you make your gun more attractive.
Methods to Paint a Paintball Gun
The best method to paint your paintball gun are anodizing and powder coating. Spray paint is also in use but it will lower the resell value. Spray paint is the cheapest method to paint your marker. Below we will explain the methods used to paint a paintball marker
1. Anodizing
It is considered the best method to paint your gun. Provides extra durability to the marker. Anodizing is the type of paint used on Aluminium guns only. Provides good results. The aluminum is used for the purpose as it never reacts with normal paints. This process involves dying the metals.
ADVANTAGES
Great
Comes in a lot of combinations of colors such as base wash, acid wash, fade, splash, dark, light, etc.
Highly durable
Gives Extra strength to the marker
Not cheap paint it will never peel off.
DISADVANTAGES
By anodizing, we can only paint aluminum body paintballs. This method is not feasible for other metals.
The very expensive average price to anodize a gun with a single color is 250dollars.
2. Powder Coating
In this process, a plastic-like powder substance is sprayed on the surface of a paintball gun. Then heated in an oven to melt all plastic. Since it establishes a finishing look. Proper care and precautions are required to do so. The wrong powder coating looks bad.
ADVANTAGES
Feasible for all metals
Provide extra durability
Comes in a lot of eye-catching colors
DISADVANTAGES
Preferred for industrial machinery equipment
Very expensive
3. Spray Paint
Spray paint is the cheapest method to paint your paintball gun. Most commonly used method due to low budget value. Normally DIY spray paints are considered the best option for this purpose.
ADVANTAGES
Cheap
Available in many colors
Less time consuming
Can be performed at home
DISADVANTAGES
Provide not a very good appearance
Maybe peel or flake off
Thus Anodizing and Powder Coating are the best options to paint a paintball gun.
Complete Process Step by Step (How to Paint a Paintball Gun?)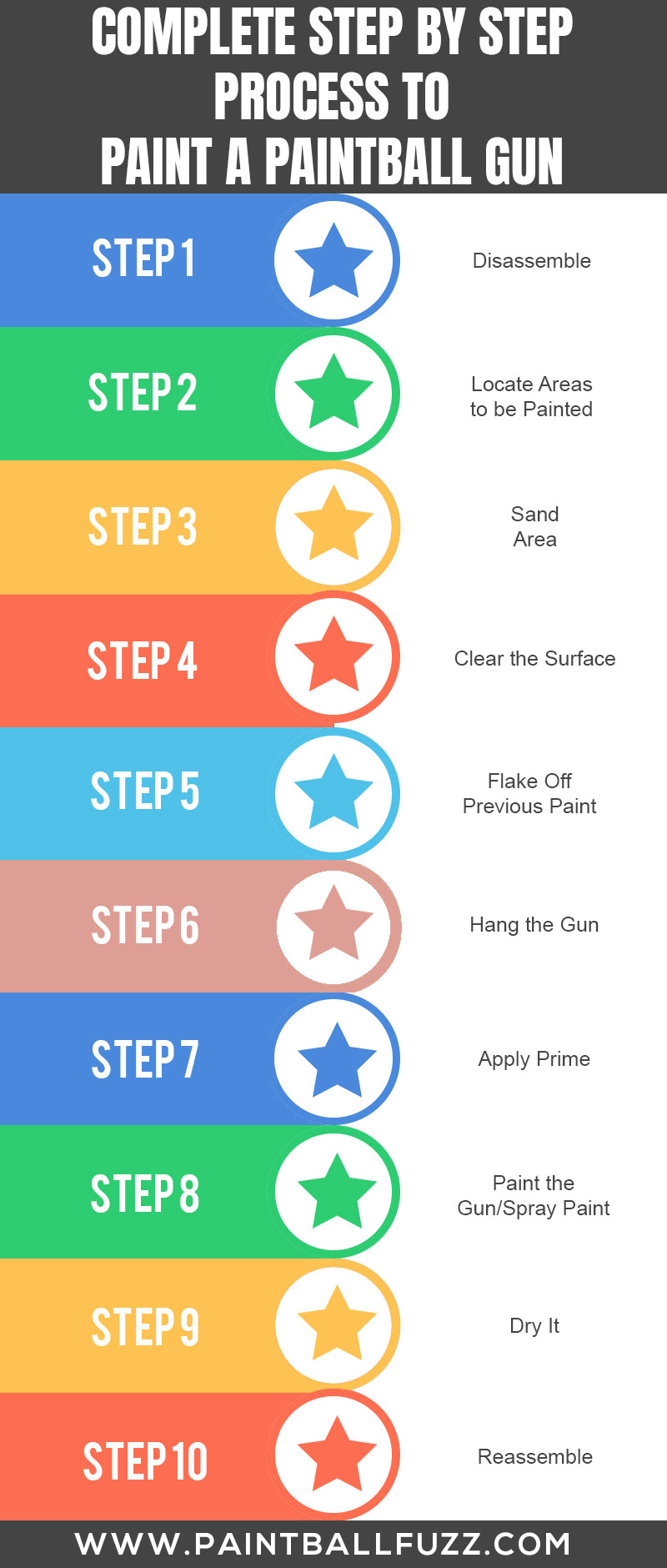 1. Tools/Material Required
Following tools and materials are required to paint a paintball gun. You must have to practice painting on another old and non-functional paintball marker to avoid any damage.
Painter's tape
300-grit sandpaper
Spray paint
A priming paint
A clear paint to protect the design
Paper towel
Clean, soapy water
fishing gut
Cardboard box, big enough for the gun to hang freely
Dowel
A paint mask and safety goggles
Latex gloves
2. Disassemble
The first most important step is to disassemble your paintball gun carefully. Set all parts as an aide on which you want to apply paints. It is advised to use a plastic bag to keep small nuts and screws.
3. Locate Areas to be Painted
Now as paintball is completely disassembled. Clean the paintball gun thoroughly. Keep aside all logos, grips, and eye cover. Use squeegee and barrel swab to clean your paintball gun.
Rinse all parts of the paintball gun which you want to paint. By doing so all dirt, debris and dried particles should be removed. Now dry the marker. It is recommended to use gloves to touch the marker after it is cleaned.
4. Sand Area
As the marker is now well clean. It's time to sand the areas on which you want to apply paint. Never sand the whole marker make only that area rough on which you want to paint. By doing this process the paint will adhere easily. Never skip this
5. Clear the Surface
Carefully clean the remaining dirt. After sanding the area clean the gun with warm water of soap. If you skip it paint will never adhere. Use a paper towel to dry the gun. Let it dry overnight which is the best option.
6. Flake Off Previous Paint
Take a painter's tape peel off the paint from all the areas of the gun that you want to remain clear and unpainted. Protect all the parts from wear and tear never peel tape forcefully.
7. Hang the Gun
The next most important step is to hang the gun. Put the dowel road on top of a cardboard box. Hang the gun with a cardboard box with string. Do this process in an open area. Never lay the gun it will stick to the cardboard.
8. Apply Prime
By using the primer cover the whole gun with long strokes. Never spray in pieces make sure to spray constantly. Although it is time-consuming but provides the best results. Wait since the primer is dry. Sand lightly again.
9. Paint the Gun/Spray Paint
Now the gun is ready to be painted. If you are using more colors apply all colors at a time. It is advised to use decent colors to enhance the outlook of the gun. Keep spray 60 inches far apply fine even spray.
After that allow the gun to be dried. Once it dry again apply the spray to provide finishing.
10. Dry It
Now paint is completed. Let it dry the gun for 24 hours completely at dry placate proper care while the gun is drying. Small mistakes will lead to the loss of your favorite paintball gun.
11. Reassemble
Most important and carefully process reassemble the gun. Put all screws and nuts in place with a hundred percent accuracy and precision. If you are feeling incontinent and you have forgotten the correct method of reassembling. Search from manufacture manual. Or maybe from the internet. Never think you are a master. It may lead to serious loss.
FAQS
1. How to Remove Paint Off a Paintball Gun?
The most essential step in applying paint on a paintball gun is removing old paint from the gun. For this purpose two processes are used to sand the parts which you want to remove old paint. By doing so old paint will be easily removed. Another method is by using Painters tape. Apply the tape on that area and peel the paint easily.
2. How to Paint Paintball Markers?
Firstly disassemble the marker properly. Clean it thoroughly. Put separate all the parts on which you want to apply paint. Sand the area of the marker. Use primer. Hang the gun. Now it is prepared to apply paint. According to your need use the best method to paint you may use anodizing, powder spraying, or spray paint.
3. Which method is considered best to Paint Paintball Guns?
As three methods are in use to paint a paintball gun but anodizing and powder coating are considered as the best option. Both methods are very expensive.
But by using these two methods to paint a paintball gun you will never be disappointed. They provide extra durability and protection to the marker.
4. How much time is required to completely dry the Paint of the Paintball Marker?
It is advised to put the marker for 24 hours to be dried. By doing so attractive finishing will be observed. Also, choose an open dry, and less rush area for this purpose. Also, follow all instructions given above to attain good results. Apply paint two times to protect the gun from rusting.
CONCLUSION
Wow, it's amazing that you decided to paint the paintball marker to prevent it from rusting. By doing this we will guarantee the proper and best work of your paintball gun. Use any method you like to apply paint to the paintball gun.
Use all the extra tools to disassemble the gun, then use a cleaning kit to clean the gun parts, use the best quality primer and paint to improve its appearance and shape. Properly dry gun. The following are some of the steps you can take to begin the process
Disassemble the gun
Use cleaning tools (swab, squeegee, cleaning kit)
Inspect your gun properly and detect which area you want to apply paint
Choose an area to sand
Hang the gun
Apply primer
Apply paint
Reassemble the gun