Last Updated on August 29th, 2022 at 09:57 am
Paintballing is a thrilling and adventurous sport. When you have to buy paintballs regularly, they may get pricey. So, what can players do to reduce the amount of money they spend on paintballs? Is it possible for players to create paintballs at home?
These are some of the most frequently asked questions among players. Yes, making paintballs at home is the best option. Some paintballs are recyclable. However, they are prohibitively expensive. If you have to repurchase paintballs, and you're an older gamer who can't afford reusable paintballs, you're out of luck.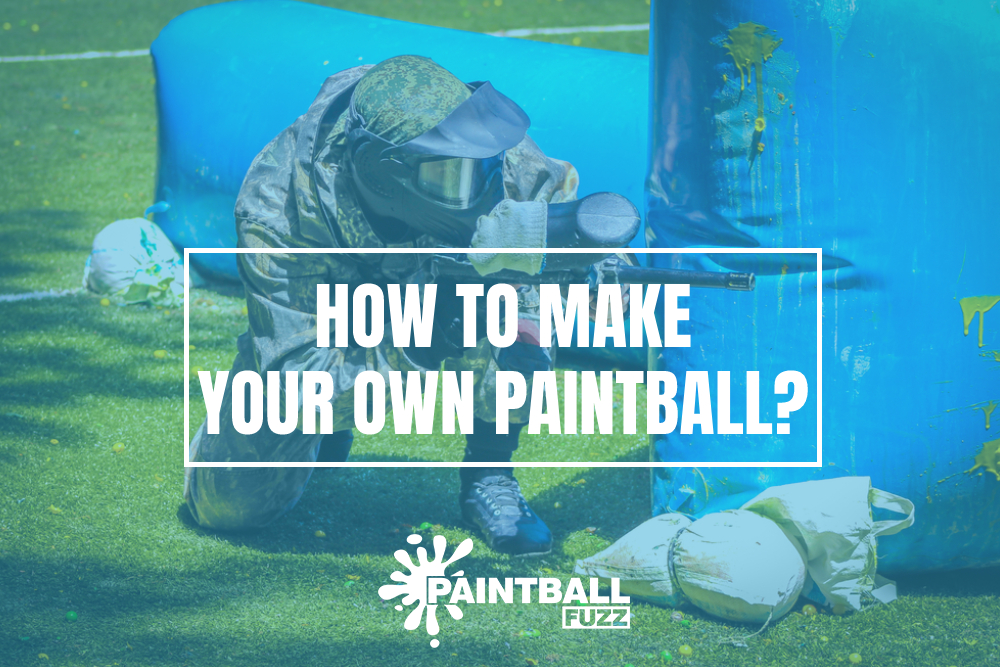 What materials do we require to create paintballs at home? If you want to produce paintballs, there are two methods: one is to make them from scratch, and the other is to buy shells from the market.
To create paintballs at home, use either of these procedures. Play the paintball game to have more fun with your paintball marker and homemade paintballs.
General Method of Preparation of Paintballs
If you're still unsure about how to produce paintballs, read on. We've listed the three basic steps for making paintballs from starch or shells below for your convenience.
1. Outer Shells
Must first, create a paintball outer shell. Paintballs are made of biodegradable, nontoxic materials that never harm. To build a hollow body, combine water, corn-type oils, flour, and, most significantly, gelatin, similar to the component used in gummy bears. Refrigerate the mixture once it has been thoroughly mixed so that it can solidify into the desired shape.
2. Paint
Keep in mind that we should always use biodegradable and non-toxic paint. Many varieties of color are harmful, so always double-check before purchasing. Polyethylene glycol, a substance used in cough syrup, is commonly used in paintball pigment. Choose paint in intense hues (yellow, red) that are easily seen on the body.
3. Paintballs with Fillings
The filling is the final stage in manufacturing paintballs at home. It is the most superficial stage to complete. Fill it with paint with a syringe. Now, take a hollow shell and paint it as desired. Always remember to leave enough space inside the cover to break when it hits the target quickly.
4. Paintball Storage
Now is the time to get your paintballs ready. Fill the hole created by the syringe with glue. Maintain room temperature for the paintballs now. Avoid freezing paintballs because it is an illegal and potentially dangerous practice.
Two Methods to Make Paintballs at Home
If you want to produce paintballs at home, there are two methods: one is to make them from scratch, and the other is to purchase paintball shells from a store.
If you are in a rush and need to create paintballs quickly, the second approach is the easiest and consumes the least amount of time. We'll go over each of these strategies separately.
1. Making Paintballs from Scratch
Why is it that this technique is not widely used? This approach takes a long time, so use this fantastic method to create paintballs at home if you have the time. Water, corn starch, flour, and gelatin are required to produce paintballs from scratch. You should obtain the gelatin that uses in jelly beans.
The shells are made entirely of those materials. A paintball mold is also required. It would help if you used the best non-toxic and elevated paintball paint for filling. There are paintballs on the market that include harmful ingredients, but you should avoid them to avoid any health risks in the future.
To begin, whisk together all of the ingredients for the shells. On the other hand, the water must be boiled to mix with the oils, wheat, and gelatin easily.
Combine all the ingredients for at least half an hour, or until no chunks of flour or gel remain.
Insert it in the mold once they've entirely liquefied. Check to see that the molds are the same size as the paintballs. Molds of standard size are usually available.
Refrigerate the filled molds until they are firm. Keep paintballs in the fridge and check them periodically to see if they've solidified.
Inject the paint into the ball with the injection containing the selected color of paint. You can either fill the ball with paint or jiggle it to see if the area inside has been filled.
When you're finished, set the paintballs aside to cool.
2. Make Paintballs using Store-Bought Shell
What can you do to produce paintballs in a hurry if you don't have time to make them? You'll need a store-bought shell for this. However, the disadvantage is that you will spend more on the shells you purchase. Many paintball players find it hard to find a natural paintball shell.
Online, though, you have a better chance of locating manufactured pellets. You can find the perfect shells for you by searching on Amazon. They do, however, come in a variety of sizes.
The majority of the shots you'll come across are made of plastic. Some are made of gelatin; nonetheless, whatever substance you choose, be sure it is free of harmful elements. To produce s, you must follow the basic instructions below.
Gently push a store-bought shell by rotating half of the ball or simply pulling each edge off.
You can put many objects within this shell, but for safety reasons, you should only use non-toxic, biodegradable paint.
Fill a syringe with the paint color of your choosing
Continue injecting the needle into the paintball shell until the other half is filled. Fill the remaining half.
Leave enough space for you to lock it later correctly.
After that, join the two halves together. This stage is a little tricky because you must avoid spilling anything.
Conclusions:
Which procedure is the most effective for making paintballs? High-quality paintballs are made using both approaches. Why do people make paintballs at home? Paintballs are created at home for paintball players to save money. By employing handmade paintballs, you can always have a little more adventure.