Last Updated on August 26th, 2022 at 06:05 pm
Paintball is a worldwide sport that is played by millions of people. The players aim for pinpoint accuracy when attacking their opponents. In case the paintball gun tank runs out of fuel while the game is in progress, what will happen?
In these situations, players become panicked and lose their game. A similar problem has ever arisen for you? If not so you have to prepare for thin in future.
You'll find this guide helpful, and we created it for you. For the marker to operate correctly, what role does the paintball tank play? Gunshots release paintballs, which strike the target and burst it. The paintballs eject from the gun due to the force exerted by the paintball tank.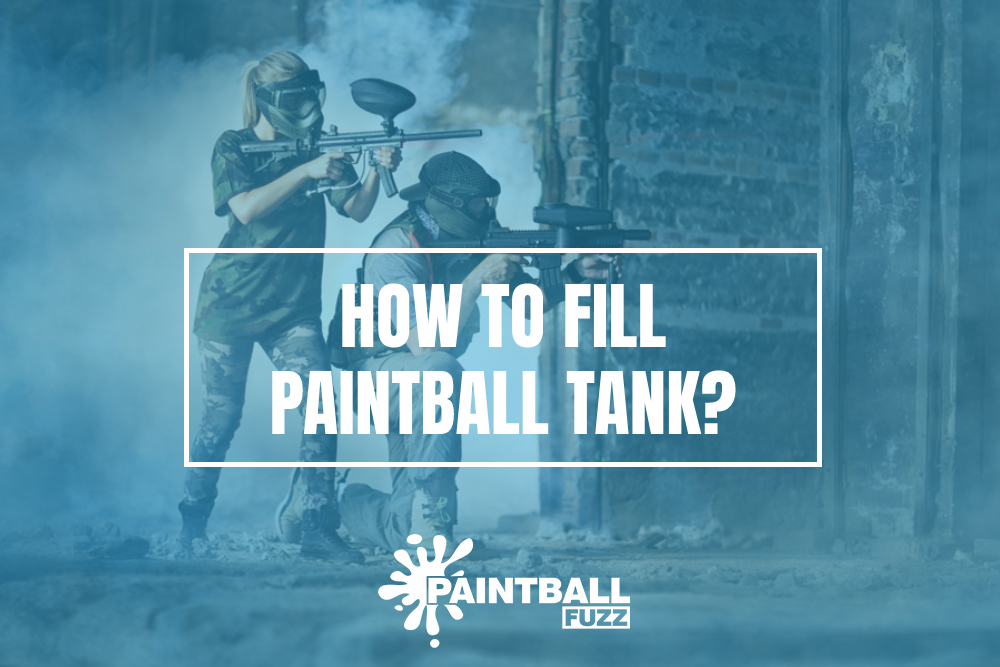 Accuracy decreases as pressure drops in the paintball gun. It is necessary in this case for players to refill their paintball tanks. The skill of filling a paintball tank is beneficial because it offers you a distinct advantage over others.
Several fields have filling stations. The cost of refilling an HPA tank is quite high, although CO2 refills are relatively inexpensive. There will be a discussion of both strategies.
Types of Paintball Tank
There are three significant types of paintball tanks:
1. HPA Tank
These tanks are pricey. The maximum capacity offered is a tank that contains 5,000 PSI of highly compressed oxygen or breathing filtered air. The following are the several types of HPA tanks:
Fiber-wrapped HPA Tanks
Aluminum HPA tank
2. CO2 Tank
These paintball tanks are inexpensive and contain CO2 in a liquid condition. Liquid CO2 tank sizes range from 3.5 to 40 fluid ounces.
3. Compressed (n2) Paintball Tanks
These tanks are not too standard. They are only used by scuba divers or sometimes by paintball players.
How to fill the Paintball Tank with an Air Compressor?
Many Paintballers attempt to fill their paintball tanks with a pump or a traditional air compressor. Their paintball tank will damage as a result of this. The maximum pressure of a standard tank is 180 PSI. However, paintball tanks require 4,500 PSI at all times, so utilize an air compressor pump that can produce that pressure.
Filling a paintball tank using an air compressor is costly, but it is simple, essential, and simple to use. You can also use it to fill diving tanks. It is simple to use. To connect your paintball tank to your diving tank for refilling, you'll need a fill station. Savor the basic filling. You should follow these steps.
Connect your scuba tank to your fill station
Connect your paintball tank to your fill station
Always keep your fill station's release valve closed
Slowly turn the primary valve to let air into your paintball tank until the gauge fills up
Slowly remove the valve
Precautions should always take while filling the paintball tank.
Way to fill CO2 Tank
Many players prefer co2 for tank filling because it is inexpensive and straightforward. However, co2 has never improved the efficiency of a paintball marker. Paintball tan filled with Co2 is the ideal option for beginners. To fill the paintball tank with CO2, follow the procedures below.
Firmly attach the fill station to your CO2 tank
Attach the paintball tank to the fill station
Refrigerate your CO2 paintball tank before filling
Open the station's valve and let air into your tank until it fills
Carefully remove the valve from the bulk tank
Be cautious when keeping your CO2 bulk tank, as there are risks involved if it is mishandled or used irresponsibly.
Some Important Steps to Fill Paintball Tank at Home
Do you have any questions about how to fill a paintball tank? If the answer is yes, Don't be concerned. To refill your paintball tank at home or a refilling station, follow the steps below.
1. PSI Indicators for the Tank
Some indicators show how much pressure the system has. Always remember that exceeding 4,500 PSI will result in damage. While refilling CO2, to keep the temperature stability of the tank, the tco2 tank must be refrigerated.
2. Attach the tank to the Nozzle to be filled
The connection is the most crucial step. Make a strong connection between the tank and the nozzle of the compressor for refilling the tank. Once you attach the nozzle to the tank, there should be a tiny dark O-ring to prevent air from escaping.
If the O-ring is missing, it will not fill the tank because air will escape through that relatively small surface. If an O-ring is present, attach the refill nozzle, and the central needle will be fully visible. Make sure the connection is secure.
3. Never fill tank Fastly
After a solid connection, it's time to release the air. Always do it slowly. There is a lever or a button that can use to adjust the pressure. Rather than filling quickly, you want to load slowly and steadily. The gauge needle should move upwards as the refill takes place. Also, see if your paintball tank has a capacity of 3000 or 4,500 PSI.
4. Gauges Correction
The gauge can divide into two categories. One is connected to the gun, while the other connects to the air compressor. Should check both gauges. Where can you find accurate gauges working? If both gauges move in the same direction, it means they're both working correctly.
5. Hot Fill
What exactly is hot fill? If you don't fill your tank gently and push the air compressor lever too hard, you'll get blasts from the compressor into your tank, which will cause the gauge to climb swiftly.
This refers to as "hot-fill." Always push the gauge lever slowly if you want to avoid being injured or blown up. Always take the necessary precautions.
6. Release Valve
Always aim to let go of the pressure. This is the most crucial step for paintball players to take. There is some air residue in the valve after filling the paintball gun tank.
The air compressor's release valve should use to release the pressurized gas. The pushing valve will cause all of the excess air to escape. If this happens, there will be a loud noise, but don't be alarmed.
7. Final Process
It's time to remove the compressor nozzle from the air tank and lower the gauge button after releasing the pressure from the release valve. Your gun is now ready to use.
8. Double-Check the Gun
After the entire process is complete, the gun must double-check by shooting paintballs. Make shots to see if the paintball gun is functioning correctly.
HPA or CO2, which is the most effective way to refill the paintball tank?
Because of its inexpensive cost, CO2 is commonly used to replenish paintball tanks. However, HPA is suitable for paintball tanks because it improves the efficiency of paintball markers, whereas CO2 adds in liquefied form, which may convert to gas when the pressure drops. Second, temperature affects compressing CO2.
Conclusion:
Is it possible to replenish the paintball tank at home?  Yes, It is feasible to refill a paintball tank at home, so why not? You must carefully follow all of the preceding stages to achieve this.
Get an air compressor for your paintball tank and play paintball at home if you can afford it. If you compromise on safety requirements, you will lose a lot of money.