Last Updated on August 30th, 2022 at 09:49 am
If you get bored with daily exercise. If you need some fun and thrilling exercises then paintballing is the best option for you. You must try this wonderful game. Since paintball is an extreme sport, it's the best way to do it.
This intense exercise gives you a fresh feeling and regular blood circulation throughout the body. Don't worry if you are unaware of the health benefits of paint bowling. We are here to help you.
Paintball game is a busy and thrilling sport at the same time. Now a day's people are more curious about their health. They demand a sport that gives them full exercise. So in a very busy and difficult life, paintball is the best option. Paintball develops our brain and whole body.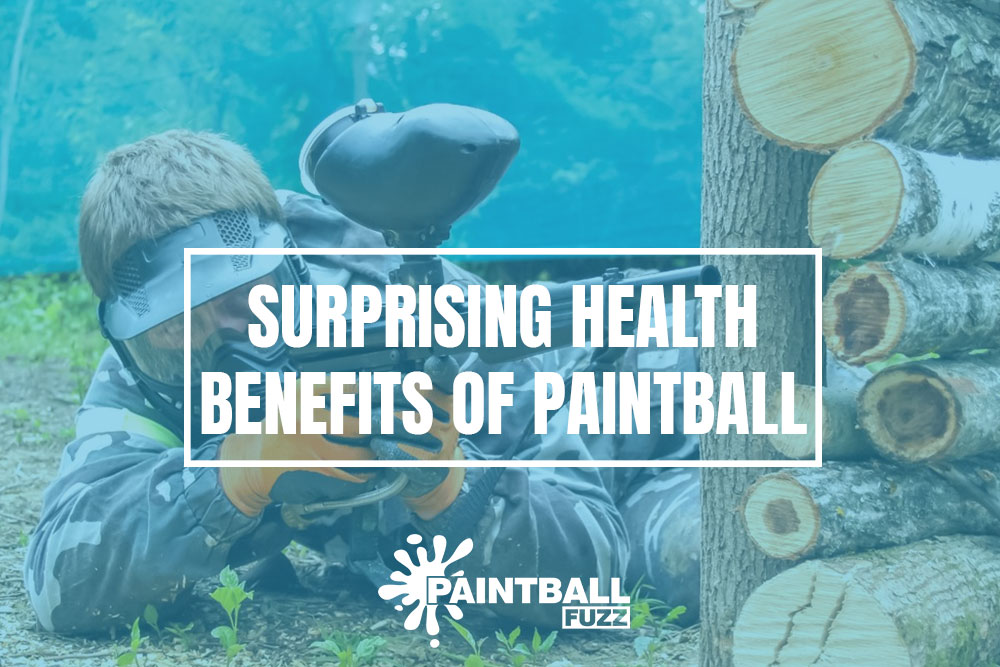 Provides good mental and physical health. Players run, dive, slide, attack, and crawl while playing so that the whole body is in motion. This gives the player good health and the opportunity for further development. You don't have to go to the gym for exercise.
Play paintball which gives you a lot of advantages. So in this article, you will find all the best health benefits of paintball that will surprise you.
What are the Health Benefits of Paintball?

There are many health benefits of paintball. We will discuss them one by one in detail.
Append Variety to Routine
In the present situation, people are very busy. They have no time to go to the gym for a workout. They demand such activity that provides a good workout and mental relaxation. So paintball is the best option. This game is played both indoors and outdoors.
No need to go to the gym you can play this game in backyards with your family, friends, and other people. This gives you a lot of joy and variation in your life. It is an alternative activity that gives you relief from the same boring routine paintballing gives you full-body movement like diving, running, climbing, attacking, and ducking.
Provides Full-Body Workout
Playing paintball is an extreme sport. Your full body is in movement by running, crawling, jumping, sprinting, dodging, and firing. Players are in hectic exercise during playing paintball.
Many people have difficulty sticking to workouts secondly they are bored by the same routine they demand variation to workout. So paintball provides a full-body workout
During playing you hold your paintball gun for a long time in the same position. That gives you strength. Your bicep and triceps muscles become strong and more active.
As this game requires a lot of hectic activity of legs. Such as running, diving, crawling and climbing. These all activates strengthen your leg muscles such as quads, calves, and hip muscles.
Paintballing provides strength to your core muscles. Paintball also enhances body posture and provides excellent balance.
Enhance Endurance
Normal exercise is very boring in which you perform repetitive movements. But in the paintball field, your whole body is working you are focusing on both strategies and opponents that amazing. So paintball boosts your endurance level up.
Playing paintball enhances your capability to work better. Provides a smooth flow of blood. It gives you increasable cardiovascular exercise that enhances your endurance. As you spent a lot of time on the battlefield without feeling that you are working out. You're all body and senses are involved fully in this play.
Improve Strength
As paintballing boosts your strength by providing strength to your arm, leg, and core muscles. When you are doing exercise at the gym. You are only focusing on a specific body area. While paintball involves a whole body workout. In this, all muscles work together rather than working in isolation.
That provides you with strength and stamina. The main area of the body strengthen by paintballing are legs strengthen by running, arms strengthen by shooting continuously and core for stabilization of the whole body.
Boost Interpersonal Skills & Self-Confidence
Paintball is a team game. This is a very fantastic game with the best rules and strategies. Taking strong decisions in paintballing can give you administrative aptitude.
It also promotes sportsman spirit and also leadership skills. Intense situations are the part of a paintball game that built the self-confidence of players. Also, enhance cooperation skills in youngsters.
Excellent for Weight Loss
Paintball is the best exercise that helps you to lose weight easily. As this is a full-body workout. This hectic exercise enhances your sleep and metabolic process. By fast metabolic process, extra fats become reduced and cause weight loss. Along with weight loss paintball also reduces the risk of heart diseases.
Due to intense exercise blood flow is regulated. Hectic work out body release endorphins hormone that swing your mood. In other words, paintball is full of health benefits.
Stress Relief
Stress is now normal all over the world. By playing a thrilling and adventurous game of paintball you have a good chance to vent out your anger and frustration without any danger and hurting others. This game gives freshness and peace to your mind.
Enhance your thinking capability. Boosts your positive thinking. During hectic exercise hormone endorphins is release that lower the stress and bring the feelings to be peace full. For depressed and mentally retarded people this is the best game to play.
Way to do Teamwork
This game enhances your coordination abilities. As paintball is team play.In which you have to work in a team to make good strategies and plans to defeat opponents.
If you are not very social and low of confidence must play paintball to enhance teamwork potential and social level. Are you ready then? Must arrange a paintball tournament with your friends and family members.
Best Outdoor Activity
Outdoors activities are essential as they fresh your mood, health, and focus. It also gives you a variation that eliminates all-day tension, depression, stress, and negativity.
Outdoor games provide the best positive thinking and boost your potential to work and enjoy at the same time. Paintball outdoor fields are the best source of entertainment and amusement. They enhance your mental health. Outdoors playing areas are better than indoor.
Gives Immunity
Paintball increases your metabolism. By fast metabolism, your immunity is also boosted. It burns more calories and provides your body with the stamina to work better.
Paintball gives a boost to the liver and heart to work more positively this enhances the production of more alpha and beta cells for immunity. With better immunity, you will work better. So if you are in demand of good health along with strong immunity must play paintball.
Depression Relief
Working all day in the office, school, college, and university you become bored and depressed. It affects mental health and body functioning. Sometimes depression refluxes are very adverse.
That retard your mental growth and health. To give your body relief from depression must play energetic, hectic, and fantastic paintball. By playing paintball you will feel easy and your depression becomes eliminated.
Best Entertainment
Paintball is gaining popularity day by day all over the world. Not because it is full of health benefits. Due to its thrill adventure and joy, it is a most favorite game. It gives energetic and amusing stamina. Firing opponents with a small rubber ball, capturing the flag is amazing.
It's Fun!
At last, Paintball is full of fun excitement, amusement, thrill, and adventure. Paintball amazing game that would be played with your friends and family.
Paintball is full of health benefits isn't amazing? Yes, it is. Must enjoy this game to boost your experience and health
FAQs
1. How many Calories do you Burn by Paintballing?
As paintball is a very hectic and intense game. Your whole body is in working during playing. It also demands agility and high endurance so by playing paintball you will burn 7 calories per minute or 420 calories per hour. Woo, good for those people who demand exercise for weight loss.
2. Is Paintball a Good Way to Lose Weight?
The answer is yes. Paintball is the best exercise to lose weight. In this play whole body is in movement and working potential. This paintball game gives you the best chance to become thin with joyful entertainment. This intense exercise release hormone that made your mood cheerful.
3. What Damage can a Paintball Gun do?
Normally paintball is a very safe game if you follow all necessary precautions. But sometimes paintballs hit on sensitive places that cause pain such as the eyes. Cause serious injury. Even eye loss. Also, hit fingers of hand very hard and serious pain. To save yourself must wear a paintball dress.
4. Is Paintball is Good Exercise for Youngsters?
Yes, paintball is the best exercise as it gives your body a full workout. During paintballing players climb, run, fire, and crawl. So their whole body is in intense movement.
So this is the best way to do exercise for youngsters. This allows them to grow healthier. Also, boost their immunity and stamina.
 CONCLUSION
Wahoo, paintballing ensure you many health benefits. This game allows players to enjoy and maintain their help. This game is magical and astonishing. By playing you will boost your mental and physical health to grow better. We have summarized all benefits given below
Good mental and physical health
Reduce stress and depression
Provides the best workout
Enhance interpersonal skill